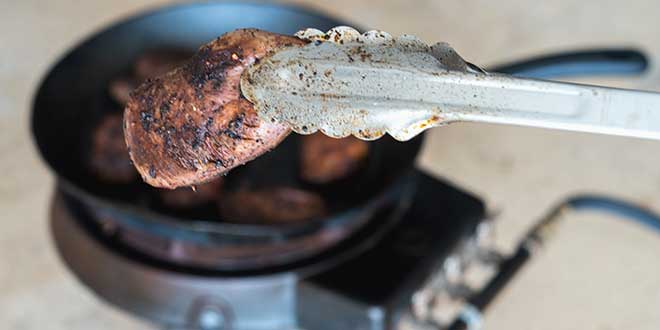 Ingredients:
– duck breasts (possession limit of 36 if possible)
– butter
– extra virgin olive oil
– salt
– pepper
– garlic salt
– paprika
– cayenne pepper
– chile lime seasoning (optional)
Preparation:
1. In a 12" skillet, heat 2 tablespoons butter and 2 tablespoons of olive oil on high heat. I recommend doing this step outdoors on a propane burner, as lots of smoke will be generated. You can severely upset your spouse by doing this inside the house.
2. Just as the mixture starts to smoke, add your duck breasts. You are looking for a golden-brown sear on each side, this takes approximately 1 minute and 30 seconds per side.
3. Apply a healthy dose of all spices to each side of the breast.
4. Continue to add oil/butter mixture until all duck breasts have been seared and spiced.
5. Heat smoker to 300 degrees Fahrenheit; high-temperature smoking is needed.
6. Load wood chips or pellets. I prefer apple wood, but any wood could be used.
7. Smoke the breasts until they are medium, an internal temperature of 165 degrees Fahrenheit. It generally takes 20 minutes for small duck breasts and 30 minutes for medium to large to reach this temperature.
8. Tent, or loosely cover, breasts with aluminum foil after removing from the smoker. After 10 minutes, they are ready to eat or freeze for later.
Photos. John Martsh, New Mexico Department of Game and Fish