Turkey populations appear to be entering a period of decline in New Mexico after several years of breeding-season drought. Turkey populations are highly influenced by precipitation and such a decline is anticipated given the drought; numbers respond quickly when the rains return. Spring moisture is important to create food sources for chicks, which need forbs (leafy plants) and insects for survival. Statewide drought conditions make it likely that turkey production has been low in each of the regions. Adult turkeys typically have low mortality rates, with fair mast crops and generally mild winters leading to decent overwinter survival. Some local areas still have very strong numbers of birds, but statewide, numbers appear to be down.
Hunter harvest-success rates are never very high in New Mexico. Overall spring hunter harvest success rates from 2019-2021 ranged from 21% to 26%. Turkey license sales have increased during the past five years, resulting in more hunters getting out in the woods. Below is the turkey hunt forecast for the 2023-2024 season by region of the state.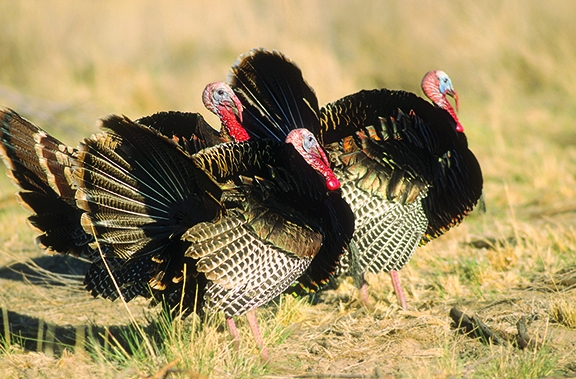 Northeast
The northeast area will be a little more challenging this year, following massive fires in Merriam's turkey habitat. Fires in Game Management Units (GMUs) 45 and 48 will result in changes to turkey hunting areas and strategy for the next few years. Turkeys will use burned habitats but often prefer burns at a much smaller patch mosaic. It may take several years for some of the burned habitats to be suitable for turkey populations again. Turkey populations appear to be doing well in other portions of the northeast area, but these habitats often have a complicated land-ownership mosaic making the area more difficult for hunters to access. In the past, the northeast portion of the state has had the highest hunter harvest success, ranging from 30-35% between 2019-2021.
Northwest
The northwest portion of the state has the lowest average hunter harvest-success rates in New Mexico. Success rates have ranged from 14-18% between 2019 and 2021. Officers report that turkey populations in the Jemez Mountains appear to be declining over the last few years. This area receives a high level of hunting pressure, being that it is the closest area to Albuquerque. There are turkeys in other northern mountain ranges, though these areas require additional planning as snow levels may remain later into the spring than other portions of turkey habitat.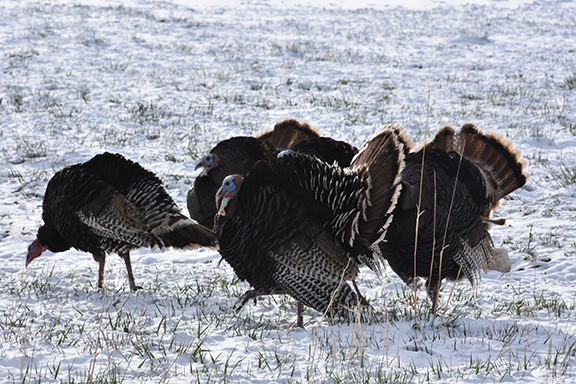 Southwest
Harvest success rates in the southwest ranged from 20-30% from 2019-2021. The Gila National Forest provides abundant Merriam's turkey habitat, although much of the habitat is not close to a road and could require some hiking to access turkeys. Newly implemented this year is a very limited draw hunt for Gould's turkeys in GMUs 26 and 27 starting in 2023. Gould's turkeys occur only in Arizona and New Mexico in the United States, as most of the species' range occurs in Mexico.
Southeast
The southeast has had strong turkey populations in the past, particularly in the Lincoln National Forest; note that the Guadalupe Ranger District is closed to turkey hunting. Some hunters have reported lower numbers the past few years, likely due to drought conditions negatively impacting production in the area. This area is close to El Paso and Las Cruces, so it receives heavy hunting pressure, especially on weekends. Hunter harvest success from 2019-2021 ranged from 17-30%.