Also known as gemsbok, South African oryx are a visually striking, large African antelope with distinct markings and long, straight horns grown by both sexes. Males typically have horns that are heavier and have larger bases, while the females typically have longer, thinner horns with smaller bases. Approximately 46 inches at the shoulder and six feet in length, oryx males can weigh 300-500 pounds, while females are 50-100 pounds lighter. The thick, tan-colored hide covering the oryx is marked on the face with symmetrical black-and-white, triangular patches and broad stripes from the horns over the eyes to a white muzzle. Black stripes continue down the neck and around the underbody, forming bands around all four legs. A black stripe, also known as the "racing stripe," extends along the spine from the short black mane at the neck to the black, tasseled tail.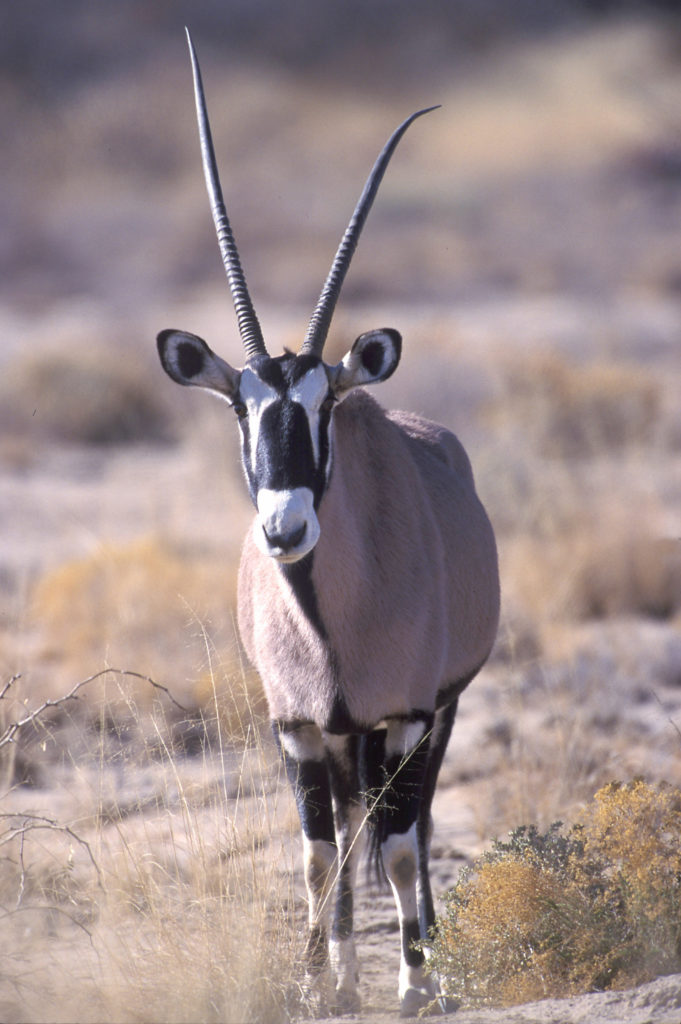 Frank C. Hibben, an avid big-game hunter and chairman of the New Mexico State Game Commission from 1961-71, helped initiate the introduction of oryx into New Mexico. He had hunted oryx in the 1940s in Africa and noted the similarities between the deserts of Africa and those in southern New Mexico. The New Mexico Department of Game and Fish, along with the U.S. Department of Defense and White Sands Missile Range (WSMR), released 95 captive-bred oryx onto WSMR on the Tularosa Range between 1969-77. The first oryx hunt took place in New Mexico in 1974 with four hunters. The annual harvest has increased to more than 1,500 oryx in recent years.
Environmental conditions are great for the 2023-2024 hunting season following a record monsoon season and oryx are in excellent body condition. Oryx have the ability to breed year-round; therefore, hunters may see an increase in recruitment over the next year or two. Hunting should be very good both on and off range. During the 2022 rule development period, off-range, public draw licenses were increased due to the high success rates and other data indicating an increased oryx population.
Approximately 80-90% of hunters who draw a once-in-a-lifetime hunt on WSMR are successful. Hunts off of WSMR, which are month-long hunts on Bureau of Land Management, U.S. Forest Service and State Trust lands, as well as on private property (with permission), have a success rate between 50-60%. Private-land only licenses can be purchased over-the-counter and are valid only on private, deeded land. These month-long hunts have success rates between 70-80%.
Other options include broken-horn oryx hunts, which are not once in a lifetime; once-in-a-lifetime hunts for resident veterans; once-in-a-youth hunts, after which successful applicants remain eligible for once-in-a-lifetime hunts as adults; and once-in-a-lifetime hunts for those with mobility impairments.