Even if you're not a hunter or angler, New Mexico Department of Game and Fish properties, as well as state and federal public lands, offer countless opportunities to enjoy the outdoors and take in the beauty of New Mexico's diverse landscapes.
"New Mexico has an explosion of orange, red and yellow leaves in the fall," said John Martsh, R-3 program manager with the Information and Education Division at the Department of Game and Fish. Martsh is in charge of recruitment, retention and reactivation of anglers, hunters, boaters and shooting sports enthusiasts.
Martsh lists the following places where residents and visitors can engage in outdoor activities throughout our state or simply take a road trip to watch the seasons change:
-The Manzano Mountains, outside of Albuquerque, offer a one-of-a-kind chance to see spectacular views of fall foliage along the Fourth of July Loop Road. The mountains also offer a plethora of mountain biking and hiking trails within the Sandia Ranger District.
-Go small game hunting for Abert's squirrel and blue grouse in the Santa Fe National Forest portion of the Jemez Mountains. And remember to stop at the Forest Service office in Jemez Springs to locate the many hot springs located in the immediate vicinity.
-Stroll along the Rio Grande Bosque trails to get in touch with nature with loved ones or the family pet.
-Fenton Lake, the Rio Cebolla, the Jemez River and the Rio Guadalupe offer great fishing for rainbow, brown and Rio Grande cutthroat trout.
"Our Department is committed to developing the next generation of outdoorsmen and women and to introduce as many people as possible to the wonders of being outside," he said. Children, and adults, need to see there is an entire world to explore outside the great indoors.
Wildlife Management Areas
This fall, remember to purchase a $4.00 a Habitat Management & Access Validation (HMAV) to access one of the Department's 41 Wildlife Management Areas (WMAs). The State Game Commission owns approximately 185,000 acres with around 153,000 acres open to the public.
Each WMA provides a distinct habitat for our state's wildlife. While these areas are utilized by hunters and anglers, hikers and birdwatchers are also welcome to enjoy the natural surroundings and learn more about New Mexico's ecosystems.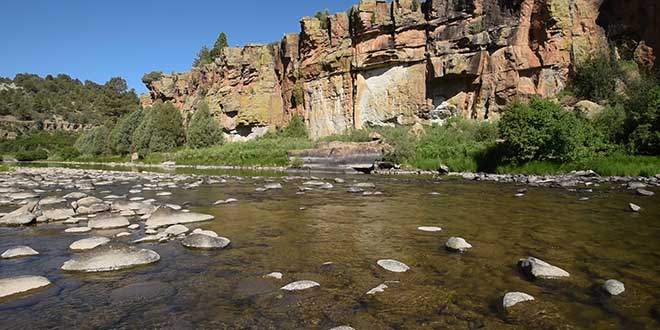 Where to fish
In the northeast, Colin Neblett Wildlife Management Area is the largest property owned by the Department and provides access to the Cimarron River where anglers can catch brown and stocked rainbow trout. The area is located east of Eagle Nest Lake, in Colfax County, and straddles both the north and south sides of US 64.
South of the village of Chama and bordering El Vado Reservoir off NM 112, Rio Chama WMA offers an opportunity to fish the Chama River, one of the state's best trout streams. The river, which reaches down from southern Colorado where it originates, contains both hatchery-stocked and stream-reared rainbow trout.
Located 35 miles north of Silver City, and 22 miles from Gila Cliff Dwellings National Monument, Lake Roberts WMA offers year-round trout fishing. This 71-acre lake located in Grant County sits at an elevation of 6,000 feet.
Where to hunt waterfowl
Head south one hour on I-25 from Albuquerque to find one of the state's best waterfowl hunting areas. Bernardo and La Joya WMAs are not only great for hunting, but these areas also provide habitat for wintering waterfowl including sandhill cranes.
South of Raton, Wagon Mound Lake WMA is home to a variety of waterfowl including teal and shoveler, as well as shore birds that migrate to the area. Waterfowl hunting is permitted on the WMA during the designated season.
Not far from Wagon Mound is Charette Lakes WMA, also a prime spot in the northeast for waterfowl hunting. The property is home to mallards and buffleheads.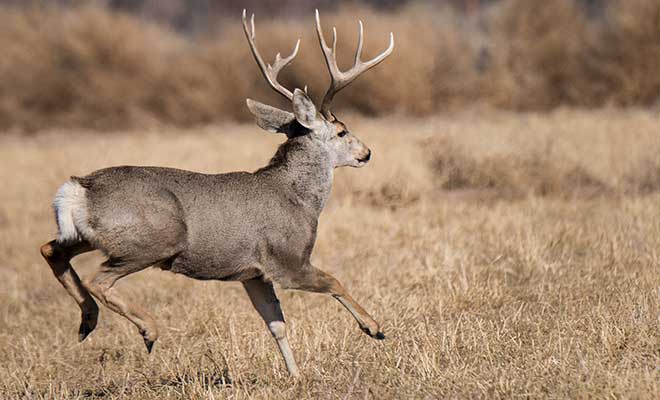 Where to hike
Already mentioned as a fall fishing spot, Colin Neblett also offers hiking opportunities with established trails that offer opportunities to spot wildlife including elk and deer. Other northern New Mexico WMAs are also worth fall visits. In addition to Colin Neblett, Edward Sargent WMA in Chama is a popular hiking destination, also with established trails. Hikers can find a unique outdoor experience here with breathtaking views of Navajo and Chama Peaks. The WMA's northern boundary extends to the Colorado state line.
Urraca WMA sits off the western slope of the Sangre de Cristo Mountains. It rises up from dry sagebrush flats to aspen and pine groves found at more than 11,000 feet in elevation. The area is located 12 miles north of Questa.
Be aware that most WMA trails are primitive and require some hiking experience. In addition, please note that hiking is restricted during hunting season.
Where to birdwatch
For birdwatchers and photographers, New Mexico WMAs offer chances for bird enthusiasts to view rare birds that call our state home. While Bernardo and La Joya WMAs are well-known to bird enthusiasts, other WMAs in our state offer one-of-a-kind opportunities to see rare birds that spend time in our state.
"Keep an eye out for fall migrants arriving in New Mexico and traveling through our state on their way to wintering grounds in Central and South America," said Erin Duvuvuei, non-game bird biologist with the Department. "Waterfowl diversity and numbers start to increase in September, and sandhill cranes and non-resident geese usually begin to arrive by late October."
Near the Bootheel of the state, Red Rock WMA is the perfect place to view songbirds. Also, in the Bootheel area, Mimbres Tract WMA is popular with bird enthusiasts. In the southwest, Glenwood Fish Hatchery, 35 miles south of Reserve, is a very popular birding area with an onsite bird trail.
In the southeastern section of the state, W.S. Huey WMA also offers opportunities to view sandhill cranes, songbirds, ducks and quail.
For more information and directions to these WMAs visit: http://www.wildlife.state.nm.us/
conservation/state-game-commission-lands/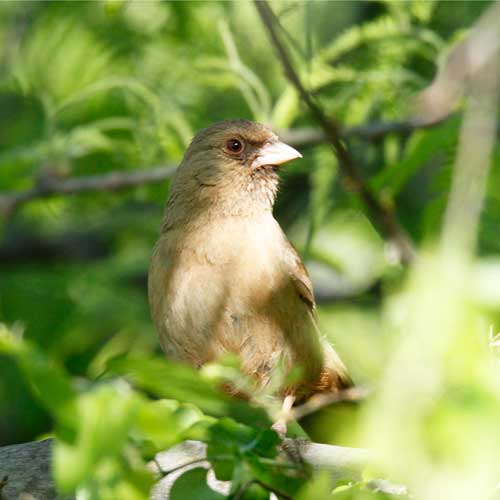 Open Gate properties
In addition to Wildlife Management Areas, the Department's Open Gate program provides public access to private lands. Landowners voluntarily allow public access to their private parcel for specific outdoor activities. The following areas are just a sample of Open Gate properties for recreationists to visit this fall:
This fall, anglers should make time to visit Rio Costilla, located in Taos County near the Colorado border. Open Gate funds are used to lease 4.8 miles of fishing access along this river, which offers a diversity of cold-water fishing opportunities for Rio Grande cutthroat, brown and rainbow trout.
Those who have drawn licenses to hunt deer can hunt at Golliheair Ranch, located east of Socorro. Situated between White Sands Missile Range and the Sevilleta National Wildlife Refuge, Golliheair provides access to Bureau of Land Management land that would otherwise be inaccessible.
For more information on these and other Open Gate properties visit: http://www.wildlife.state.nm.us/hunting/maps/open-gate-program/