New Mexico's Wildlife Management Areas (WMAs) are managed primarily for fish, wildlife and their habitats. The WMAs also allow public recreation, including camping on some properties, to offer the public opportunities to better enjoy the natural resources being conserved.
WMAs are not parks and visitors should expect limited accommodations. Where permitted, camping is limited to 14 consecutive days. Each licensed user may have up to three guests and must possess at least one of the following to camp: a hunting license, fishing license or Habitat Management and Access Validation (HMAV). Youth under age 18 are exempt from license or permit requirements for camping.
If you are looking for unique camping experiences around our state, visit these four properties:
1
Edward Sargent WMA
– Camping is allowed in the designated camping area at the entrance to the Edward Sargent WMA. Restrooms are available in the camping area, and horse corrals are available for visitors wishing to use them. The camping area provides access to miles of hiking and horse trails. Visitors can enjoy montane meadows to high-elevation forests hosting a variety of wildlife and fish during their visit. Closures are in effect during certain hunting seasons.
2
Colin Neblett WMA
– Backcountry campsites are designated off of the Tolby Trail and Green Peak Road and require backpacking or horse packing to access these locations for camping, providing a true wilderness experience. Horse corrals are available at the Tolby Trailhead. Numerous trails meander through the forests on the WMA and provide a host of scenic views. Seasonal closures apply. Visitors looking for a more-developed opportunity can consider the adjacent Cimarron Canyon State Park. Park rules and access fees are separate from the WMA; however, park visitors may use their park pass in lieu of a license or other permit to access trails on the WMA.
3
Bear Canyon WMA
– Bear Canyon WMA provides camping opportunities around Bear Canyon Lake. Restrooms are available on site. Visitor can enjoy fishing on the lake and the opportunity to visit adjacent attractions including the Gila Cliff Dwellings and the historic town of Mimbres. Camping areas can be crowded on weekends at this popular area.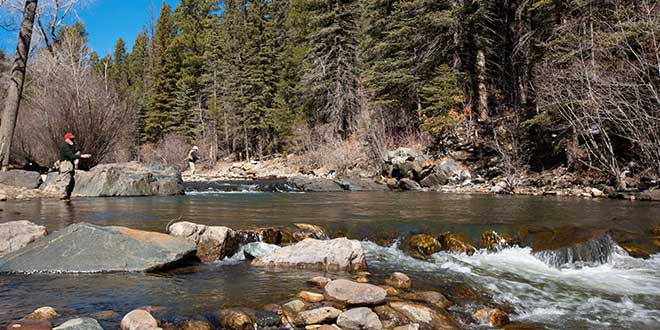 4
Bert Clancy WMA/Pecos Canyon
– Camping opportunities exist on the Bert Clancy, Terrero and Mora Units located in the Pecos Canyon. All camp areas provide restrooms. Fishing access is available adjacent to each campground and up and down the Pecos River. Multiple hiking opportunities are also available nearby on trails leading into the Pecos Wilderness. Campground use can be very heavy during the summer and on weekends, so please arrive early when possible.
Sargent WMA and Bert Clancy WMA/Pecos Canyon photos by Martin Perea. Colin Neblett WMA photo by Alexa Henry. Bear Canyon photo by Department staff.