I recently have received several phone calls, emails and social media messages with people asking how to pay for the ticket they received while fishing. I reached out to the Department's Law Enforcement Division to determine the top three fishing violations across the state and what a person can do to stay legal.
Fishing without a license. This is by far the most significant violation across the state and an easy one to fix. All fishing licenses in New Mexico are valid from April 1 to March 31 each year. Fishing licenses are affordable and easy to obtain.
Let's start with the cost:
Annual Fishing License – $25 for residents and $56 for non-residents.
One-day Fishing Licenses – $12 for residents and non-residents.
Five-day Fishing License – $24 for residents and non-residents.
Junior Annual Fishing License – $5 for residents and $15 for non-residents. (Note: youth between the ages of 12 and 17 are eligible for this license; youth under 12 do not need a fishing license)
Senior Annual Fishing License – $8 for residents; non-residents are not eligible for this license. (Note: Residents 65 to 69 are eligible for this license.)
Handicapped Annual Fishing License – $8 for residents; non-residents are not eligible for this license. (Note: Qualifications can be found on our website.)
70 years and Older Annual Fishing License – No charge for residents; non-residents are not eligible for this license. (Note: A free fishing license is available to New Mexico residents only and does not require a Habitat Stamp, Habitat Management and Access Validation or Second Rod Validation.)
Banner: Conservation Officer Tyler Nygren assists a young angler who got his fishing line caught on a tree. Below: Conservation Officer Chris Wisneski teaches this angler how to cast. .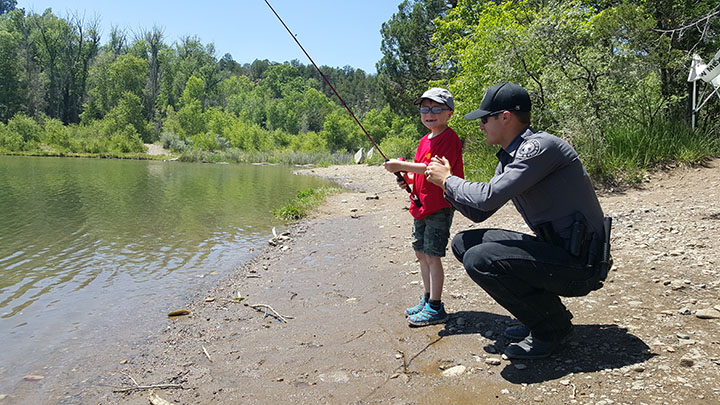 There are many ways that you can obtain a fishing license. Perhaps the easiest way is visiting the Department's website and creating an account. After logging in, click on "License Sales 2021," then click on "OTC Licenses, Permits and Stamps," read the terms of agreement and click "Continue," select the license you wish to purchase and click "Review Order." You will also want to purchase some stamps, but we will get to that in a minute.
If you need help setting up an account, view this video. It focuses on hunters, but the process is the same for anglers.
If you are not a person who likes using the internet for purchases, you can visit one of our offices or a license vendor to purchase your fishing license. Please keep in mind that vendors can charge a $1 transaction fee for all purchases.
Common Question: Can I keep a picture of my fishing license on my cell phone? The answer is yes. However, the regulation states that a person must be able to present their fishing license to an officer upon request. So, if your cell phone battery dies or you accidentally drop your phone in the water, you may not be able to present your license to a Conservation Officer. Many places in New Mexico do not get cell phone service, so having a paper copy can be beneficial.
Fishing without proper stamps. This one goes hand-in-hand with fishing without a license. It can be a bit tricky to know what stamps you need. So, what are the options and when do you need them?
Habitat Stamp – This $10 stamp is mandatory for fishing on all U.S. Forest Service and Bureau of Land Management properties. The funds from this stamp are used to maintain and improve wildlife habitat. There are many land status apps that you can get for your smartphone, including CarryMap (this one is free), onX, Basemaps and many more that can quickly help you determine what property you will be on.
Habitat Management and Access Validation (HMAV) – This $4 stamp must be purchased and possessed each year by all anglers, 18 and older, who purchase a fishing license. The money from this stamp is used to lease private land for public use, provide public access to landlocked public lands and for management of wildlife habitat management. Learn more about the Open Gate Private Lands Program and State Game Commission Lands.
While the following are not necessarily stamps, they fall into a similar category.
Second Rod Validation – This $4 validation can be purchased by individuals 12 years of age or older who will be fishing with a second rod. Anglers need to remember that it is NEVER legal to fish with more than two rods.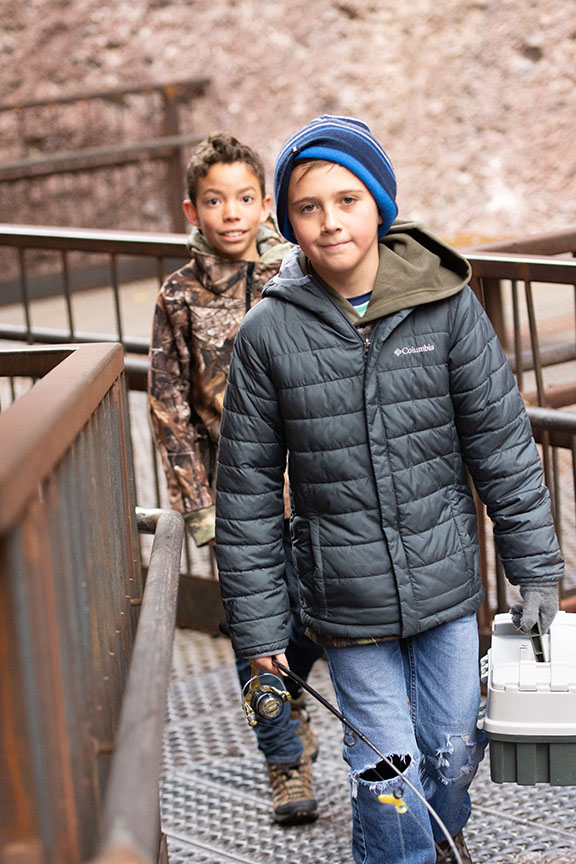 Two young anglers head up the Catwalk near Glenwood in search of Gila trout.
Common Question: Can I get a second rod validation for my significant other or friend to fish on my license? The answer is no; individuals over 12 need to purchase the appropriate fishing license. If your significant other or friend is going with you and plans on fishing, they need to purchase their license. This validation will allow the person with the fishing license to use two rods. It does not change the bag limit for that person.
Gila Trout Fishing Permit – This free stamp is required to fish Black Canyon, Gilita Creek, Mineral Creek, Mogollon Creek, Sapillo Creek, West Fork Gila River (headwaters to East Fork confluence), Whitewater Creek and Willow Creek (including tributaries).
Please visit pages 2-3 of the Fishing Rules and Information Booklet for more information about the stamps.
Anglers should know where they are headed before going. Some land management agencies may have an additional access fee. An example of this is the New Mexico State Parks. You can visit their website for more information.
Exceeding Bag and Possession Limits. There are a limited number of fish available for anglers to catch in New Mexico. The New Mexico Department of Game and Fish operates six fish hatcheries that produce hundreds of thousands of fish a year. Having a bag and possession limit helps keep the resource available for everyone.
Common Question: What is the difference between bag limits and possession limits?
Here are the bag limits for some of the most commonly caught fish:
For cold-water species such as trout (including brown trout, brook trout, rainbow trout and Gila trout) and salmon the bag limit is five and the possession limit is 10. For trout, this is any combination of the species listed above. For example, you can catch three rainbow trout and two brown trout to stay within this limit. You can also catch and keep up to five salmon in a day.
New Mexico's state fish, the Rio Grande cutthroat trout, is the exception. A person can catch and keep two of these a day, within the five-trout-a-day bag limit. For example, you can catch two cutthroat trout and three rainbow trout in one day.
Many people think that summer is the best time to go fishing. The truth is, New Mexico offers great fishing year-round.
There are several exceptions to this rule. Please check pages 16 and 17 of the Rules and Information Booklet for more information.
For warm-water species, the bag limit can vary. A few bag limits include black bass: five per day, walleye: five per day and yellow perch: 30 per day. For the full list of warm-water species visit pages 26 and 27 of the Fishing Rules and Information Booklet.
While these may be the most common violations, there are several others anglers need to be aware of, including:
If you do get a penalty assessment, you can log into your account or call 1-888-248-6866 for assistance. It typically takes officers a few days to enter citations into the system.
It is easy for an angler in New Mexico to stay legal. Read and review the Fishing Rules and Information Booklet. It's only 47 pages and will be your best friend to avoid getting a ticket.