New Mexico is a place where the Rocky Mountains meet the desert. It is also a state that is rich in diversity, from its many different climates to the fish and wildlife that reside here. Sportsmen and women of New Mexico are very fortunate to have such a diverse fishing opportunity. New Mexico is home to many different fish species, from largemouth bass to the native cutthroat trout. The great thing about fishing in New Mexico is that you can catch fish in just about every part of the state. From the desert in southern New Mexico to the high mountains of Red River, believe it or not, New Mexico is an angler's paradise.
The Department of Game and Fish has implemented a couple of fishing challenges over the past couple of years that challenge anglers to catch five of the trout species or four of the bass species that inhabit New Mexico's public waters. However, the one program that has been around the longest is the Master Angler Program. This program challenges anglers to catch as many of the 26 species listed in the application as they can. The caveat to this program is that each fish must meet a minimum length to be considered.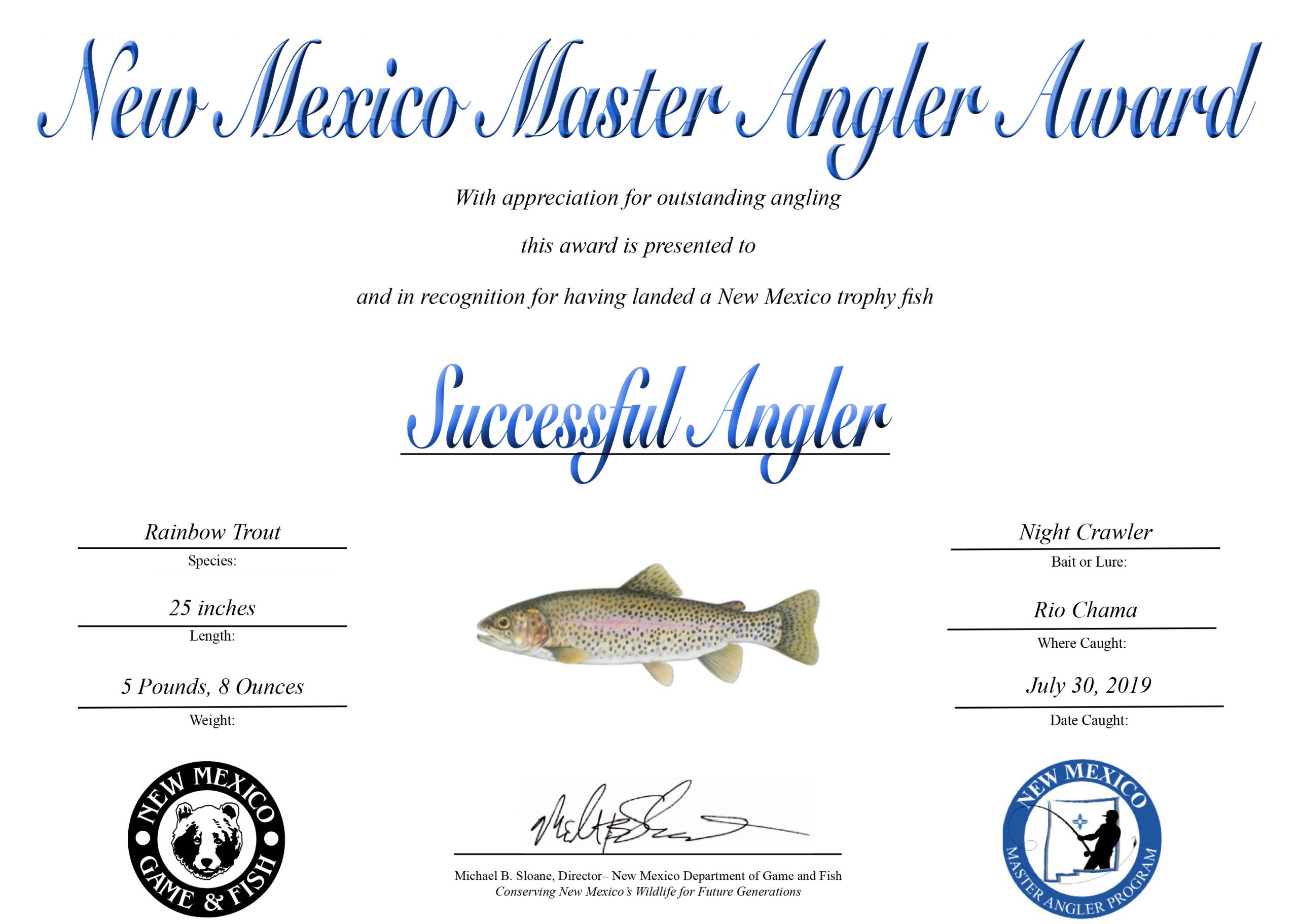 Above: New Mexico Master Angler Program certificate. Below: New Mexico Master Angler Program Logo.
To earn a certificate and get recognition on the state's Master Angler recognition page, fish must be legally taken in New Mexico waters that are open to the public without fishing charges or fees. A current New Mexico fishing license and stamps are required. You must abide by all of New Mexico's fishing rules and regulations in the waters you are fishing. Fish caught at farm ponds, fee-fishing lakes, ponds or streams or in waters restricted to club members or club guests do not qualify.
"This is a great program for new anglers that want to challenge themselves or the seasoned angler that wants to focus on catching trophy fish," said Jason Amaro, an avid New Mexico angler. "For me, this is just another excuse to get outdoors and do some more fishing."
While anyone can participate, each catch needs to meet or exceed the minimum size listed in the Master Angler application for the fish species you want to enter. A witness is required, and this individual may also weigh and measure the fish. A side-view color photo of the fish is required for verification.
The next time you are out on a fishing trip and catch a larger fish than usual, have a witness take a picture and measure it because it just might land you on the recognition page for the NM Master Angler Program.