Whether from movies or history books, most people have heard the stories of the growing American West in the 1800s. It was a time of significant expansion and population booms, spurred on by the extension of the railroad and post-Civil War hopes and ideals of new western settlers looking to make their fortunes, start over, spread out or provide better lives for themselves and their families. The New Mexico Territory was no exception to this influx and was quickly growing during the 1800s. In 1850, there were 61,500 residents. The decades that followed would see continual growth, and by 1910, the population had increased to 327,300 residents, just two years before New Mexico was granted statehood in 1912.
With this continued growth, the New Mexico Department of Game and Fish had decisions to make – not only about terrestrial wildlife, but the availability and abundance of fish in New Mexico waters.
It wasn't until 1919 that there was a license required to fish for trout, but the $4,000 collected that year from sportsmen and women likely helped to pay for some of the cost of keeping fish stocked in lakes and rivers that residents, new and old, relied on as a food source and as a recreational getaway from everyday life. Still, more was needed to ensure New Mexico waters would remain stocked with fish – and at a reasonable cost.
Well before a trout license was considered and even before New Mexico was a state, the Territorial Game and Fish Wardens advocated for the creation of a fish hatchery in New Mexico. Finally, in 1921, the State Legislature addressed the matter, which led to the creation of the state's first fish hatchery: Lisboa Springs, near the small community of Pecos, New Mexico. Through funding from gasoline tax, the 1921 state legislature approved and appropriated the initial $15,000 to build the trout hatchery with a promise of another $15,000 the following year.
Banner: Lisboa Springs Hatchery grounds, Francina Martinez, New Mexico Department of Game and Fish. Below: Lisboa Springs Hatchery, the state's first, as it appeared in 1921 when it was built. From article
New Mexico Builds Hatcheries
.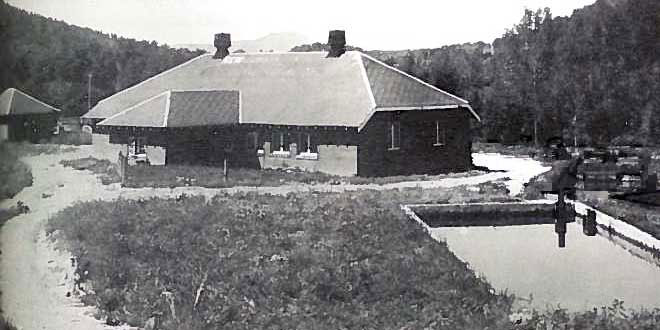 Before this time, fish had to be purchased from other states and private hatcheries and brought in by railcar: an expensive and less-than-ideal way to stock New Mexico waters. This new hatchery would benefit the state and its residents by no longer relying exclusively on outside entities to keep fish plentiful in New Mexico waters.
This year, Lisboa Springs Hatchery has reached its centennial. Throughout its long history it has become an icon for the Department's sport fisheries program. It is also well-known to many anglers and those traveling up the Pecos Canyon. Along State Road 63, just north of the town of Pecos, you can see some of the original buildings with their modern red tin roofs and some of the raceways that serve to house young and full-grown trout. The hatchery has grown and expanded over the years, but the original purpose remains. A self-guided tour around the hatchery grounds allows visitors to see information on how the trout are raised, an opportunity to look through viewing windows of the growing area and to see and feed the big trout in their special show pond.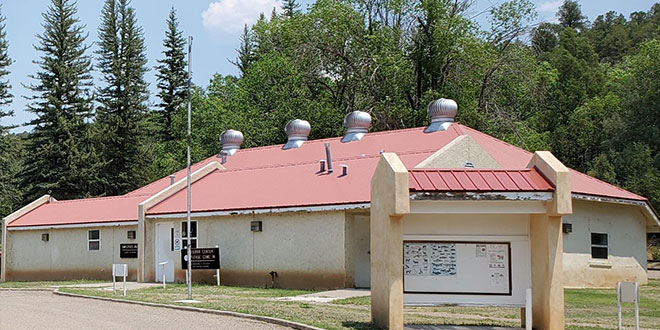 Above Lisboa Springs Hatchery Visitor Center, Francina Martinez, New Mexico Department of Game and Fish:
According to Francina Martinez, Lisboa Springs Hatchery manager and New Mexico's first female state hatchery manager, running a hatchery is no small operation. Each day includes caring for the copious amounts of fish in every growing stage.
Fish arrive as eyed eggs from the supplier that must be incubated until they hatch. The hatched fish will remain in troughs in the hatch house to be watched over and cared for until they are 1.5-1.75 inches in length and ready to be moved as fry to the small fry raceways. The fry will stay here feeding and growing to the fingerling stage, approximately 3.5 inches. At this length, the trout are ready for outdoor living in the large outdoor raceways and will remain here until they grow to a catchable size and can be stocked out. Each step requires constant care, including feeding, water testing, cleaning and 24-hour, 365-day monitoring to ensure healthy fish – a process overseen by Martinez and six other hatchery specialists, who also provide maintenance to the hatchery grounds and vehicles, tend to any complications with the water and oxygen setups and move and stock fish in the Pecos region of New Mexico.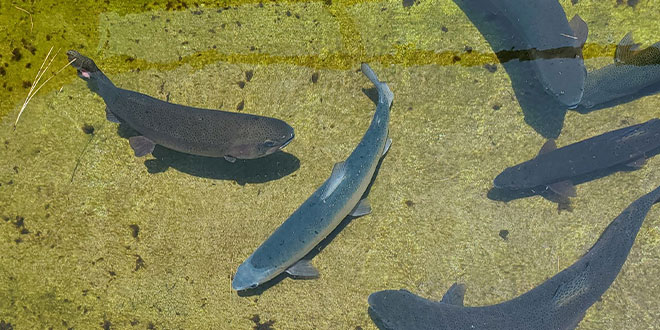 Above: Lisboa Springs show pond, with a big trout nicknamed Blue. Francina Martinez, New Mexico Department of Game and Fish
There are no breaks in raising fish at the hatchery, and each day continues on like the last, making sure that as many fish as possible can be stocked into New Mexico waters for all anglers to enjoy. Lisboa Springs Hatchery commits to stocking 150,650 catchable and 1,450 large (15-plus-inch) rainbow trout each year. This adds up to some busy months, especially in the summer when the hatchery stocks 22,080 fish, including 400 large trout in its busiest month of June.
For the year 2020 alone, Lisboa Springs stocked 228,646 rainbow trout in New Mexico – huge numbers and a lot of work for the hatchery professionals, but all worth it to help bring smiles to anglers and food to dinner tables.
While a great success for the Department and anglers in New Mexico, Lisboa Springs Hatchery has also seen its share of setbacks over the years. It was reported that in 1929 both Lisboa Springs and the newly formed Taos Hatchery lost 300,000 fingerling trout. In the late 1990s, whirling disease was discovered in New Mexico, and over 200,000 hatchery trout had to be destroyed to help stop the disease's progression into New Mexico waters. Because of this, Lisboa Springs Hatchery underwent a significant renovation to cover raceways and re-pipe water into the hatchery from underground springs instead of from the Pecos River, thereby helping to prevent any instances of whirling disease entering the hatchery system. It was a costly but needed endeavor to keep other New Mexico waters healthy. Extensive testing is conducted regularly by fish health specialists with the Department to check hatchery fish for diseases to prevent further outbreaks.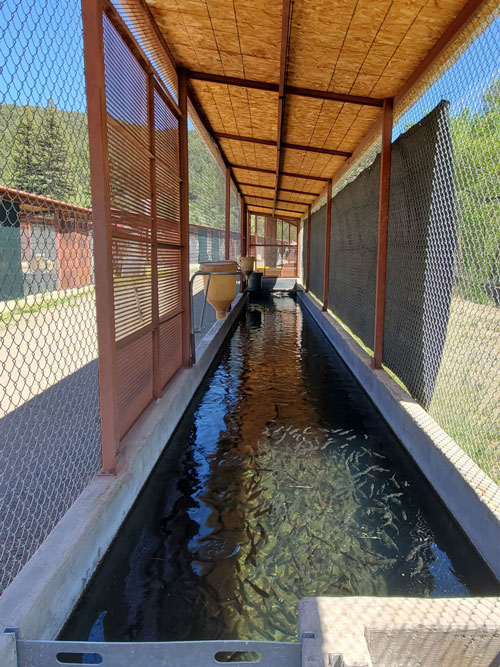 Above: Lisboa Springs fish raceways, Francina Martinez, New Mexico Department of Game and Fish
With the advent of new technologies, the fish production at Lisboa Springs would be seen as staggering to hatchery managers of the 1920s. Trout are now raised to catchable size before being stocked out, where originally almost all fish were stocked as fingerling size trout, around 1 ½ to 2 inches in length, and left to grow in the water they were stocked in. Limited transportation options of the early 20th century have been replaced with trucks with large water tanks, oxygen setups and temperature controls, enabling stockings to occur more successfully and further into the sprawling landscape of New Mexico.
In the realm of science, a new technological marvel that didn't exist when Lisboa Springs first began its operations was the production of triploid rainbow trout. With data collection and the examination of historical records, fisheries biologists in the later 20th century would discover that rainbow trout hybridization with native Rio Grande cutthroat and Gila trout were leading to the loss of these endemic species. This new genetic ability to create all triploid female rainbow trout helped to fix this problem. No longer did New Mexico fish managers have to be concerned about the loss of native trout populations or native trout losing their genetic purity through hybridization from hatchery trout.
Lisboa Springs Hatchery is an important mainstay for New Mexico sportfishing operations. Michael Sloane, current New Mexico Department of Game and Fish director and former hatchery professional at Lisboa Springs, had this to say: "Lisboa Springs Hatchery has a special place in my heart. I started my career with the Department at this historic facility. It is the cornerstone of recreation in the Pecos area, providing thousands of fish to the surrounding region for anglers to enjoy each year. It has seen many iterations during its 100 years of operation, and I look forward to seeing the facility flourish into the future."
Looking to the future, an exciting new endeavor is coming to Lisboa Springs Hatchery, and with it, an additional boost for the state trout of New Mexico. Soon, Lisboa Springs will begin raising native Rio Grande cutthroat trout from eggs spawned in the wild by our fisheries biologists and stocking them into areas within their historic range – thus adding to the population of Rio Grande cutthroat trout as well as providing anglers an additional angling opportunity.
The state's first hatchery may have started with funds from the state's general tax fund, but it would be the later developments from the State Game Commission and a push from hunters and anglers in the early 1900s that would make the Department self-reliant on funds that come directly from you, the hunters and anglers. It is thanks to everyone who purchases a fishing license in New Mexico that the Department is able to carry on this important work.
Lisboa Springs Hatchery may have new technology, gone through renovations and experienced trials and tribulations, but the state's first hatchery is still doing what it originally started doing 100 years ago: raising trout that will eventually be stocked in New Mexico waters for every angler, young and old, resident or non-resident, new to fishing or a seasoned expert, for all to enjoy.