There are many people within the Department who can be considered a jack of all trades. Philip Lujan is a master of many things and helps the Department run smoothly.
Especially under current circumstances, purchasing vehicles can be challenging and frustrating. Negotiating the purchase of numerous vehicles a year and working through the state purchasing system can be nearly impossible sometimes. This is just one of the many things Philip does for the New Mexico Department of Game and Fish.
Phillip has been with the Department for two and a half years, though he says "it feels much longer." He works out of the Santa Fe office with a trio of gentlemen in the Procurement Section within the Administrative Services Division (ASD). Officially, he is the fleet manager, but he describes his job as "a Procurement Specialist, being that most of my work is based in the general overview of governmental procurement."
In addition to the fleet, Philip handles over 500 purchase orders, invoices and contracts for employee uniforms per year. The fleet aspect adds more "field" work or hands-on work that is an ever-changing variable in terms of duties but it does involve managing of payments, purchases, contracts and also project management in the sense that seeing a new vehicle from start to finish encompasses several weeks/months, multiple vendors and a particular process that follows for fuel cards, license plates, titles, etc. before a vehicle finds a final home in a new user's possession.
Banner: Philip preparing several Law Enforcement vehicles for auction. After equipment has reached the end of its useful life, decals are removed and specialized equipment is removed in preparation for the sale. Below: Philip is jumping a vehicle battery that is in need of replacement.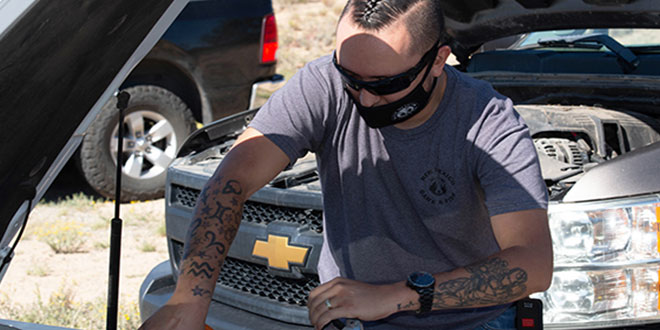 "Past the procurement and the administrative side of things, the project aspect regarding fleet and uniforms is where my job becomes more unpredictable," he says. "Based on budget and section need, I purchase vehicles several times a year. Part of the purchasing process includes outfitting the vehicles with graphics in all cases, and law enforcement equipment in many cases. Each order, regardless of quantity, always ends up as a major project. The purchasing of vehicles during this new pandemic era in which we have been working has changed things drastically as the supply and demand for vehicles has been detrimentally impacted by the virus.
"Whether it be issues with the microchips, issues with shipping and freight, with manufacturers closing factories, the last year and a half has been dynamic in the fleet world. I call vehicle procurement duties 'vehicle shopping' now, because my routine has evolved into speaking with dealerships weekly to peruse their inventory and inbound inventory to find the best vehicles for each section's respective needs.
"I have a mixture of other duties as many of us do – when in the office, I typically work in the mail room with my team and we facilitate the in- and outbound mail for the Santa Fe office."
?
What led you to your current job?

I had a long tenure working for the City of Santa Fe and I truly felt that I had grown stagnant in my role as a civil servant. Then I considered that it was less my role as a civil servant and more the realization that I hadn't built any sort of lasting impact in my professional career. It wasn't an indication of my success professionally, because I would consider myself successful in every role along the way. It was that I had never worked for a section/division/agency that I truly built a passion toward. During my search of that type of place to take a new step in my professional life, I connected with a former supervisor who told me about the Department of Game and Fish and explained that though that person's time was short with the agency that they believed the agency operated well and was a great place to work. With my experience in Fleet, I took that person's advice and applied for this job at our agency. And as they say, the rest is history.
?
What is the most exciting part of your job?

I would say purchasing of the new vehicles. Solely because several times a year I am driving a new model year vehicle and it could be a nice Explorer or a bulky Dodge 2500 or even a two-ton truck for a hatchery. It is always fun to be behind the wheel of a new vehicle. Though I will admit one of the more exciting moments is handing over a vehicle to an employee who is genuinely excited to be issued a state vehicle. As the purchaser, I think we purchase some real nice vehicles!
The auction is exciting as well – we dispose of our vehicles annually via an auction and though the preparation to make it happen can be grueling, seeing the end results of the auction is almost a direct indicator of success as those vehicles deemed worthy of disposal actually have some value when they are all auctioned off. When the auction comes around, I go out of the realm of just dealing with vehicles and add boats, motors, ATVs, utility trailers, mobile home trailers, HVAC systems, chilling systems, tractors and lots of pallets of miscellaneous items to the list. It turns into quite a project that consumes a chunk of a few months' worth of time so the end result always feels awesome.
?
What is your favorite part of working for the Department?

My favorite part of working for the agency is providing customer service. Whether it is tackling a uniform order for an employee or outfitting a vehicle and passing it on to a new user, I have always enjoyed being part of the Department of Game and Fish team and doing my part to help in any way that I can. I do my best to help when needed or asked, and that mentality is so easy to carry around when I work for an agency full of great people who reciprocate positivity back towards me. I came in to this agency as a complete outsider and I have only been met by friendliness from my peers and I would like to believe that I have built strong rapport with many DGF employees. There are so many good people in the agency and that really makes a difference for my morale when I am at the end of a tough or frustrating day.
?
What are your hobbies, or what do you do when you are not at work?

The pandemic unfortunately impacted most, if not all, of my hobbies so I definitely had to adapt over this time to keep myself busy. I would say sports in general is a big hobby, I love playing basketball, I really enjoy volleyball and before the pandemic I was clawing my way back to the gym to continue with Jiu Jitsu. I loving riding ATVs and motorcycles both off-road and on the road. Prior to the pandemic, I was also involved in local mixed martial arts media and one of my hobbies was attending the local combat events to provide media coverage for a local website – hopefully all that resumes soon.
?
What are some of the projects you will work on over the next year or several years?
My job is always evolving in my opinion – though some duties remain the same daily, monthly and annually – I can honestly say that new things sprout about all the time or new ways to do the same thing come up and really add new dynamics to the job. I would say that I am still harnessing the entirety of my role as it continues to change, and as I experience more and more in my role within the agency I feel like I am moving towards improving my own internal controls and procedures. My ambition is to improve on things every time there is opportunity – for example, I want this upcoming auction to be the smoothest to date. I want to be the most prepared and more efficient in its execution than years past.
One professional project I would like to see through to fruition, is the improving and expanding of contracts for uniforms. I would like to work with vendors and staff alike to make purchasing uniforms even more simple, even more convenient for our users. I believe that there are some improvements we learn in time that can help change a contract or help garner more bidders, etc. that would ultimately improve things for both the user and for me behind the scenes for procurement and payables.
In terms of personal projects, I am a father to a five-year-old daughter so my project list might as well be endless. I would like to be involved in her sports life, I coached her first year of soccer and hope that continues on in some manner.
?
What else do you want the public to know about you or your job?
That it isn't always easy! Over the years I have heard all of the rumblings that many folks believe when it comes to government workers and it isn't always positive. Unless you have worked for government, it is hard to understand working for the government. When it comes to procurement processes, approval chains, the proverbial "red-tape" that slows results down at times and the overall oversight in regards to how actions are actually completed, I truly believe our jobs as civil servants are more intricate than many might assume.
For those reading, I appreciate your time! We have an agency full of people who deserve some spotlight so I am humbled to have this opportunity. I am local to Santa Fe, born and raised, I love living here and I love enjoying New Mexico for all of its treasures. Many of my friends and family are avid hunters, fishing enthusiasts, hikers, adventurists, etc. and it is a privilege to be behind the scenes to watch our agency do its part in making this state as special as I believe it to be.
?
What is the most common question you get about your job, and how do you answer it?
"When will the draw results come out?" or very specific license questions! That is the most common thing I am asked when they identify me as a Department employee.
"Is Monastery Lake (insert other fishing spot here) open and stocked?" – Thankfully our Fisheries Division keeps us up to date with stocking information! I get a lot of questions about licenses, fishing, hunting and all things in between and though I don't know it all – we have great resources for information. We have so much great work happening in the field and in our labs, hatcheries and offices, and one great thing about this agency is that it is often communicated to us all so we can all bask in some appreciation for the hard work being handled by the Department.
"How is it working with the Game Wardens/Conservation Officers?" – This is something I didn't touch on in any question yet, but I do enjoy law enforcement questions. When I first started in our agency, I didn't understand how momentous and substantial our law enforcement presence was throughout the state. I have met so many officers coming in as recruits, and have met so many awesome officers in general during my time here. This is my first time working this close with law enforcement and understanding the vastness of their spectrum of oversight, spanning all the crevices and nooks in our state as well as the unpredictable and often volatile situations they experience, has been profound. I truly strive to get officers squared away as best as I can with vehicle purchases, vehicle repairs, uniform issues and just about anything I can help with to give back some appreciation to those folks for doing what they do.
?
If someone is looking to get a career with Game and Fish in the future, what advice would you give them?

I would tell them that there isn't a better agency that I have experienced! Maybe 13 years in government isn't much to the 20 plus-year employees, but I have worked through many obstacles in my career and Game and Fish has been the first employer that helped me create an identity, allowed me to mold myself into the team and provided a platform where I could enjoy the work that I accomplish. Our Mission Statement, Conserve Wildlife for Future Generations, touches on so much more than someone not affiliated with the agency could ever imagine and working for this agency offers a glimpse of how vast wildlife truly is in New Mexico!
I would also encourage them to soak up the knowledge. There is so much intelligence and sophistication in our ranks here at Game and Fish. From our hatcheries to our field employees, and from our Conservation Officers to our financial staff, we have some extensive agency knowledge in our hallways and it has been great to encounter some of these folks who clearly love the Department of Game and Fish. If you have never visited our headquarters, our Santa Fe office is basically a museum – so any new employees should walk the building to see some of the amazing taxidermy we have: buffalo, elk, deer, bear, bighorn sheep, cougar, bobcat, oryx, owls, eagles, ducks, turkey, prairie dogs and even a scale of the state record fish. Basically if you can find it in New Mexico, we most likely have it displayed!