Managing a multi-million-dollar budget takes a team of individuals carefully coordinating, planning, ensuring policies are honored and providing consistency. Everyone in the agency supports the Department's fiscal section. Still, each division, and region, has a person dedicated to ensuring that processes are followed, budgets are managed, bills are paid, quotes are requested and so much more.
In the southeast region, based out of Roswell, Nagako Chroninger is the person with these tasks. If you ask anyone from the area, and many others throughout the state, they will tell you that Nagako is friendly, organized, dedicated, hard-working and a great coworker. For the past 14 years, she has worked with the region and now focuses her time on purchasing orders, paying bills, customer support and, as Nagako says, "everything else that lands on my desk."
Major Colin Duff said, "Nagako is truly one of the nicest people in this Department. She is such a wonderful person to be around and she is a master at her job duties. She is always willing to help out and find ways to make it easier for the [Conservation] Officers to get items they need to do their jobs effectively. Nagako is one of the most dedicated people I have ever had the pleasure of knowing. Not many people will take up learning several languages [Japanese, English and Mandarin] to better serve the people she works with."
Banner: Major Colin Duff presents Nagako with a 10-year lapel pin for her years of service to the New Mexico Game and Fish Department. Below, first: Nagako works out of the Roswell office. Below, second: While we are currently teleworking, Nagako looks forward to returning to the office.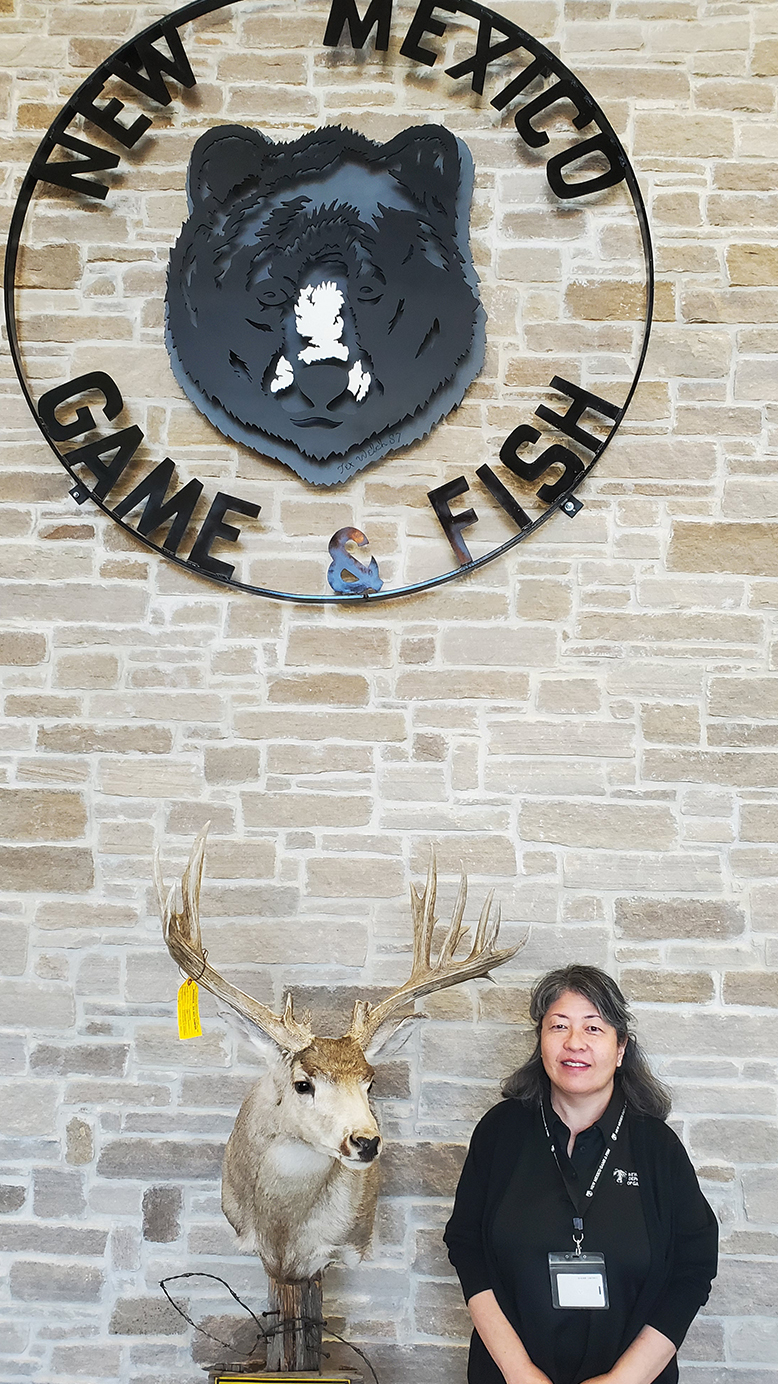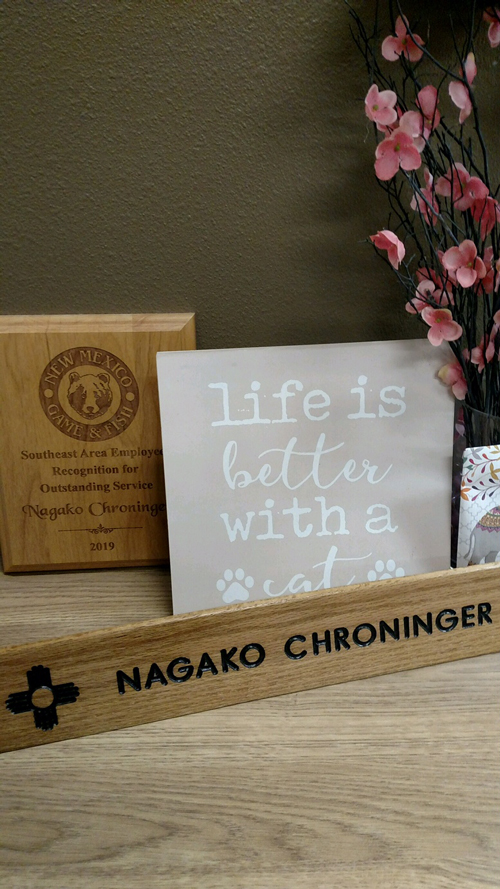 ?
What led you to your current job?

In 2007, I moved back to Roswell, NM, from Japan with my family. I wanted to work and found an administrative assistant position with the New Mexico Department of Game and Fish at the Roswell office. I applied and got it. A few years later, I took a promotion to the southeast region's Financial Specialist.
?
What is the most exciting part of your job?

I enjoy getting to know what the vast lands of New Mexico, its wildlife and nature can offer. Compared to where I came from, it's so varied and wide open. You can drive for hours and still not run into an ocean–it's amazing!
?
What is your favorite part of working for the Department?

The people I work with; they are dedicated and friendly. It sounds simple, but that can be hard to find.
?
What are your hobbies, or what do you do when you are not at work?

I love spending time with my husband watching movies and television shows. I enjoy working in the yard and around the house. I also enjoy trying out recipes from the internet on weekends and I love reading books, especially stories in Japanese, and enjoy books in English as well.
?
What are some of the projects you will work on over the next year or several years?
Not work-related, completing our house renovation. Finally, I am starting to see the finish line!
?
What else do you want the public to know about you or your job?
My father, brother and uncle were policemen. I am proud to play even a small role in support of law enforcement.
?
What is the most common question you get about your job, and how do you answer it?
Q: My friends and family ask if I get to see the animals.
A: I tell them, "Occasionally, I get to see bobcats, bears or mountain lions when they need to be tagged or when they have been seized."
Q: Customers often ask: "What did you say your name was again?"
A: "NA-GA-KO" (usually at least twice).
?
If someone is looking to get a career with Game and Fish in the future, what advice would you give them?
Looking for a unique work environment? Looking for a gorgeous office to work in? We got it! Keep checking for openings!
Captain Andy Gray said, "Nagako is a true professional who takes great pride in the work she produces and her job. She is a critical piece of our team in the southeast region and does an outstanding job keeping myself and all southeast area personnel up-to-date on changing state procurement rules and any financial issues that arise. She is a joy to be around and always has a positive attitude when working with agency personnel and customers."
Below: In 2019, Captain Andy Gray presented Nagako with an award for outstanding service.