Managing New Mexico's wildlife is a long-term, complex endeavor. Biologists must work with other New Mexico agencies, other states, non-profit, industry and the public. There are many differing views and priorities on projects that need to be included, many different methods used to implement those projects and many more intricacies that may go unnoticed.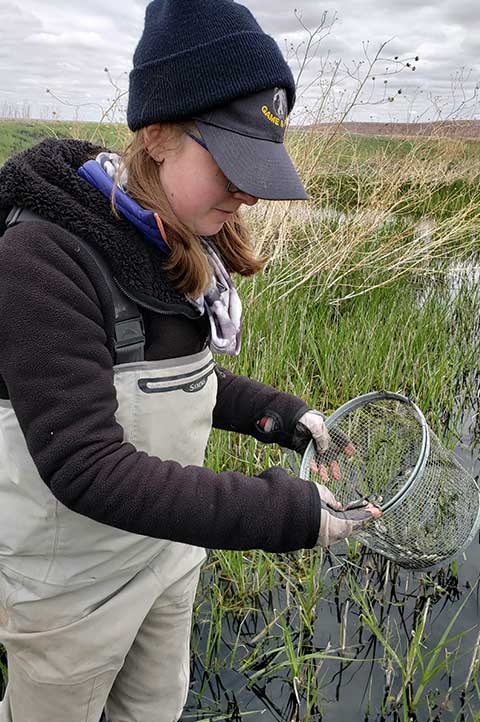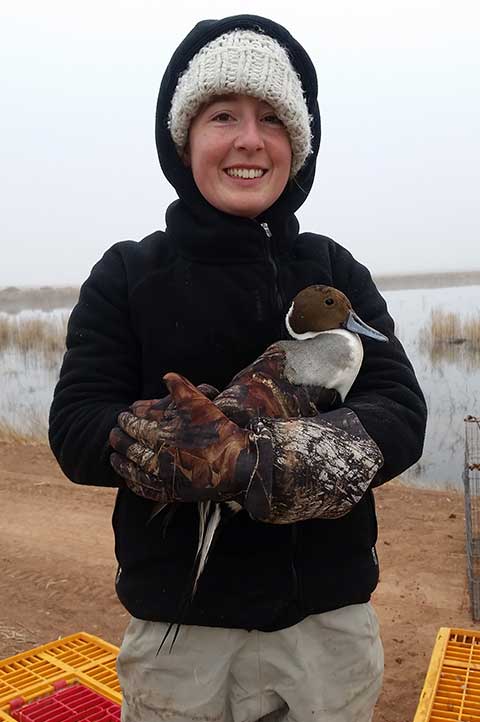 Above, left: Joanna commonly works with many fish species, including this blue sucker. Above, right: Joanna surveying a stream in western New Mexico.
For the past four years, Joanna Hatt has embraced such challenges while focusing on species that may also go unnoticed by many people.
Joanna is the Department's Rio Grande/Canadian native fish biologist. As one of the native fish biologists based out of Santa Fe, her job concerns the conservation and management of our native fish, with special emphasis on species that are state endangered, threatened or of greatest conservation need.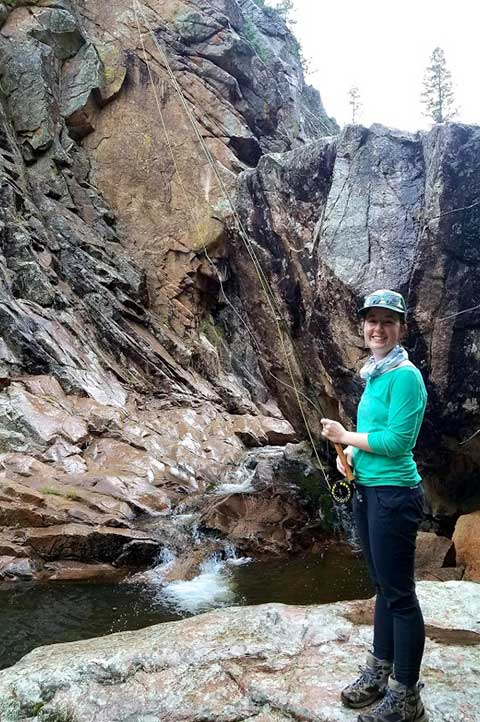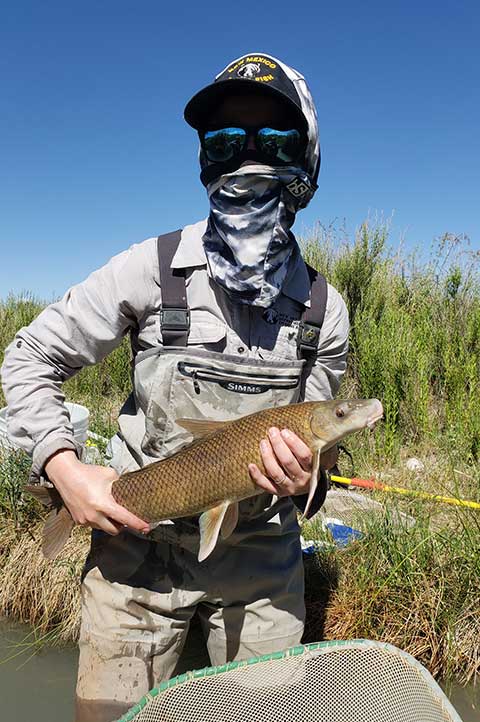 Above, left: Recording data from survey projects is an integral part of Joanna's job.
In this month's #TeamNMGameandFish, we will check in with Joanna and the passions she brings into the Department.
?
What led you to your current job?

After years of working as a researcher in academia, I was looking for opportunities to improve the conservation status of species and serving as a biologist with a state agency is about as close to achieving this goal as you can get.
?
What is the most exciting part of your job?

The most exciting part of my job is undeniably the fieldwork, particularly the discoveries, e.g., when surveys turn up rare species or new locations for species that were previously unknown. It is also incredibly rewarding to witness successes from our long-term efforts, like recovery of Gila trout to Whitewater Creek or observing natural recruitment of gray redhorse in the Delaware River after a decade of restoration efforts.
?
What is your favorite part of working for the Department?

My coworkers and the amazing accomplishments we've made as a team are the best parts of working for the Department.
?
What are your hobbies, or what do you do when you are not at work?

I have a past life as an ornithologist, so I enjoy birding and hiking. I've been an angler all my life, but I recently picked up fly fishing and have really been enjoying it. I also love to cook and enjoy a delicious meal with friends and family.
?
What are some of the projects you will work on over the next year or several years?
This year I am focused on developing a conservation plan for Pecos pupfish, with the assistance of our Interagency Conservation Team. The Pecos pupfish is a species that the U.S. Fish and Wildlife Service is considering listing under the Endangered Species Act. In the next couple of years, I'll be collaborating with Colorado Parks and Wildlife to complete a range-wide status assessment for Rio Grande chub and Rio Grande sucker to determine how these species are currently faring. We also hope to identify opportunities to captively propagate the last population of peppered chub. Finally, I will continue to assist with many other Department projects, including Gila and Rio Grande cutthroat trout restoration, sportfish surveys and spawning efforts and Texas hornshell recovery.
?
What else do you want the public to know about you or your job?
Our agency is quite small compared to many other state game and fish agencies, but we do so much with so little. In my job alone, I oversee conservation efforts for at least eight species that are listed in New Mexico.
?
What is the most common question you get about your job, and how do you answer it?
I'd say the most common question probably is if I am the Rio Grande cutthroat trout biologist. Though I assist with cutthroat trout projects, we have a dedicated biologist for this species. I usually explain my job duties are working with non-game fish and it often surprises them that the agency manages non-game species in addition to game species.
?
If someone is looking to get a career with Game and Fish in the future, what advice would you give them?

I'm not sure that my path is necessarily the path for everyone, but I can provide details on my experience that led me to become a biologist with the Department. These days, it's worth investing the time to pursue a master's degree, preferably in wildlife/fisheries science. There are many opportunities in science-related fields to obtain free tuition and even a paid stipend. Outside of school, get exposure to various skills and be open-minded to the opportunities that present themselves. If you can afford to volunteer, get involved in local groups that will get you even more experience. And be patient! It took me and my colleagues awhile to settle into these positions, but the more connections you can make, the easier it will be to land your dream job.
Maintaining a long-term vision can be difficult, but it is an essential part of the work of wildlife and fisheries biologists. Joanna said, "the work that I do is important to ensure that these fish species and their contributions to the function of a healthy, natural ecosystem will persist for future generations of New Mexicans."