Did you know that New Mexico has three species of black bass: largemouth bass, smallmouth bass and spotted bass? In this month's #TeamNMGameandFish we meet Warmwater Fisheries Biologist Edward Enriquez.
For the past three years and three months, Edward has coordinated and led spring bass electrofishing surveys, assisted with the largemouth bass spawn at Rock Lake Hatchery, assisted with the walleye spawn and assisted with fall gillnet surveys for walleye.
Banner: Edward holding a largemouth bass. Below: Edward with a walleye at Clayton Lake.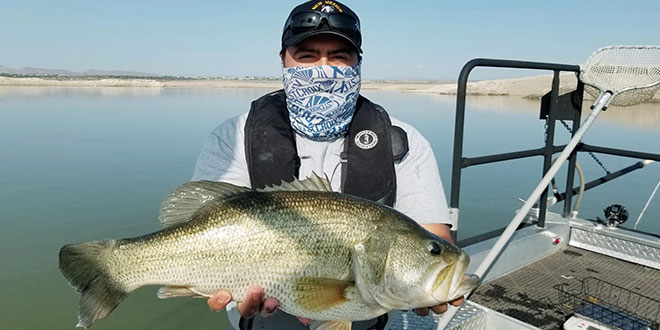 Above: Edward with an eight and a half pound largemouth bass at Elephant Butte Reservoir during surveys. Below: Edward during reservoir surveys.
"One of my main responsibilities is the monitoring of these three species' populations across the state," said Edward. "Monitoring ensures that we can look at a population's growth or decline through time and make management decisions to ensure the population is available to anglers. Should a population need supplemental stocking, I put together a stocking request and work with hatchery personnel to get largemouth bass to where (they are) needed. Supplemental stocking is used as a management tool to support recreational fishing."
Additionally, Edward is responsible for managing the striped bass population at Elephant Butte Reservoir. Although the reservoir has been experiencing consistent low-water years, the Department has stocked striped bass fingerlings (1 inch-1.5 inches) in length into Elephant Butte in 2020 and 2021. The fingerlings from 2020 are now between 12-14 inches in length and are in good shape. Several local striped bass guides have reported catching numbers of the one-year-old bass this past spring and summer.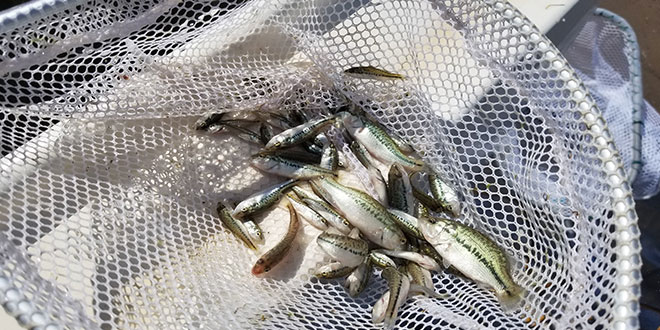 Above: Bass fingerlings ready for stocking at Elephant Butte Reservoir. Below: Largemouth bass fingerlings.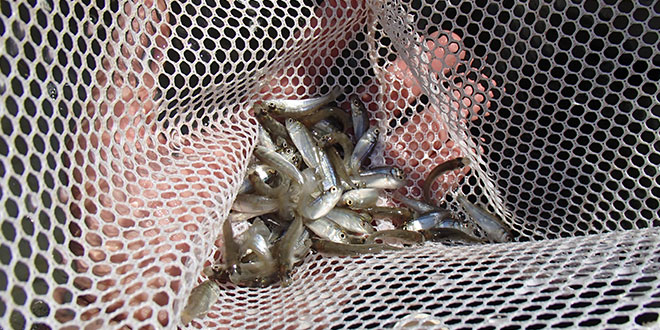 Above: Striped bass fingerlings. Below: Striped bass fingerlings.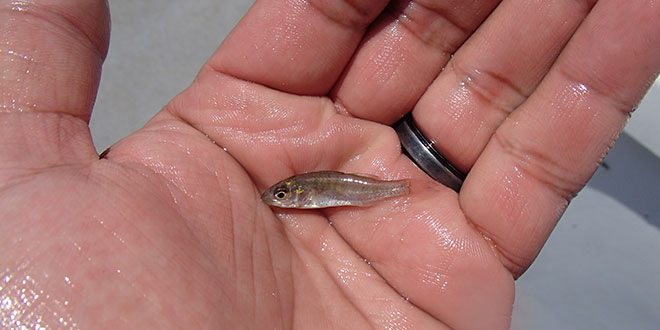 Stocking is the primary method of maintaining a recreational population of striped bass in Elephant Butte Reservoir. Coordinating stocking takes months of back-and-forth communication with the private hatchery source.
As if this doesn't keep Edward busy enough, he works on permits for private landowners to stock fish and investigates fish kills. When in the office, he answers questions from the public. Edward also assists the native fish team when undertaking large-scale native fish restoration efforts like Whitewater Creek or Costilla Creek restorations for Gila trout and Rio Grande cutthroat trout.
Banner: Philip preparing several Law Enforcement vehicles for auction. After equipment has reached the end of its useful life, decals are removed and specialized equipment is removed in preparation for the sale. Below: Philip is jumping a vehicle battery that is in need of replacement.
?
What led you to your current job?

Since college, undergrad and graduate school, I had wanted to attain a position with a state game agency to manage sportfish species (specifically black bass). I previously worked for the New Mexico State Engineer's Office for four years before starting my position with the Department of Game and Fish. I kept my eyes open for a fisheries biologist position while at the State Engineer's office. My current position was advertised. I applied for this position, was called for an interview and was hired in September of 2018.
?
What is the most exciting part of your job?

For me, field work is the most exciting part of my job. During electrofishing surveys, it's always exciting to be up on the front of the boat netting and waiting to see what fish comes up next during the survey. Seeing large bass come up or any fish species of large size is always a surprise and so far, it has not gotten old.
Seeing the diversity of species that are in our rivers and reservoirs is also exciting. When I handle a species that I haven't seen in person before, I check it off of a bucket list in my head and that is always a great experience.
?
What is your favorite part of working for the Department?

Getting to go out and camp as a regular part of field work is one of my favorite aspects of the job. I get to see a lot of the state of New Mexico while conducting field work as part of my job and enjoy my coworkers, who always make the field work more fun and interesting.
?
What are your hobbies, or what do you do when you are not at work?

I love to fish and hunt. My favorite species to fish for is bass (largemouth, smallmouth and spotted bass) and walleye. I also like to dove and quail hunt, although I haven't been able to hunt as much as I would like to lately.
I also enjoy building World War II model aircraft and reading air combat books on World War II aircraft and pilots.
?
What are some of the projects you will work on over the next year or several years?
Within the next year and continuing through the next few years, we should be starting a study to evaluate the effectiveness of stocking sub-adult largemouth bass (5-7 inches) into our trophy bass waters. This will involve marking the bass and then conducting electrofishing surveys after the bass have been stocked to see how many survive their first winter, their first year and in general, see long they persist in the water body.
I will also continue to be involved in streamlining and improving the largemouth bass spawn at our warm-water hatchery in Santa Rosa to produce more largemouth bass to stock into New Mexico's waters. We have been able to produce more fish in each consecutive year since 2019, but are striving to ensure that we can stock all the water bodies in New Mexico that could use supplemental stocking.
We are also currently taking fin clip samples from largemouth bass captured during electrofishing surveys to eventually send off to a genetics lab to "genetically map" what largemouth bass genetics look like across the state. Some water bodies had Florida largemouth bass stocked into them years ago and we are curious to know if any of those genetics have remained.
?
What else do you want the public to know about you or your job?

We travel extensively during the year and although the public may not see us at their home lake, we are likely going to visit it soon or have recently visited the lake for a survey. Despite the small size of the Warmwater Fisheries Team, we survey as many water bodies as we can during our field seasons. The public can call us at the local field offices to ask us questions about fishing or their local water body and speak to us directly.
?
What is the most common question you get about your job, and how do you answer it?

The question that I get asked the most is: "Where are the fish at?" To which I usually respond: "I don't know, they haven't been responding to my e-mails."
After the confused look subsides, I then gladly talk with them about where we have seen fish during the surveys and where they should try to go and fish.
I offer any fishing advice that I may have for that water body based on my previous fishing experiences.
?
If someone is looking to get a career with Game and Fish in the future, what advice would you give them?

If you are a college student, I strongly recommend that you volunteer or work for a professor with similar interests to yours during the school year. I also highly recommend getting a summer internship with a state or federal natural resources agency to build up your work experience.
Fisheries and Wildlife Biologist positions are very competitive positions to get into. Gaining as much on-the-job experience and training is a must when applying for these positions.
Lastly, I would recommend that you consider graduate school if you are serious about getting a fish or wildlife biologist position. Along with good work experience, it will make you that much more competitive when applying and interviewing for biologist positions.