The North American Model of Wildlife Conservation identifies the key components that make conservation unique in America. One of the main principles of the model is the fact that wildlife resources are held in public trust and private ownership is not allowed. While we may take this fact for granted now, this has not always been the case in other places and times.
During the Renaissance in France, hunting was largely a socializing event enjoyed by French aristocracy. Hunting was strictly prohibited for the non-noble and poaching was met with severe consequences. This all changed during the French Revolution which abolished this elitist privilege, leading to widespread interest in hunting and the need for regulated seasons and harvest limits. With the implementation of wildlife conservation practices, hunting in France is still enjoyed by outdoorsmen and women from around the world today.
Banner: Ragoût is a French stew commonly prepared with game meat. Below: A dish enjoyed by French aristocracy centuries ago that is still enjoyed today.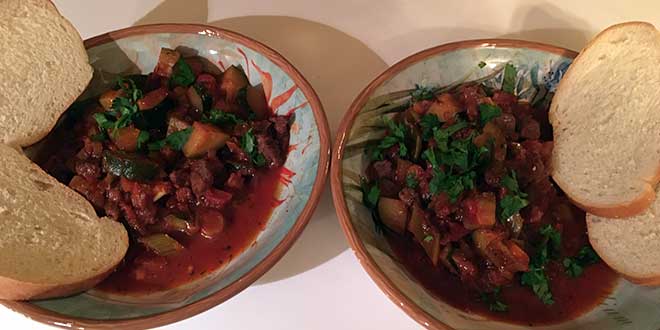 A dish enjoyed by French aristocracy centuries ago, ragoût is a French stew commonly prepared with game meat and red wine that is still enjoyed today.
Ingredients:
½ Tbs. butter
2 lbs. venison stew meat or other game stew meat
2 bacon slices, chopped
5 carrots, sliced
2 celery stalks, diced
2 leeks, sliced
2 zucchinis, diced
1 c. beef broth
1 ¼ c. dry red wine
1 15oz. can low-sodium petite diced tomatoes
3 whole garlic cloves
3 sprigs thyme
2 sprigs oregano
1 sprig sage
2 bay leaves
½ tsp dried parsley
½ c. fresh parsley, chopped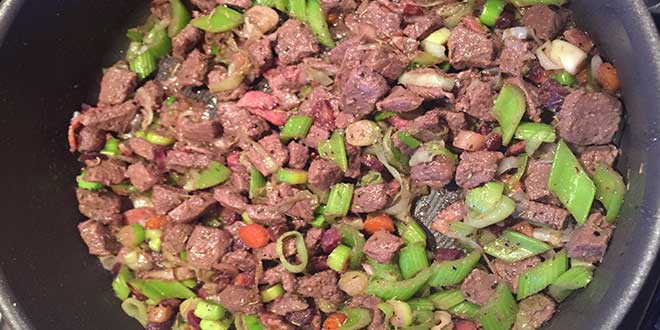 Above: The makings of the stew, prior to adding broth.
Directions:
Brown venison in butter and remove from stock pot. Cook bacon, carrots, leeks, celery and garlic until vegetables soften. Return venison to pot and add tomatoes, broth, wine, thyme, oregano, sage, bay leaves and dried parsley. After bringing to a boil, reduce heat, cover and simmer for one hour to one hour and 15 minutes, stirring occasionally. Add zucchini and recover, cooking for an additional 20 to 30 minutes. Remove bay leaves, garlic cloves and sprigs of thyme, oregano and sage. Top with chopped parsley to taste. Serve with French baguette.