Growing up, weekends were for the mountains, especially in the summer. My family was camping, going for a trail ride, hiking or fishing. Sure, some summer weekends were filled with soccer or baseball games, family commitments or chores around the house, but most of my weekend memories come from the mountains.
I have never been a good angler; never had the touch to feel a fish nibbling away on a worm just waiting for me to set the hook. I have tried, but if I felt something on the end of the line, I yanked as hard as possible and immediately started reeling like my life depended on it. As an adult, I have learned a bit more finesse for fishing, but not much – I still struggle.
Above: Tristanna with her first Rio Grande cutthroat trout caught in northern New Mexico.
I moved to New Mexico about four years ago and have wanted to start fishing in my spare time. But moving to a new state makes it hard to learn where to go and techniques for catching the different species of fish we have in the state. When I plan a weekend trip, I try to find a spot that isn't too hard to get to, is not the most popular spot in New Mexico and where I have a good chance to catch a fish.
This can all be so challenging to find without the right resources.
Lucky for you, here at the New Mexico Department of Game and Fish, we have fish biologists who are not only passionate about their job, but passionate about fishing. I have often heard of staff coming off a habitat improvement project in one part of the state, only to load up their family and the back of the pickup to head out on a fishing trip at a nearby lake.
They also have a passion for sharing their knowledge with everyone who wants to fish in New Mexico. Whether you are interested in your local urban fishing hole or getting out of town for the weekend, the Department has created several tools to help you determine where to go and what to bring.
If you sign up for the email blasts, you will get the information in your email box every Tuesday afternoon. The stocking report is released on Friday afternoons and shared on the fishing report webpage.
Above: The Fishing Conditions and Trip Planner has informative heat maps to show when fishing is good at different lakes across the state. Below: The Fishing Conditions and Trip Planner has a series of line graphs to show when it is for the best fishing for different species at different lakes across the state.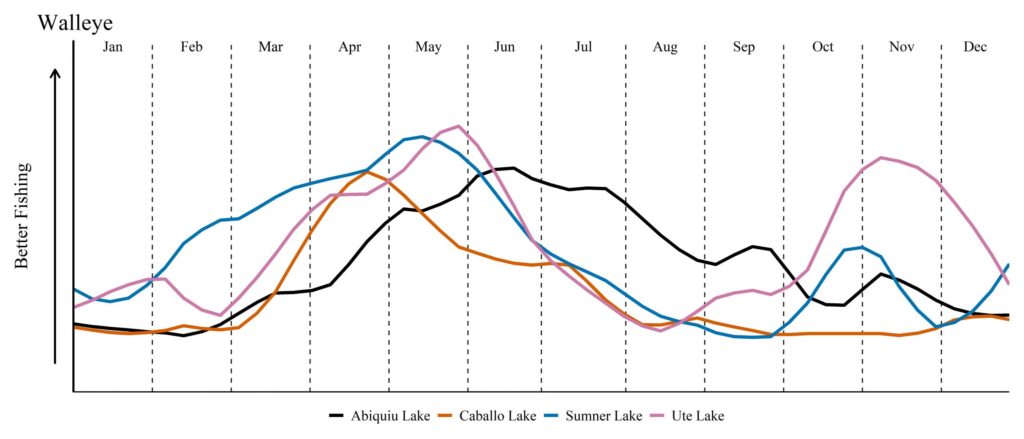 After putting their minds together, they took fishing reports from 2016 to 2019 and used the good, fair and poor ratings to graph out when is the best time to fish for certain species and when specific lakes or rivers are expected to have the best fishing opportunities. For instance, you can go to the webpage, click on the Conchas Lake dropdown and receive a series of line graphs that show Conchas Lake starts getting good for bass in April and stays good through the summer, with peak times being in May and September. You can also see that it is suitable for catfish later in the summer.
Likewise, if you are interested in catching walleye, visit the Fishing Conditions and Trip Planner, click on the Species tab and scroll down to the Walleye dropdown. You will get a few graphs that show walleye fishing is really good in late May.
This tool is beneficial to help you plan out the best place to go and the best time to be there.
When you download the map, give it a few minutes to load all the tools. You will need one of the following browsers to access the map: Chrome, Firefox, Safari 3+ or Internet Explorer 8+.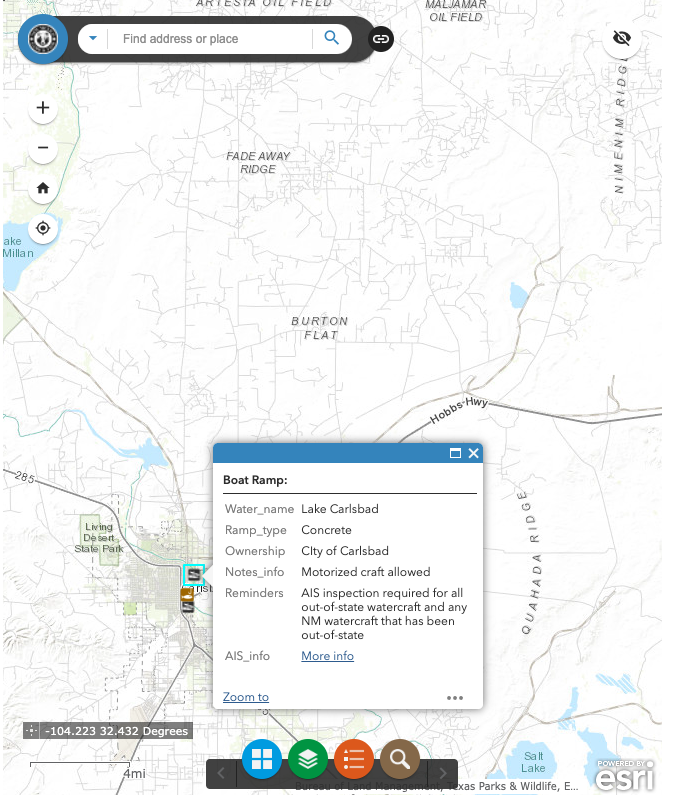 Above, left: This Fishing Waters Map has several layers to help you determine the information you are seeking. In this photo, we have turned off all layers except the Summer Catfish Waters (indicated by the brown icons) and boat ramps (indicated by the black icons) in the southeast area of the state.
Above, right: You can click on each icon for additional information. In this case, you can see that Lake Carlsbad has a concrete boat ramp and reminders about aquatic invasive species.
I have found it best to scroll to the bottom of the map and click on the Layer List. You can choose to select the layers that peak your interest. For example, if you have a boat and are interested in the Summer Catfish Program, you can unselect all other choices, leaving just the Summer Catfish Program and Boat Ramp options. If you scroll into the southeast area, you will get a map like with icons showing the different waters that meet your search request.
The Fishing Waters Map has many options. You can search for special trout waters, habitat improvement projects, handicap-accessible access points, statewide access points and many more items of interest.
Fishing in New Mexico is quite popular. Many people enjoy the solitude of a high mountain stream. Others want a day at an urban lake. Others seek a long weekend camping trip with some fishing activities before roasting a marshmallow. No matter the outing you would like to have, these tools can help you get started.
Above: After catching her first Rio Grande cutthroat, Tristanna and her husband cooked them up over an open fire at camp. The recipe is simple, just a little seasoning and butter.
Don't forget to send us a photo of your catch for our weekly report highlights after you get back from your fishing adventure. If you have a catch of the week story or just want to tell us about your latest New Mexico fishing experience, send it to us at funfishingnm@gmail.com. We may include your story in our next report. For catches of the week, include name, age, hometown, date, location, type of fish, length and weight, if possible, and bait, lure or fly used.
Happy Fishing!