New Mexico has a rich wildlife heritage and a wide diversity of wildlife that can be seen and photographed by people seeking to connect with the outdoors. New Mexico also has an array of habitats, from alpine tundra, forested mountains, grasslands, rivers and lakes, to sandstone canyons and the Chihuahuan desert. These diverse habitats support approximately 550 species of birds, 300 species of butterflies and a myriad of others.
New Mexico ranges from 2,842-13,161 feet in elevation. However, you don't have to drive or hike to the lowest or highest elevation point to see wildlife. Nestled between the 10,319 feet of elevation change, one can expect to see anything from a desert cottontail rabbit to Rocky Mountain bighorn sheep. Many of these animals can even be seen in your own backyard; sometimes, it is just knowing when and where to look.
Wildlife viewing can be done on family trips, on a hike in the mountains or walking around your neighborhood. If you don't know where to start, you can purchase a New Mexico Wildlife Viewing Guide on Amazon. This guide has site descriptions, specific species lists, maps, access and location directions, etc. It can also help direct you to 76 prime wildlife viewing areas with the best dates, times and places, and species to look for. You can also go to https://www.wildlife.state.nm.us/recreation/, where you will find a list of places to go and the wildlife viewing opportunities they offer.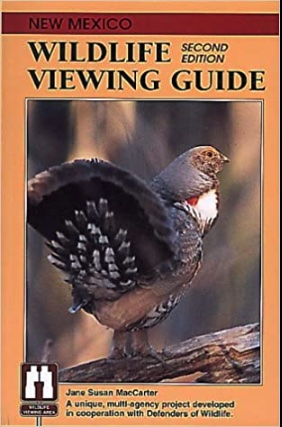 Banner: Doe Pronghorn. Inset: New Mexico Wildlife viewing guide.
Many New Mexico Game and Fish properties, known as State Game Commission (SGC) lands, also provide opportunities to get outside to view wildlife. SGC lands include Wildlife Management Areas and other properties owned, managed or controlled by the New Mexico State Game Commission. SGC lands are managed by the New Mexico Department of Game and Fish to benefit fish, wildlife and their habitats. New Mexico's SGC lands also provide public access for wildlife-associated recreation through a four-dollar Habitat Management and Access Validation (HMAV) stamp from the Department of Game and Fish.
So, whether you want to view wildlife in your backyard, on a hike or on a family trip across the state, New Mexico has something for everybody. From migrating birds in the Jicarilla Lakes Loop to desert bighorn sheep in the greater bootheel area to hummingbirds in the Capulin Volcano National Monument, New Mexico is not lacking in its diversity of wildlife or places to view them.
For more information on viewing wildlife or general wildlife-related information in New Mexico, visit our website at www.wildlife.state.nm.us and expand your knowledge.
The Department reminds outdoor recreationists to "know before you go" and contact land management agencies regarding additional regulations or restrictions on specific properties of interest before heading afield.