Fishing is fishing, but kayak fishing is a whole different experience.
Shoreline anglers often are limited by the access points and the distance an individual is willing to hike for solitude. With a kayak, finding the 'road' less traveled becomes a more realistic prospect.
Above: Kayak fishing provides an opportunity for anglers looking for some tranquility to reach more remote locations where they can enjoy some time alone. NMDGF photo by Dan Williams.
New Mexico Department of Game and Fish personnel sat down and discussed some of the best potential kayak-fishing destinations for those wanting an experience that will take them off the beaten path. Below, in no particular order, are their top 10 choices.
Be sure to check the local weather forecast for your desired destination and always wear a life jacket. Strong winds can result in some dangerous swells on New Mexico lakes. Those heading out can check out the latest fishing reports at www.wildlife.state.nm.us.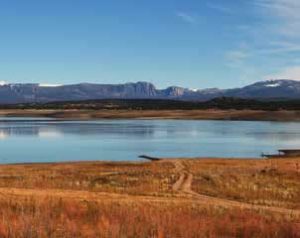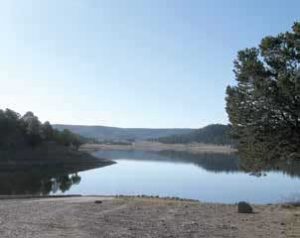 Fenton Lake State Park
This popular state park provides the closest large waterbody trout fishing for many in the Albuquerque metro area. With motor boats restricted to electric trolling motors, this is a quiet spot and a favorite for anglers with canoes, kayaks and waders.
About 70 miles northwest of Albuquerque in the Jemez Mountains, this 37-acre man-made lake provides a stunning scenic view of ponderosa pine. With the cool forest, multi-colored volcanic cliffs, and great fishing, it is a top spot to go paddling. If lucky, you might just encounter an angler better than yourself as osprey nest in the summer and are seen flying over the water in search of trout.
The lake is stocked regularly with rainbow trout and is home to some large brown trout. Not far up the road is the Seven Springs Fish Hatchery and youth pond, which occasionally stocks Rio Grande cutthroat trout from its tanks.
Directions: Off N.M. 126 in the Jemez Mountains approximately 20 miles north of Jemez Springs. Contact: (575) 829-3630.
Heron Lake State Park
At over 7,000 feet, this quiet, high-elevation lake is surrounded by ponderosa pines and picturesque cliffs. With approximately nine square miles of surface area, the lake can serve as host to many recreationists without feeling crowded.
The lake is currently 80 feet low and only kayaks, canoes, and trolling boats are allowed. If water levels rise, sailboats and motorized boats are allowed, but only at no-wake speeds, meaning there will be no jet skis or water skiers. When it comes to angling, the question at this lake is what to pack for your trip. With fantastic fishing for kokanee salmon, rainbow trout and lake trout, you'll want to be sureand bring a variety of baits and lures.
Heron Lake has gorgeous views of mesas to the west, high peaks to the north and the dramatic Brazos Cliffs to the east.
There are campsites at Heron Lake State Park, with many close enough to the water that you can just keep your boat on the beach. Stop at the visitor center and pick up a brochure of suggested paddle trips. If you need a break and want to explore the area, Heron Lake valso has a 5.5-mile hiking trail, which crosses the Rio Chama River by suspension bridge and will land you at El Vado Lake.
Directions: Take U.S. 84/285 from Santa Fe to Española. From there, take U.S. 84 North to Los Ojos. Turn left onto N.M. 95 South and Heron Lake will be on your right. Contact: (575) 588-7470.
Lake Maloya
Near the Colorado border, this 130-acre lake is in a ponderosa pine forest and is part of Sugarite Canyon State Park near Raton.
Only electric motors are allowed, which makes it great for kayaking and canoeing. Conditions for kayaking are best from mid-spring to mid-fall. No swimming is permitted per a lease agreement with the City of Raton.
This is a quiet, serene location. The ban on gasoline motor boats makes this a great spot to paddle and catch rainbow trout.
Those wanting a break from the water will find places to land and hike on the northwest side of the lake. Nearby is Lake Alice, which does not permit any boating, but has a year-round campground and excellent shoreline fishing.
Directions: Take I-25 to exit 452 at Raton and follow N.M. 72 east for 3.5 miles. Then go north on N.M. 526 for about three miles to the park entrance. Contact: (505) 445-5607.
San Juan River below Navajo Lake to Blanco
The San Juan River below Navajo Lake is in the high desert and is fed by the cold water from the bottom of Navajo Lake. This makes for a fantastic location for those wetting a line for trout. While stretches can be busy from the shoreline, drift boats provide an opportunity to use the entire 16-mile run on the San Juan.
This stretch starts from access points below the dam through Navajo Lake State Park to Blanco most of the year. Be sure to have your rod and reel and New Mexico fishing license. It's never a bad idea to check on river flows before your trip. Canoes and kayaks will generally find favorable conditions at 900 cubic feet per second.
As with any fishing trip, it'll pay dividends to know the area and what to pack. This means knowing the dominant food source for the fish at a given time of year. Keep an eye on the Game and Fish fishing report for some helpful tips.
Directions: Approximately 40 miles east of Farmington, the area can be accessed several ways. The shortest route from Farmington is to take U.S. 64 to N.M. 511 N. Then look for a sharp right onto N.M. 539 and it will be on your right. If heading west on U.S. 64, take N.M. 539. Contact: (970) 385-6560 or
waterdata.usgs.gov/nm/nwis/rt
for flow information.
Clayton Lake State Park
Clayton Lake is a beautiful, high plains 510-acre state park approximately 15 miles north of Clayton. It has two miles of shoreline and a depth of about 45 feet along the old riverbed. The park is near New Mexico's border with Colorado, Oklahoma, and Texas with a landscape of rolling grasslands, volcanic rock and sandstone bluffs. While motor boats are permitted, they are restricted to trolling speed only.
The lake was created by the Department of Game and Fish in 1955. Game and Fish has a joint agreement allowing New Mexico State Parks to operate a park on Game and Fish property and anyone who possesses a valid fishing license and is actively fishing is not charged an entrance fee provided they park in the free parking area at the boat ramp. The fishing season on the lake generally runs from March through October. During the winter months, fishing is closed and the lake serves as a resting area for waterfowl. During the summer months, it can be warm during the heat of the day, but is pleasant in the early mornings and evenings.
Lake levels can vary, so it is prudent to call in advance. With trout, catfish, largemouth bass, bluegill and walleye, anglers have options at this lake. Clayton Lake holds every state record walleye since 1980, including the current record of 16 pounds 9 oz. caught on March 19, 1989.
Directions: Head to Clayton and onto North 1st Street. In about ½ mile, turn right onto Clayton Lake Road and continue onto N.M. 370 North. In approximately 10 miles turn left onto N.M. 455 and continue to the park. Contact: (575) 374-8808.
Quemado Lake
Quemado Lake, approximately 20 miles south of the Town of Quemado, is nestled between piñon-juniper woodlands and pine forests at an elevation of nearly 8,000 feet. It is an out-of-the-way spot that offers uncrowded waters and great fishing. The surrounding U.S. Forest Service recreation area includes the 131-acre lake with two ADA fishing piers, two boat ramps, developed campgrounds and access to more than seven miles of hiking trails. Boat use is restricted to oars or electric motors.
Trout are the primary sport fish in this man-made lake. While tiger muskie is primarily catch-and-release, anglers can keep one tiger musky 40 inches or larger.
Directions: From Quemado take N.M. 32 south 14.2 miles to Quemado Lake/N.M. 103 sign. Turn left at the sign onto N.M. 103 and go four miles to Forest Road 13. Continue straight for one mile to the campground. Contact: (575) 773-4678.
Bluewater Lake State Park
Because motorized boats and waterskiing are permitted at this lake, it might not be the best choice for a summer kayak fishing trip. However, consider a weekday in the spring or fall when visitation is slower and temperatures aren't quite ideal for water sports.
Why? New Mexico has world-class tiger muskie fishing at Bluewater Lake State Park. Tiger muskies aren't overly picky when it comes to bait, biting on everything from crankbait and flies to hotdogs and water dogs. While this fish is primarily catch-and-release, anglers can keep one tiger muskie 40 inches or larger. Although the tiger muskie is the primary appeal, the lake also holds rainbow trout and channel catfish.
If you go fishing here, it's a good idea to first learn about safely catching and releasing tiger muskies. This fish has sharp teeth and a delicate nature, which dictates special precautions and equipment.
In addition to the fishing, anglers will enjoy the beautiful ponderosa pine-clad Zuni Mountains in the background. The park, west of Grants, also offers camping, hiking, birding and horseback riding.
Directions: Take I-40 to N.M. 612 and follow to the lake. Contact: (505) 876-2391.
Taos Junction Bridge to Pilar
This particular trip is on a relatively calm segment of the river with no significant rapids. However, there are other hazards such as the cold water that can result in hypothermia, so those new to kayaking might want to get comfortable with their equipment before this visit. Put in at the Taos Junction Bridge and you've got six miles of waterway down to the Orilla Verde Campground.
Before departing, consider what you'll be looking to catch. The primary catch in this area will be rainbow and brown trout, but cutthroats are possible along with smallmouth bass and northern pike. Pike provide a bit of a challenge and you'll need to pack items specific to reeling in one of these fish, such as flashy lures, big streamers on a fly rod, or a Rapala, which is also good for the larger browns.
This can be a crowded area for kayaking, especially on warm-weather weekends, so consider a visit during cooler times or weekdays.
This stretch, beginning at the bridge, is not far from Taos and there are developed campgrounds in several areas. This reach also has some great takeouts and boat ramps that make access easy. The trip will provide beautiful natural scenery and abundant shoreline areas to take a break.
Directions: Heading north on N.M. 68 from Pilar, turn left onto N.M. 570 and follow about six miles to the Taos Junction Bridge. Contact: (575) 758-8851.
Rio Grande Below Elephant Butte
If having a lot of access to the Rio Grande is your goal, the river below Elephant Butte is a relatively tame 10-12 miles. You can enter the river at Elephant Butte Dam State Park and finish at Caballo Lake State Park. Fishing this stretch is good throughout the year. During the spring and early summer, you're likely to land white, smallmouth and largemouth bass, walleye, and catfish. A bit farther downriver, trout will be your primary catch during the winter months between October and March.
There are several perks to kayak fishing in this area, one of which is that kayaks can be rented at Elephant Butte. In addition, for a multiple-day trip, there is camping just below the dam, although reservations are on a first-come, first-served basis. The Town of Truth or Consequences also has a variety of services.
Water releases from the dam can vary depending on the time of year and can be somewhat turbulent during irrigation season, so be sure to check flows in advance. The water feeding the river comes from lower depths in the lake and is cold, so be sure to dress appropriately before taking to the river.
Directions: Take I-25 to exit 83 (N.M. 181/195). Turn onto N.M. 181/U.S. 85 for about ½ mile. Turn left onto N.M. 195. You'll go through the Town of Elephant Butte and follow to the state park entrance. Contact: (575) 894-6661, Ext. 105.
Eagle Nest Lake State Park
Surrounded by mountains and rolling hills, this lake provides a great scenic experience. Motorized boats are allowed on this lake. However, this alpine lake sits at an elevation over 8,000 feet and the water is cold. As a result, water skiing, jet skiing and swimming are not recommended.
For those wishing to kayak fish during the summer, this lake provides a break from the heat and has a variety of facilities, including boat ramps, 19 developed campsites, restrooms, trails, wildlife viewing and picnic areas. The lake offers 16.5 miles of shoreline, meaning those wishing to find a secluded spot should be able to do so. The primary species for anglers are rainbow and northern pike, and yellow perch. Kokanee salmon are also present in the water.
Remember to dress appropriately for the cold water. Check the forecast before leaving because strong afternoon winds can lead to rough water.
Directions: From Española, follow N.M. 68 North and U.S. 64 East to Fisherman's Lane and continue on until reaching Eagle Nest Lake State Park. Contact: (575) 377-1594.