Anglers who have abandoned Brantley Lake as a prime fishing destination may want to reconsider in 2016.
Following recent improvements, the lake is shaping up as a hot spot for catfish and bass this spring.
"Conditions haven't been this good in years," said Shawn Denny, warm water fisheries biologist with the New Mexico Department of Game and Fish. "The lake is back up and so are the number of bass and cats. I'm betting the spring fishing will be excellent."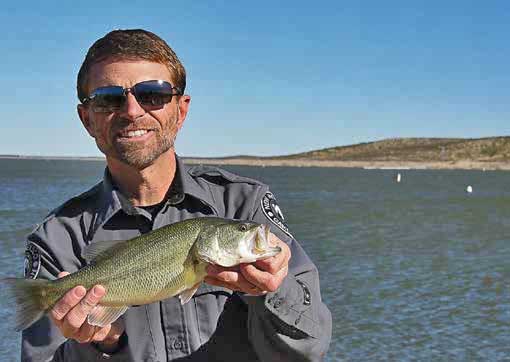 Shawn Denny, warm water fisheries biologist for the department, shows off a typical bass found at Brantley Lake during fish population surveys in late 2015. The spilling basin at Brantley is reputed to be a great fishing hole.
In the southeastern corner of the state, Brantley Lake has suffered in recent years from drought-induced low water levels and periodic fish kills from golden algae blooms.
Denny said little is known about what causes golden algae blooms, but it appears most often during winter months and during periods of extreme instability such as low water levels.
While it is not harmful to humans, golden algae produce a toxin that limits a fish's ability to absorb oxygen. A bloom often results in massive fish kills. It can be chemically controlled to some degree, but not on a large scale.
Brantley Lake hasn't produced a bloom since 2007 and recent drought-busting monsoon rains and better winter snowpack have helped improve conditions.
"A nice, stable system without a lot of upheaval seems to keep the algae at bay," Denny said. "But it always seems to be lurking in the background."
While it hurt angling opportunities, the drought did play a role in the current conditions. Fish habitat improved considerably due in part to "lake effect," where shoreline vegetation grows as the lake recedes. When the lake level rises again the submerged vegetation provides food and shelter for fish.
"We saw historic flooding last year that brought the lake back up," Denny said. "And if we get good winter snowpack and plenty of spring runoff this year, the fishing should be exceptional."
Recent fish surveys at the lake found plenty of hefty channel catfish in the 18–24-inch range and lots of largemouth bass 12–16-inches.
Denny is hoping the favorable conditions will produce plenty of baitfish and crawdads on which the fish can thrive.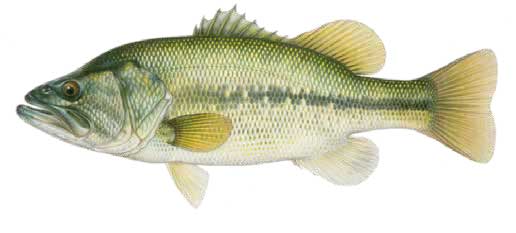 Brantley Lake remains under a "catch and re-lease" order from the state Game Commission due to detection of the now banned insecticide DDT (dichlorodiphenyltrichloroethane) in some fish.
Denny said the department continues to monitor the situation and could seek to have the order lifted when a sufficient number of fish show little or no evidence of the highly persistent chemical.
Bank fishing for bass is relatively easy at Brantley and tips on how to do it can be seen in an instructional video posted on
the department's YouTube channel at youtube.com/NMGameandFish.
Brantley Lake State Park, about 12 miles north of Carlsbad, sports two boat ramps and day use areas on opposing sides of the lake. There are two primitive lakeshore camping sites and Limestone Campground, which provides sheltered sites with electricity and water. The campground also features restrooms with showers.
"It looks like it's shaping up to be a really good year," said Leila Haver, New Mexico State Parks marine enforcement officer at Brantley Lake. "When the water's high, the fish thrive. The anglers have been telling me the fishing's been incredible."
Haver said Brantley Lake is an oasis in the desert where visitors can enjoy quiet camping, excellent fishing and stunning sunsets on the outskirts of a major metropolitan area. For those visiting nearby attractions such as Carlsbad Caverns, Sitting Bull Falls and Living Desert Zoo and Gardens State Park, the campground provides an inexpensive alter-native to costlier accommodations in town.
The park sees a lot of use by locals on week-ends but usually has plenty of camp sites available during the week. Anglers can purchase fishing licenses, bait and tackle at local sporting goods stores.
For more information about Brantley Lake State Park, please visit New Mexico State Parks website at nmparks.com.
To stay abreast of the latest fishing conditions at Brantley Lake, monitor the New Mexico Department of Game and Fish stocking and fishing reports found online at www.wildlife.state.nm.us/fishing/weekly-report.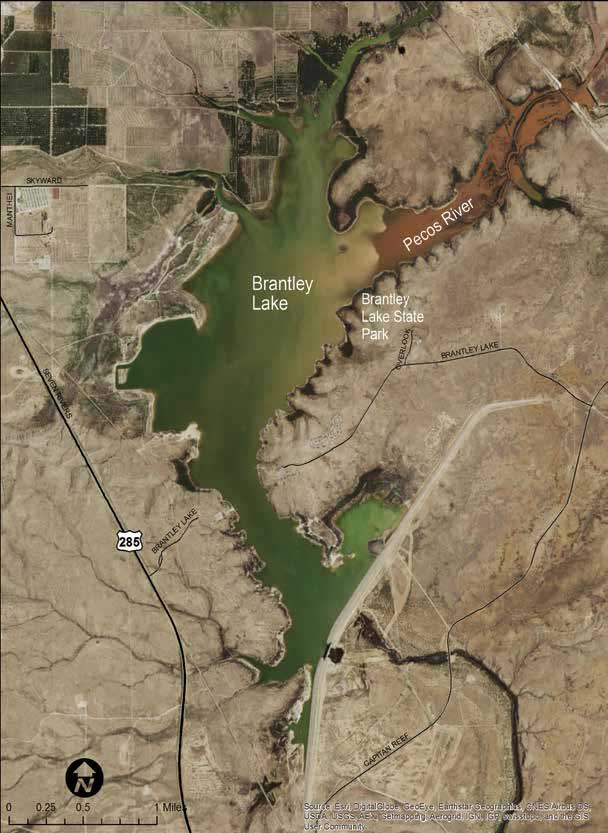 An aerial view of Brantley Lake in southeastern New Mexico. The lake had suffered from low water levels and periodic fish kills from golden algae blooms, but recent improvement and higher water levels have the lake shaping up to be a fishing hot spot in 2016.