In the dry, arid environment of New Mexico, the sight and sound of a meandering stream is both a beautiful and quite-rare sight to behold.
In 1973, the Carson National Forest acquired Stewart Meadows using funds from the Land and Water Conservation Fund. Stewart Meadows is a 600-acre parcel of land that straddles the Rio San Antonio, west of San Antonio Mountain. The land was acquired to improve outdoor recreation in northern New Mexico and is a popular area for hunting, fishing and wildlife viewing with convenient public access on a well-maintained gravel road. However, in recent years, overgrazing had become a problem because of a failing fence. That led the New Mexico Department of Game and Fish to use funds from its Habitat Stamp Program, as well as from federal grants, to construct a new fence that will help manage grazing on the property and allow the habitat in Stewart Meadows to rest and regrow.
Below: A new pipe rail and cable fence was constructed at Stewart Meadows in the Carson National Forest during the spring and summer of 2021 to manage grazing on the property.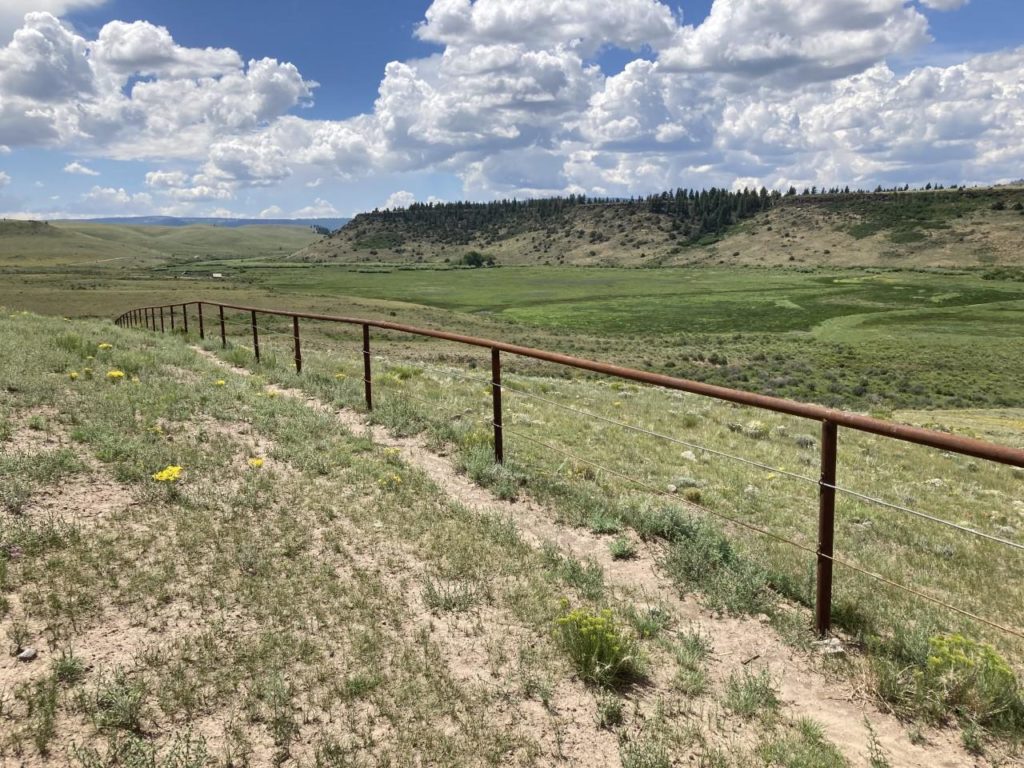 In the late-1980s and early-1990s, a wooden beam fence was constructed around the perimeter of Stewart Meadows to protect it from the impacts of grazing. However, in the decades since, the effects of nature took their toll on the fence.
"(The fence) was probably pretty good for a year or two, but wood out in the wild tends to deteriorate pretty quickly when it's not treated," said Daniel Lusk, habitat manager for the Department, noting the constant maintenance performed by Carson National Forest technicians to keep the fence intact. "By the time we got there, the fence was basically Swiss cheese. You could go up to those top rail sections and just push it over – it would just fall down." The dilapidated condition of the fence allowed cattle to gain access to Stewart Meadows and eventually led to overgrazing.
Thanks to funds from federal grants and the Habitat Stamp Program, a $600,000 project took place during the spring and summer of 2021 to replace the existing fence with a new pipe rail and cable fence. The new fence still allows deer, elk and pronghorn to cross, but prevents access by cattle.
This area provides resting, feeding and breeding habitat for migratory waterfowl and other birds, in addition to many species of wildlife including elk, deer and pronghorn. As the willows continue to recover more forage is available for beavers, which create quality habitat for native fish and amphibians.
"Whether it's deer, pronghorn, elk – the ungulates that are up there – or threatened and endangered species that are inhabiting those areas, there's lots of benefits for wildlife," Lusk said.
Below: Carson National Forest fish biologist Mariya Osipchuk and New Mexico Department of Game and Fish habitat manager Daniel Lusk enjoy the view near the new fence in Stewart Meadows. The property was purchased in 1973 by the Carson National Forest to provide hunting, fishing and wildlife-viewing opportunities.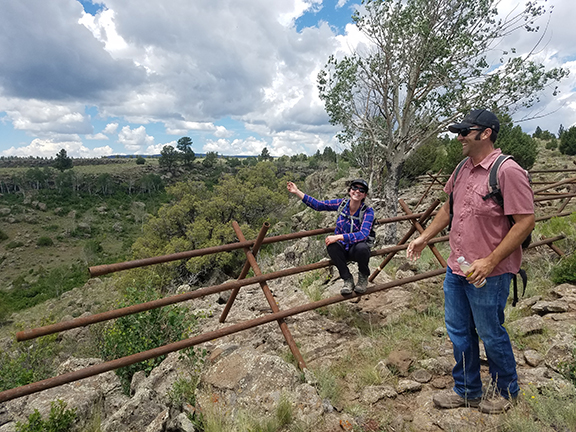 This section of Rio San Antonio is included on the list of impaired stream reaches by the New Mexico Environment Department, Surface Water Quality Bureau. Continuing to protect the riparian vegetation in Stewart Meadows contributes to improving water quality by creating shade to reduce water temperatures and reduce bank erosion.
"We should see a significant response within the next few years as far as woody vegetation," Lusk said. "With beavers being present in the accompanying and adjacent areas of the stream, they should move right in."