For hunters planning to chase gobblers this spring, preparation will be a critical element for a prosperous hunt. Being a successful turkey hunter takes time and effort and, if you are fortunate in taking a tom, it can be an exhilarating experience. Taking some time prior to heading into the field will increase a turkey hunter's odds for success.
Above: Found throughout the west, Merriam's turkeys are most often associated with ponderosa pines. The over-the-counter license spring season is April 15–May 10 and the youth-only season is April 8–10. NMDGF photo by Storm Usrey.
Preparation
A successful turkey hunter prepares all hunting equipment in advance of their planned dates to be chasing strutting toms. Make sure your turkey vest/hunting pack is well stocked and organized. A few items to include are turkey calls, decoys, camouflage face mask and gloves, a sharp knife, map and compass, GPS unit, flashlight, spare batteries, water, snacks, first-aid kit, rain jacket, water purification system, whistle, signal mirror, waterproof matches and fire starter, rope or cordage, spare shotgun shells, applicable hunting license and stamps, and written permission from any landowners allowing you to hunt their private land.
You need to make sure all of your camouflage clothing and hunting boots will be adequate for the terrain you plan to hunt. Weather can be unpredictable in the mountains, so have adequate clothing and dress in layers. Make sure to wear camouflage clothing from head-to-toe. Turkeys have excellent vision, see colors, and spot movement quite well.
Because state laws can vary, take time to read up on hunting rules and regulations for the area or state you will be hunting. Make sure you know them before heading out.
It's also important to get your vehicle in working order and complete a checklist of camping and food supplies. Have adequate tools for your vehicles and camp (tool set, jack, lug wrench, ax, shovel, tire chains, tow rope) and make sure to change the oil in your vehicle and check the condition of your tires. It's also important to make sure your registration is up to date on any ATVs you will be taking. Go through your camper or tent and make sure everything is ready before getting to your campsite.
Planning ahead prevents headaches down the road.
Preseason Scouting
Among the biggest factors in success is to become familiar with the terrain and the habits of the birds. Make time before your hunt to go scouting and learn where turkeys are roaming in areas you plan to hunt. Look for green tender grass in canyon bottoms, water and leftover acorn or piñon nuts or juniper berries on the forest ground, as well as any insects and proper roosting trees (usually tall ponderosa pines).
Most of all, search for turkey sign and actual visual sightings of turkeys. Find areas where they feed, roost, where they travel once they fly down from roost and where they obtain water. Once the breeding action starts, find the strut areas. Mark these locations on your map. Find the turkeys and you have put yourself in a position to become successful at filling your tag.
The bonus to preseason scouting is twofold for me. I learn the lay of the land and ownership and I also get to look for elk sheds.
Once I have narrowed down my hunting area, I begin to formulate a hunt plan, which I share with family members before I depart. In this hunt plan I inform them of camping locations and areas I plan to hunt. That way, if I fail to report in the time I have given, they know where to find me.
Part of the preseason scouting involves contacting the local land management agency and finding out what their rules are for the area. Visit with their staff along with local Game and Fish officers to help narrow down spots to hunt.
Pattern Your Shotgun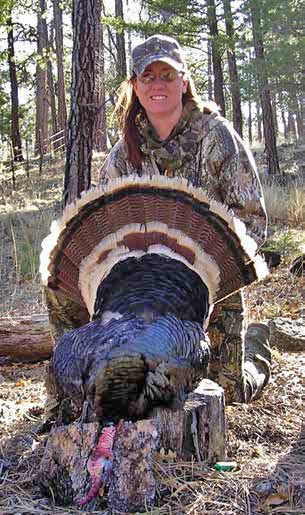 Before heading to the woods, make sure your shotgun is shooting well with the choke tube of your choice. Try to use full- to super-full-choke tubes on turkeys. I recommend using size 4 to 6 shot on turkeys.
Today, you can purchase special turkey loads that shoot remarkably well. Shotguns with adjustable sights are great because you can sight in your shotgun, much like an open-sighted rifle, and with today's turkey chokes and ammunition you can shoot tight patterns. When you have the opportunity to take aim on a gobbler's head and neck area you don't want to miss because you failed to test your shotgun.
With the help of a box call and a .12-gauge shotgun, Heather Gonzales got this gobbler in the Cibola National Forest. She had to reposition once after fly down to call it in. NMDGF photo by Storm Usrey.
Practice Your Hunting Calls
Take time to become comfortable with using whatever turkey call you prefer. Whether it be a box, slate, glass or diaphragm call, make sure you can use it properly. You can find some turkey calling instructions on YouTube that can help with the quality of your calls. There are also videos available of actual turkeys calling. Then take some time to practice.
Many of these hunting information videos provide turkey hunting tips as well. If you can yelp, cluck and putt-and-purr on one call of your choosing, you should be ready to head to the woods and attempt to call in a wiley old mountain bird.
During the breeding season, turkeys can shock-gobble at just about any noise. A crow caw, owl hoot and coyote howl have proven to make a tom gobble, which gives up his location. So, become efficient with these calls as well and it may help you find turkeys that have flown up to roost.
Calling is a big component of spring turkey hunting and this is why many love the action of the woods in the spring.
Patience and Persistence
When hunting wild turkeys, you must have a lot of patience and be willing to sit for long periods of time and give the turkeys the opportunity to work in your direction. The 10- to 15-minute calling stands performed for coyote hunting will not work for turkeys.
If you have done your preseason scouting and found or patterned turkeys, then you should give them the time to head to your calling and decoy set. Just because a gobbler has gone silent does not mean he has left the area, he probably has hens with him.
Remember, in nature hens go to the gobblers and we are reversing that by trying to call in gobblers. Gobblers that are henned-up during the early morning hours may head your way by mid-morning, so don't give up on them. He may come back and he may come in silent, so be ready.
Pastime and Present Memory Making
With the hustle and bustle of modern life, and the average age of hunters increasing every year, don't wait to get your children and family into the turkey woods this spring. You will make memories of a lifetime. Share your experience in the woods and turkey hunting with others.
Wild Turkey Posole Recipe
Cooking Time 4-6 Hours.
You will need a crock pot.
Ingredients

½ partially frozen turkey
1 pound, 12 ounces of uncooked red chile
2 cans, or 25 ounces Mexican-style hominy.
Choice of seasonings
Directions
While you can find many online recipes, one you might consider is wild turkey posole. It is easy to make and delicious. Here is a quick and easy recipe for your slow cooker.
Take half of a partially frozen and clean turkey breast and cut it into small or bite-size pieces. It can be easier to cut if left partially frozen. Heat up a pan with a little olive oil in it and cook the cut turkey meat thoroughly. Feel free to season the meat. Once the turkey meat is cooked and slightly brown put it into a crock pot filled up with a 1-pound, 12-ounce tub of uncooked red chile (mild, medium, or hot), two cans, or 25 ounces, of Mexican style hominy, and fill the crock pot up with water. Cook on low for four to six hours. Season to taste with garlic salt and feel free to cook with a few pieces of raw garlic. Serve and enjoy with a tortilla.