The New Mexico Department of Game and Fish's Share with Wildlife program has selected 12 wildlife projects for funding starting in 2022.
The Department's Share with Wildlife program funds projects up to $50,000 in four categories: habitat enhancement, biological and ecological research studies, wildlife rehabilitation and wildlife education.
For 2022, the program is supporting five research projects, five education projects and two wildlife rehabilitation centers, both of which conduct wildlife-related education.
The research projects are answering important questions that the Department's non-game biologists need answered about a diversity of terrestrial and aquatic species, said Dr. Ginny Seamster, the Department's Assistant Chief for Technical Guidance. For example, she explained, the Peñasco least chipmunk project is evaluating habitat use of this rare species in a previously burned area.
"We've been working with researchers at New Mexico State University to gather more information on the status, distribution and ecology of this species for several years now," she said. "Looking at what happens to this species in an area impacted by a wildfire that led to a significant shift in local habitat composition is crucial to understanding the likely effect of future wildfires with high potential to occur within the chipmunk's geographic range."
Banner: Share with Wildlife funds are being used to evaluate habitat use of the rare Peñasco least chipmunk. Below: The Department is working with researchers at New Mexico State University to study the effects of wildfire on the Peñasco least chipmunk's habitat. Photo by Fiona McKibben.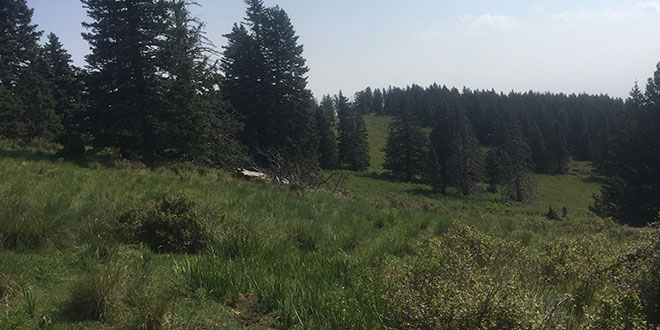 The education projects boost environmental education, including provision of lessons related to New Mexico's wildlife, approaches to surveying wildlife populations and important habitats for K-12 students throughout the state. One project is focusing on enhancing availability of information on coexisting with snakes. The rehabilitation centers receiving funding in 2022 are the New Mexico Wildlife Center in Española and the Desert Willow Wildlife Rehabilitation Center in Carlsbad.
Any questions about the newly funded projects, or how to apply for 2023 funding, should be submitted to the Assistant Chief for Technical Guidance, Dr. Ginny Seamster, virginia.seamster@state.nm.us. The call for proposals for 2023 projects is planned for release in Spring 2022.
The list of 2022 projects, as well as projects from previous years, can be viewed on the Share with Wildlife webpage.
Below: The New Mexico Wildlife Center in Española is receiving funding this year to help rehabilitate animals such as this eagle. Photo by Melissa Moore.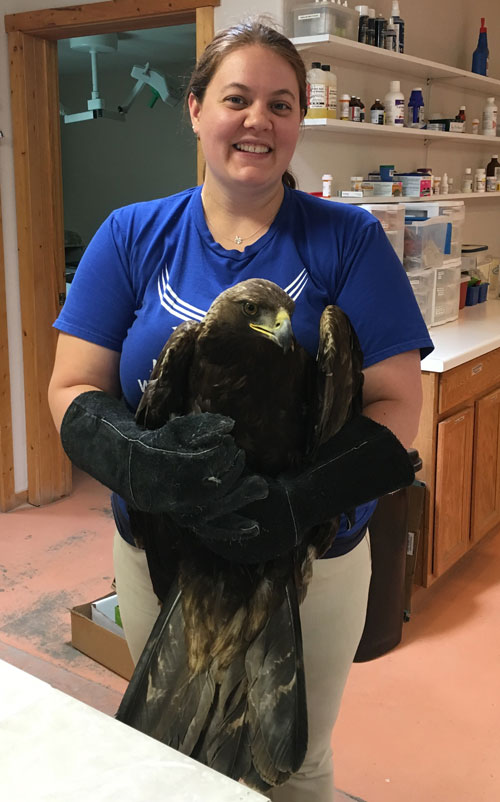 "The Share with Wildlife program receives many more proposals than it is able to fund," Seamster said. "We always wish we could fund more of the excellent proposals that are submitted to Share with Wildlife annually. In the past few years, the program has been able to fund at most just over half of the proposals submitted, often funding closer to a third."
Share with Wildlife is funded through donations from the public that are then matched by federal funds to maximize support for wildlife. All donated funds support projects; none go to program administrative costs. Donations can be made by purchasing a Share with Wildlife license plate from the New Mexico Motor Vehicle Division, donating when purchasing a license on the Department's Online Licensing System or by donating a portion of the refund on your state taxes through the tax check off program. For more details, see the Donate Now tab on the Share with Wildlife webpage.