The New Mexico Department of Game and Fish's Share with Wildlife program has selected 11 wildlife projects for funding starting in 2021.
The Share with Wildlife program funds projects up to $50,000 in four categories: habitat enhancement, biological and ecological research studies, wildlife rehabilitation and wildlife education.
During 2021, the program will support one habitat project, six research projects, two education projects and two wildlife rehabilitation centers' education and rehabilitation activities.
The habitat project focuses on constructing beaver dam analogs along a stream in the Carson National Forest to improve habitat quality for many species, including the northern leopard frog. The research projects focus on a variety of Species of Greatest Conservation Need, including the lesser long-nosed bat, pinyon jay, Rio Grande chub, Rio Grande sucker, Sacramento Mountain salamander and several species of terrestrial snails.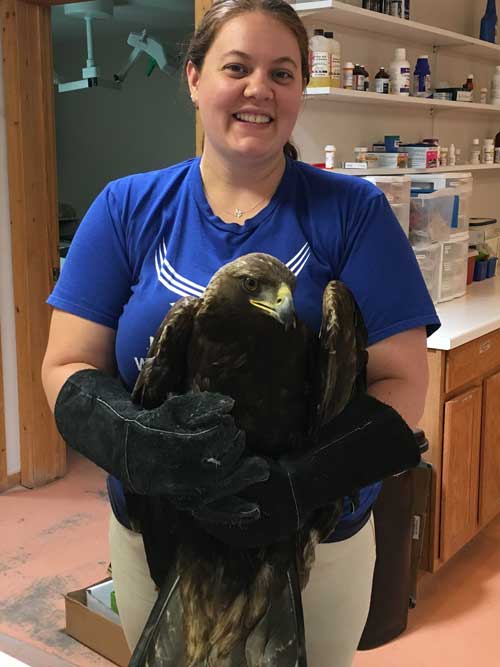 Above: New Mexico Wildlife Center rehabilitation staff holding an eagle at the Center in Espanola. Photo provided by Melissa Moore.
Above: Potential beaver dam analog construction site on the Rio Grande del Rancho.
Department photo.
The research projects will help answer important questions that Department non-game biologists need answered about a diversity of terrestrial and aquatic species, said Ginny Seamster, Share with Wildlife coordinator. For example, the long-nosed bat project entails data collection on two bat species migrating to southwestern New Mexico during summer months.
"Very little is known about the demographics and ecology of these species during the time they spend in New Mexico," she said. "Additionally, the draft post-delisting monitoring plan crafted by U.S. Fish and Wildlife Service for the lesser long-nosed bat requests that the Department assist with monitoring at a major day roost in the Big Hatchet Mountains."
The education projects boost environmental education, including lessons related to New Mexico's wildlife and important habitats, for K-12 students in northern and central New Mexico. The rehabilitation centers receiving funding in 2021 are the New Mexico Wildlife Center in Española and the Wildlife Rescue Inc. of New Mexico in Albuquerque.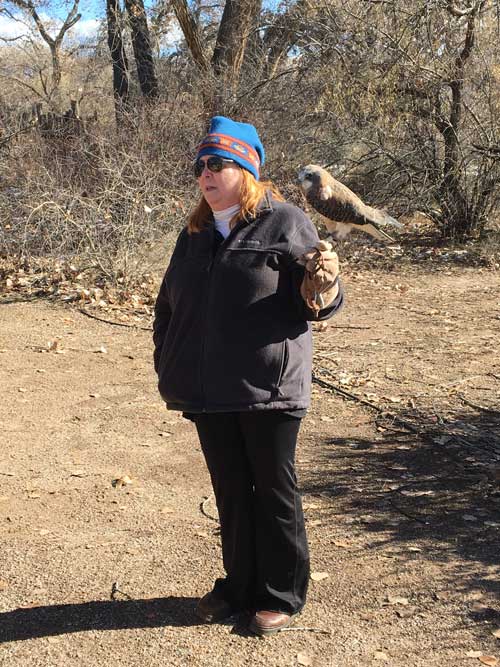 Above: Wildlife Rescue Inc. of New Mexico volunteer with a Sharp-shinned hawk used for education at the center.
Department photo.
Above: One grantee is working on monitoring the lesser long-nosed bat in the Big Hatchet Mountains. Photo provided by Dr. Theresa Laverty.
Any questions about the newly funded projects or how to apply for 2022 funding should be submitted to Share with Wildlife Coordinator Ginny Seamster at virginia.seamster@state.nm.us. The call for proposals for 2022 projects is planned for release in Spring 2021.
The list of 2021 projects and projects from previous years can be viewed on the Share with Wildlife webpage: www.wildlife.state.nm.us/share.
"The Share with Wildlife program receives many more proposals than it can fund," said Seamster. "The Department would like to fund more of the excellent proposals that are submitted to Share with Wildlife annually. In the past few years, the program has been able to fund at most just over half of the proposals submitted, often funding closer to a third."