If you're looking for an excellent place to catch lots of fish and don't want the hassle of running into a whole lot of people, then the San Pedro Parks Wilderness is the spot for you. Located just east of Cuba in the Jemez Mountains, this pristine wilderness offers fishing for just about anyone willing to work a little bit. All you need is some fishing tackle, a fishing license and a habitat stamp.
We will focus on the two streams for this article: the Rio de las Vacas and the Rito de las Perchas. Both streams have lots of fish, and they each hold both native cutthroat trout and brown trout. Because these waters have no special restrictions on what tackle you use, you can take a spinning rod or try your luck at some more challenging fishing by using a fly rod. However, anglers must still follow the bag and possession limits for the state.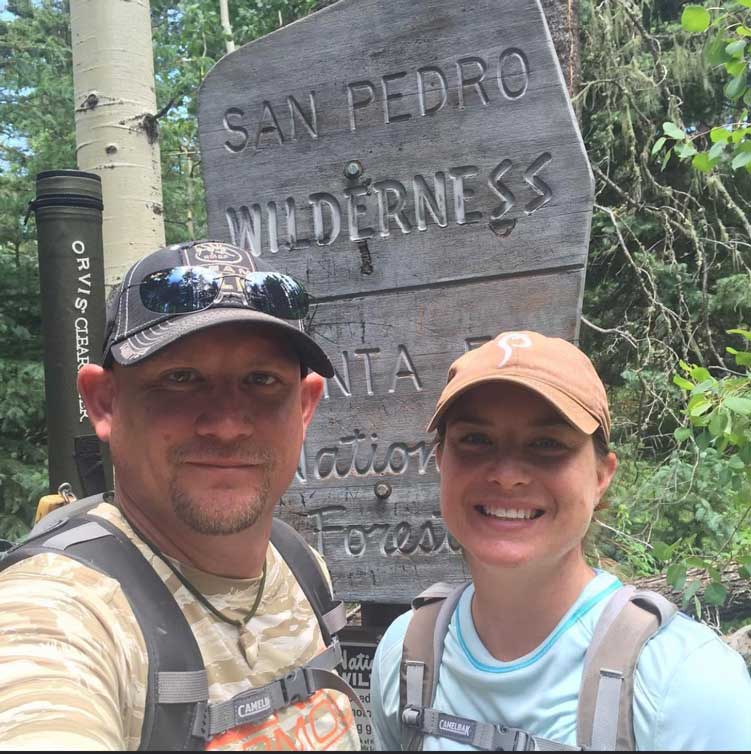 Above: Picture of author, left, and his wife, Jennifer Morgan, right, on a fishing trip in San Pedro Parks
The best way to access these two streams is from the southeast side of the wilderness from the Palomas Trailhead. The roads are well-maintained, and can be accessed with a two-wheel drive vehicle. However, one must watch the weather and plan accordingly. Summer rainfall can quickly alter driving conditions in these high mountain areas. The parking lot at the Palomas Trailhead is big enough to accommodate a truck and horse trailer if you prefer to ride in by horseback. There is no daytime fee for parking, and no camping is allowed in the parking area. If you want to camp, there are many places to camp in the forest close to the trailhead.
Fishing these streams during the right time of the year is the most critical thing. Fish can be caught year-round, but snowfall amounts in the winter and snow run-off in the spring can cause some undesirable fishing conditions. The best time to fish these streams is in the mid-to-late summer, usually around June — when the spring run-off is slowest, the water is clear and the streams haven't receded due to the hot summer months. The streams are still fishable during the summer, but anglers will have to work a little harder to find standing pools large enough to fish.
There are many benefits to fishing wilderness areas, besides catching lots of fish and not running into people. There is abundant wildlife in the San Pedro Parks, and there's always a chance of running into some. Some of the most popular animals that can be seen are bears, elk and deer. If you decide to pack up and do a little fishing, head on out to the San Pedro Parks Wilderness. Be sure to bring a camera along on the trip with you because you never know what you might come across.