Red/Green Chile Waters Signs Posted at Trout Waters Around the State
In an effort to enhance the unique, quality angling opportunities available in the state, the New Mexico Department of Game and Fish has established three designations for Special Trout Waters.
Above: The term "Special Trout Water" was first used in 1989. At that time 10 waters were designated as STW which included about 102 stream miles. In 2018, there are 46 waters designated including about 475 miles. Department photo by Sportfish Program Manager Eric Frey.
The new fishing designations are as follows:
Red Chile Water
Catch and release with tackle restrictions.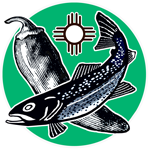 Green Chile Water
Two trout daily bag limit with tackle restrictions.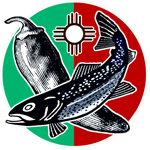 Xmas Chile Water
Two trout daily bag limit with any legal tackle.
Waters designated as "Special Trout Waters" have reduced daily bag limits of two trout per day and/or tackle restrictions. The statewide bag limit is five trout per day in regular trout waters.
Regulations vary for Special Trout Waters; some are managed to produce trophy-size trout, some to improve conservation of native trout and others to enhance the overall trout population structure
and density.
The department also designated several Native Trout Conservation waters as Red Chile Waters.
Regulations on these waters are catch-and-release for native trout (Rio Grande Cutthroat and Gila), but unlimited harvest on non-native trout (brown, brook and rainbow trout). Non-native trout can out compete or hybridize with native trout and are a significant threat to these species.
"We proposed the new Native Trout Conservation waters to allow anglers to help us suppress non-native trout species," said Eric Frey, the department's sportfish program manager. "By following these regulations anglers help to conserve healthy fisheries in New Mexico and promote high-quality fishing experiences for everyone."
Frey notes that according to our most recent angler surveys, about 75 percent of licensed anglers support reducing bag limits and restricting tackle to improve fisheries. In addition, according to the same survey, about 36 percent of licensed anglers fished in a Special Trout Water last year.
For more information about the program, visit: www.wildlife.state.nm.us/fishing/fishing-news/