Wildlife photographers will find an interesting variety of large mammals in New Mexico. Spend enough time in the field and you will find that each species comes with its own set of challenges.
One of the most rewarding and often frustrating to photograph are oryx, also known as gemsbok. These large antelope, native to Africa and the Middle East, have thrived in New Mexico ever since 93 captively bred oryx were released on White Sands Missile Range between 1969 and 1977.
Banner: This oryx was photographed with a shutter speed of 1/2000 sec at f 5.6 and an ISO of 220. I used a monopod to support my Nikon 200-500mm lens. Below: Herd animals instinctively stand in a position that allows them to watch for predators.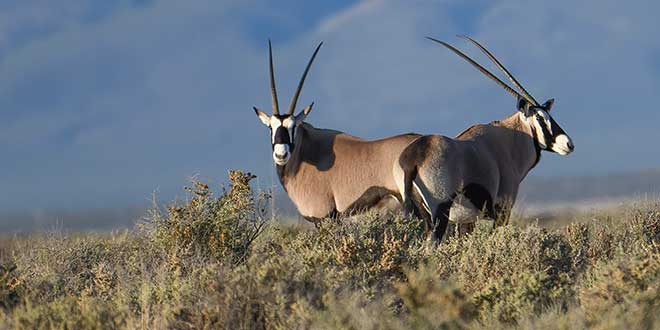 Both male and female oryx have long black horns and a distinctive black and white pattern that adorns their primarily tan color. Their large bodies and long horns make them fairly easy to spot if they are in the area where you are looking. They are often found in herds but it is common to see lone oryx as well. Patrick Morrow, wildlife biologist for White Sands Missile Range, estimates there are 3,500 to 4,000 oryx on the missile range, based on aerial surveys by the New Mexico Department of Game and Fish and population modeling. Statewide, according to the Department, there are 5,000 to 6,000 oryx.
Most of New Mexico's oryx are not available for public viewing or photography since they live on White Sands Missile Range (WSMR). However, some can be found outside the missile range where, with patience and a bit of luck, you might find some to photograph. I gained official access to WSMR to photograph the oryx in this photo essay. With the help of Patrick's vast knowledge of the oryx and their habitat I was able locate these beautiful creatures and make the most of this rare opportunity to photograph them in this unique landscape.
Oryx can sometimes be seen on public land bordering White Sands Missile Range. Here are a few of those places:
– The area between the east boundary of Bosque del Apache National Wildlife Refuge and the west boundary of WSMR is a good place to look for off-range oryx. To get there, take US 380 east from I-25 then turn southward on County Road 153. Drive as far south as you can along the WSMR fence line. Be sure to stop along the way to observe.
– Another good spot in the same vicinity is accessible through the east side of the Bosque del Apache. To get there drive east on US 380 and turn right on San Pedro Road. Travel south and turn left on Guadalajara Road. Drive to the end of the road and park near the walk-through horse gate. You will have to hike in from there.
– Other areas include Bureau of Land Management property bordering WSMR on the north, west and east sides. It will take some scouting to find oryx in these areas.
It will take a fair amount of scouting to find oryx off-range but the reward can be well worth the effort. Look for sign such as tracks and scat. Fresh hoof prints or droppings indicate that oryx have been in the area and will likely return at some point.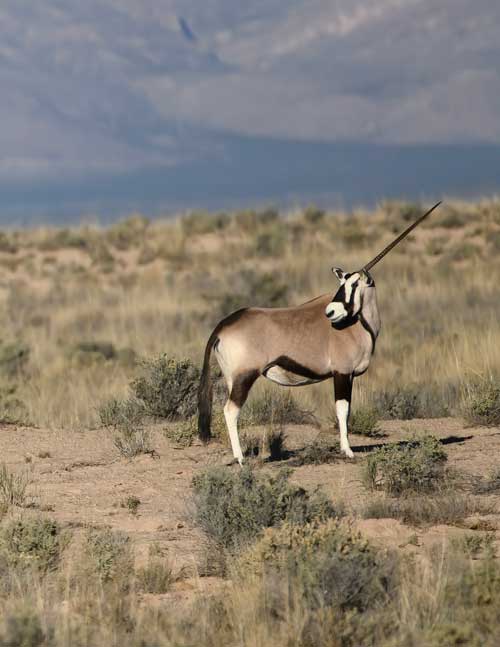 Above, left: Long black horns and a black and white mask make oryx striking photo subjects. Above, right: Some oryx loose one of their horns, giving them an appearance of a unicorn.
As usual when photographing wildlife, good quality equipment will help you get the best photos. Oryx are large animals but they tend to keep their distance when they are aware of humans, so use a long a telephoto lens. Use a camera support such as a sturdy tripod or a bean bag rest. Keep your bean bag on you driver side door in case you spot animals while driving slowly along the roadway.
You are not likely to encounter other vehicles on these remote roads so you can stop for a few photos before exiting your vehicle for more photos (if you get the chance). If they are standing still and your camera is well supported, you might get away with a shutter speed as slow as 1/250 of a second but I prefer 1/500 -1/1000 if light permits. A stationary animal still flicks their ears and swish their tails to swat flies. This movement results in blurred spots if your shutter speed is too slow. For running shots, you will need a much faster shutter speed of 1/2000 and up.
Below: Oryx calves are reddish-brown in color.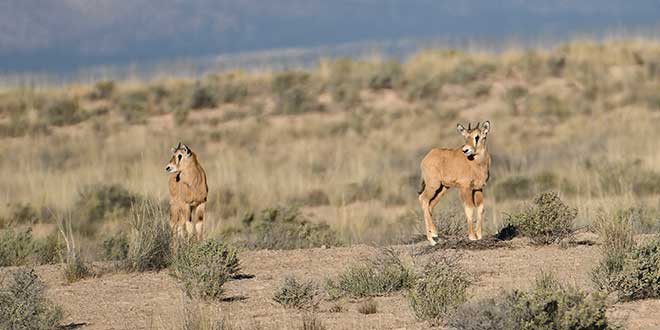 With some homework, scouting and a good combination of equipment, skill and luck, you can add some striking photos to your wildlife collection.
While access to WSMR is restricted and requires special permission, there are a few places to view oryx in southern New Mexico including off of HWY 70 between White Sands National Park and the San Augustin Pass on both sides of the highway. Visitors may also spot them along Highway 54.
Sevilleta National Wildlife Refuge is home to multiple oryx herds. The refuge offers monthly guided tours for the public; opportunities to spot oryx are hit-or-miss. Due to COVID restrictions, the refuge has suspended offering tours until further notice. For more information, visit https://www.fws.gov/refuge/sevilleta/.