Collared peccary, better known as javelina, have been a part of southern New Mexico's landscape since before biologists such as Stokely Ligon and Vernon Bailey started discovering things about them in the early 1900s. The name javelina is derived from jabalina which, in Spanish, means "wild sow."
These medium-sized omnivorous mammals have a musky-smelling scent gland on their back, salt-and-pepper gray colored hair, short legs, a pig-like nose and a distinct hair line around the neck and shoulder that is lighter in color, creating the appearance of a collar. Although these small animals were thought to be pigs by early settlers, biologists now believe they are only distantly related.
A publication from Arizona Game and Fish references the heavy exploitation and decline of javelina in Arizona and Texas in the early 1900s before the species was designated as a game animal in these states. The hides were of value for gloves and jackets and the bristles were used for brushes. One account said that javelina were killed in the state of New Mexico by ranchers who didn't like them; there was also a market for their bristly fur. According to the Journal of Mammalogy, javelina have been increasing their range in New Mexico following population declines early in the 1970s.
What to do if you encounter a javelina
– Move slowly away in the opposite direction.
– If you have pets, keep them leashed.
– Make sure the javelina has an escape route.
– Make loud noises, clap your hands and stomp your feet to alert the javelina of your presence.
Historically, javelina have occupied a variety of habitats in southern New Mexico from Lea to Hidalgo County. "For the most part they are found in the southern part of the state in the warmer climates, not really in higher elevations of the south," said Nicole Tatman, big game program manager with the New Mexico Department of Game and Fish. "Lately over the last few years we've been getting reports of them observed further north where we wouldn't expect to see them."
Publications from the 1960s mapped two different javelina populations in the state that were considered two different subspecies. These two different populations were in the Bootheel-Gila region and near Carlsbad Caverns. "The ones in the southwest are doing most of moving and can now be found in the Las Cruces area, in the Organ mountains and the Deming area as well," said Jim Stuart, endangered non-game animal biologist for the New Mexico Department of Game and Fish.
Fast forward to 2004, a research paper published in the Southwestern Association of Naturalists by Steven Albert, Cynthia A. Ramotnik and C. Gregory Schmitt, documented the presence of javelina on the Zuni reservation, in McKinley County, said Stuart. Now, present day, we are having sightings as far east as Bitter Lake and the Roswell areas, and moving up the east side of the state, Bosque Del Apache, Clines Corners and even as far north as Santa Fe.
In July 2018, someone photographed a javelina in the Eldorado neighborhood southeast of downtown Santa Fe. Later in the year, one was spotted in the Santa Fe area running through the juniper in the snow. Most of these far north sightings, with the exception of the one in Bosque Del Apache, have been one at a time, not multiple.
"As Game and Fish officers, we get a lot of sightings that are unfounded, but in this case, the person who reported the sighting had pictures to validate it," said Sergeant Ben Otero, sergeant for the Chama Supervisory District. "I have been a wildlife officer for many years, and wildlife never cease to amaze me."
"Whenever you see a range change, they say it's an expansion," said Dr. Jennifer Frey, professor with the Department of Fish, Wildlife and Conservation at New Mexico State University. However, Dr. Frey thinks that javelina are rebounding and moving back into areas where they historically existed.
The next time you are out having some fun in the great outdoors, keep your eyes open. You may just run across one of these even-toed ungulates that occupy a range of diverse habitats from central South America to the southwestern United States. Javelina sightings outside of what is considered their home range provide important information that the Department of Game and Fish would like to have. The public is always encouraged to take pictures, document the occurrence and the location and send it in. Send documentation to the New Mexico Department of Game and Fish, One Wildlife Way, Santa Fe, NM 87507 in C/O Wildlife Management Division.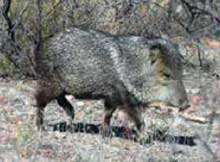 Feral Hogs vs. Javelina
What's the difference?
Javelina
No discernible tail
Small ears
Whitish collar
No color variation
Gray with whitish collar
Hind feet have fused dewclaw
Game animal with seasons and bag limits
Feral Hog
Clearly visible tail
Large ears
Larger body size
Dramatic color variation

Black
Red
White
Spotted
Belted

Hind feet have two dewclaws
Exotic free-ranging livestock with no seasons or bag limits