Department reports desert bighorn survey numbers
The Department of Game and Fish conducted the 22nd annual census of the Red Rock Wildlife Management Area (WMA) earlier this year. The Red Rock WMA has served as a propagation facility for desert bighorn sheep since 1972. The facility includes five pastures and an overall area of two square miles. Desert bighorn translocated from Red Rock into the wild have been vital to their recovery and restoration in New Mexico. Thirty-four sheep were translocated from Red Rock as recently as autumn 2018.
The census crew included Department biologists, officers and dedicated volunteers. The effort requires hours of walking for most of the team, as they attempt to "drive" sheep to one end of the pasture where observers count and classify them by age and sex.
"Maintaining a cohesive front while hiking through precipitous terrain is no easy task, but is necessary to keep sheep moving in the same direction and facilitate the best viewing conditions for the census observers," said Department bighorn sheep biologist Caitlin Ruhl.
The total number of observed bighorn for this census was 72. The lamb:ewe ratio was good at 45 lambs per 100 ewes. One highlight of the survey was observing a newborn lamb that had only been born the night before the census. This ewe and lamb tried to stay hidden instead of running away from the advancing line.
No removal from Red Rock will occur in 2019, but there may be enough sheep for a translocation effort in 2020 or 2021.
Above: Department reports desert bighorn survey numbers. Department photo by Mark Watson.
Department completes bass spawn at Rock Lake Hatchery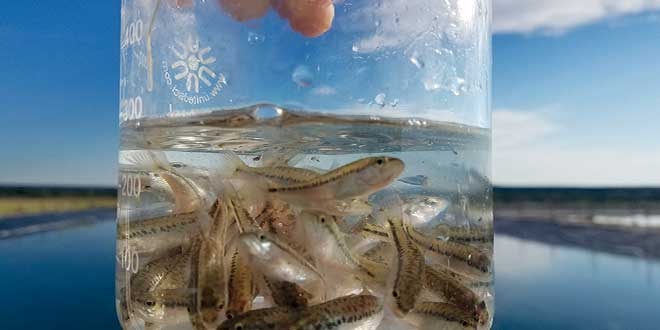 For the 2019 bass spawn season, the Department's goal was to identify the most effective bass culture techniques that would yield the highest possible fry production at Rock Lake, according to Max Tenorio, Rock Lake Hatchery manager.
"We decided it was time to improve upon our oldest form of largemouth bass culturing which is known as the spawn and rear method, where you pair up bass in a pond, provide spawning habitat and cross your fingers," he continued. "We were able to produce fry this way, but we wanted more fish."
In order to facilitate and identify the most effective bass culture techniques at Rock Lake Hatchery, the team reached out to other successful bass hatcheries and professionals around the country. "Not only did we acquire some trade secrets, but we developed good working relationships with folks from Wisconsin, North Dakota, Texas, Kansas, Colorado and Montana that contributed greatly to our success this year," Tenorio said.
The team utilized a practice known as egg transfer, increasing production tenfold, with approximately 574,375 fry produced with more unaccounted for that hatched unchecked. Fry are expected to grow at a rate of 1-1.5 millimeters per day and are stocked out as fingerlings at 38-40 millimeters, or about 1.5 inches, in length. These fingerlings were then stocked beginning in mid-July into Elephant Butte, Conchas, Ute and Santa Rosa Lakes. Some bass were also held at the hatchery until they reached 5–7 inches in length.
"With our success this year and the amount we learned, we expect our production of largemouth bass to increase every year, ultimately leading to increased angler satisfaction," Tenorio explained. "Eventually, over time, we expect our production at Rock Lake to reach a level that allows us to produce more bass to be stocked into more waters around New Mexico. I am excited to see how we do next year."
Above: Department completes bass spawn at Rock Lake Hatchery.
Department photo by Max Tenorio, Jr.
[/box]
Four additional black-footed ferrets released at Wagon Mound Ranch
The Department of Game and Fish released four additional black-footed ferrets at a ranch in Wagon Mound in late September in an effort to augment a small population reintroduced at the site a year earlier.
The ferrets were transported to the site from the U.S. Fish and Wildlife Service's National Black-Footed Ferret Conservation Center near Fort Collins, Colo. where the animals are raised in captivity and prepared for release at sites throughout the interior western United States.
Eight ferrets were released in Sep 2018; however, Department surveys suggested only three of those survived the winter, according to Jim Stuart, endangered nongame mammal biologist with the New Mexico Department of Game and Fish.
Black-footed ferrets existed in New Mexico up until the mid-20th century; the species was believed to be extinct until one last colony was discovered in northwestern Wyoming in 1981.
"One individual captured in August 2019 was a young ferret that was born on the site this past spring, so there was successful reproduction this year," Stuart said. "The population that can be supported on this prairie dog town will likely remain small although we don't know for sure what that number should be."