The 2022 New Mexico National Archery in the Schools Program (NASP) State Championship was held as a virtual event throughout March 2022. A total of 667 students in fourth through 12th grades competed at their home schools and reported their scores on the NASP Tournament website. Top teams and individuals were awarded trophies and place medals, as well as prize bows for the top shooter in each division.
In the elementary division, Clovis Christian School once again showed its strength and won the top team award with a score of 2,734. Tierra Antigua Elementary, from Albuquerque, placed second and Maggie Cordova Elementary, from Rio Rancho, placed third.
The Albuquerque Middle School Leadership Program swept the top three team awards in the middle school division. Madison Middle School scored 3,278 to take first place, while George I. Sanchez and Tony Hillerman middle schools placed second and third, respectively.
The high school division was a close contest. Southwest Aeronautics Math Science (SAMS) Academy, from Albuquerque, took top honors with a score of 3,249.  Cibola High School, from Albuquerque, placed second and Clovis Christian School took third.
New Mexico's top teams and individuals qualified for the NASP Western Nationals, which took place as an in-person event April 29-30 in Sandy, Utah. A total of 1,359 archers from 22 states attended this year's bullseye tournament. Forty-four NASP archers from 11 schools represented New Mexico. Taya Hawkins, a ninth-grader from Cibola High School, shot a 290 (out of a possible 300) to place fifth overall for individual high school girls.
Inset, left: Cibola High School ninth-grader Taya Hawkins shoots during the 2022 NASP Western Championships. Inset, right: Taya Hawkins finished fifth among high school girls at the 2022 NASP Western Championships in Sandy, Utah.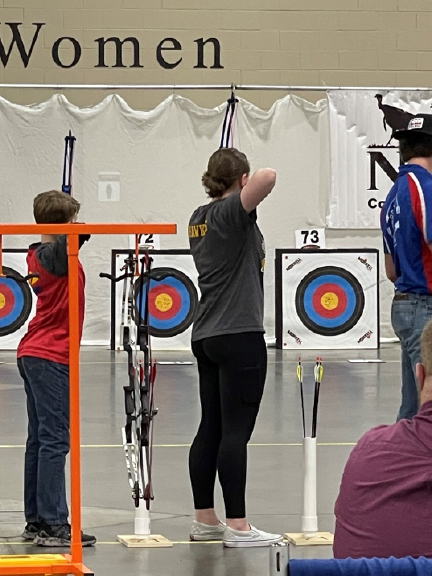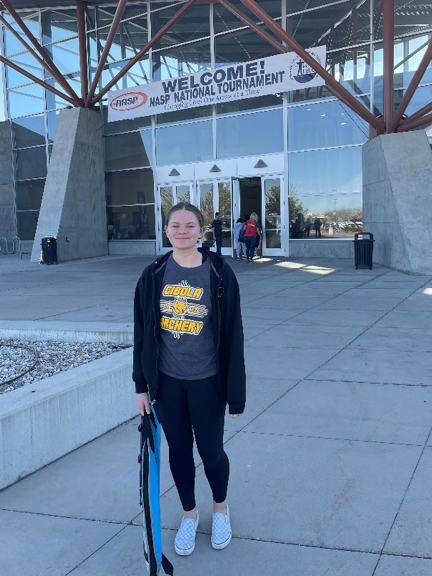 Getting to know a NASP archer – Taya Hawkins
?
Shooting a 290 (out of a possible 300) at the NASP Western National Championship is an incredible achievement. Is that a personal best for you? What was going through your mind during the competition?
"Yes, 290 is a personal best for me. Shooting at the competition, I was thinking about my aiming spot because it was a bit different. So, if I got a good arrow I would try not to think about it."
?
Why/how did you get started in archery?
"I got started in archery at Petroglyph Elementary School, when my PE teacher started the NASP program. I joined archery because it sounded fun and exciting."
?
Besides NASP archery, what other styles of archery have you tried?
"I have shot a compound bow. I competed in Junior Olympic Archery Development (JOAD) for two years."
?
What do you enjoy most about archery?
"I enjoy the competitiveness with myself and others."
?
If you could compete in the Olympics someday, what sport would it be in?
"I would want to compete in archery, because it is interesting to me and I would like to continue archery past high school."
?
Would you rather lose on television or win when nobody is watching?
"Win when nobody was watching."
NASP archery is a great addition to any public, private or charter school program. Archery fosters mental focus, self-control, discipline, patience and the life lessons required to be successful in the classroom and in life. The New Mexico Department of Game and Fish (NMDGF) is the sponsor of the NASP program in New Mexico. Individuals interested in starting a program at a school can receive free training as basic archery instructors through the NMDGF and are eligible to receive a NASP grant to help purchase the necessary archery equipment. Contact Bruce Atencio, NMDGF Archery Education Coordinator, at bruce.atencio@state.nm.us to get started today.