Yes! You, read that correctly. The New Mexico Department of Game and Fish offers youth and families options to fulfill the necessary training requirements that will allow them to purchase a hunting license or apply for the upcoming 2021 draw to go afield safely.
HUNTER EDUCATION
New Mexico youth 10 and over qualify to earn their hunter education certification requirement from a Department sponsored online hunter education course. This course is highly recommended for adults as well! Online hunter education has been available for several years but is especially popular due to COIVD health restrictions.
Online course options fulfill all the requirements for earning a New Mexico hunter education certification and meet the International Hunter Education Association- U.S.A.'s curriculum standards. These standards allow all 50 states, Canadian provinces and Mexico to recognize and accept one another's hunter education certifications. The hunter education curriculum focuses on safe firearms handling, ethical and respectful hunting behavior, wildlife conservation, outdoor survival skills and primitive hunting methods, just to name a few of the additional topics covered.
Online courses incorporate reading, animations, video and audio playback. Students can take the course at their own pace and courses allow students to log in and out until course completion. Each course option offers a series of chapter review quizzes and a final exam the student must pass to earn their certification.
Please visit the Online Options tab on the Department's hunter education page to view online course options. Students will need to create a Department CIN account before taking any hunter education training opportunity. Accounts can be created online, by calling the Department's information center at 1-888-248-6866 or emailing ispa@state.nm.us. Students can also reach the Department through Facebook, Instagram, Twitter or TikTok.
An additional course option that recently evolved to adapt to the temporary loss of in-person learning is our Virtual Hunter Education course. This course is hosted virtually over the Zoom platform and works best for younger students under 10, but is open to students of any age. Students register through their Department CIN account just as they would for an in-person course. Students are responsible for required pre-class homework through the Today's Hunter – New Mexico Hunter Education student manual (https://www.hunter-ed.com/newmexico/manual/ ), nightly homework assignments and in-class break out activities that are all focused on safe, ethical and responsible hunting habits. Virtual courses are approximately 10 hours in length and have been offered monthly since July.
The Department wishes to notify sportsmen and women that in-person course options will not be available before the 2021 hunt application deadline on March 17, 2021. The Department is highly encouraging anyone who needs, or is required to have, a hunter education certification to take a course as soon as possible and well in advance of the March 2021 application deadline.
Questions about courses? Please reach out to the hunter education office at dgf-he@state.nm.us or call 505-222-4731.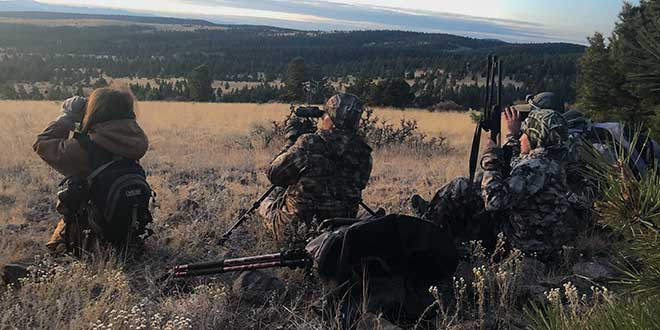 Banner: Are you ready to notch your tag? Take hunter education today. Above: Looking forward to your next hunting trip, make sure your child takes hunter education prior to the March 17, 2021 big game application deadline.
MENTORED-YOUTH HUNTING PROGRAM – BIG CHANGES!
The State Game Commission passed amendments to the Department's Mentored-Youth (MY) Program at the December 2020 Commission Meeting. The MY Program was implemented in New Mexico in 2012 as a Families Afield initiative to increase youth and families' access to the enjoyment of hunting. Currently, 46 states are implementing a similar type of mentoring program.
Beginning January 13, 2021, youth eight to nine years of age will be eligible to participate in this unique youth hunting initiative and hunt small game! Youth 10-17 will be provided the opportunity to hunt and apply for pronghorn, in addition to the current huntable species of deer, javelina, turkey and small game.
Additionally, the Commission set a training requirement on all adults who will be responsible for a registered MY hunter afield. Any individual 18 years of age and older will be required to either show proof of a New Mexico or other state's hunter education certification or have a registered Mentor Number assigned to them by the Department. Adults who do not meet the hunter education certification requirement can gain a Mentor Number by taking a brief online training course offered by the Department. Upon successful completion, a Mentor Number will be assigned to the adult's Department customer account and appear on the Customer Id Number (CIN) card. The Mentor Number is not required to purchase a license or apply for any hunts. It is only required to be obtained before mentoring a MY hunter and have on their person while mentoring a MY hunter afield. This requirement will also take effect on January 13, 2021.
Additional information on the Department's MY Program can be found online or by reaching out to the hunter education office at dgf-he@state.nm.us or 505-222-4731.
Below: One youth hunter uses the E-Tag application for her harvest in September 2020.