What is the National Archery in the Schools Program (NASP)? NASP is a school archery program that introduces students to competitive archery and bowhunting through summer programs. It also provides safety training, shooting techniques, trustworthiness, respect, responsibility, fairness, citizenship and caring in prospective shooters and hunters. NASP has been designed to meet National Education Standards and has created curricula for grades 4-5 (elementary), 6-8 (middle school) and 9-12 (high school).
Above: NASP archers competing in the state competition. Below, first: Conservation officer Dominic McCarthy helps in scoring the target. Below, second: NASP is adaptive to students with needs.
NASP is a proven program to engage more students in school, improve classroom performance and reduce dropout rates. Most students who drop out of school indicate they were not involved in extracurricular activities. Educators nationwide report that the NASP "engages the unengaged" and inspires students to more significant achievement in school. Improving one's self-confidence is the key. The program was designed so students will experience success. As the student improves, they will gain self-confidence. With self-confidence, students ask more questions and gain more information.
What are the principles taught in NASP? NASP teaches target archery during school for 2-8 weeks. NASP-trained teachers present all lessons, and the equipment is identical from student to student and school to school. Participating schools must send at least one teacher to an eight-hour NASP Basic Archery Instructor (BAI) training course to become a certified archery instructor.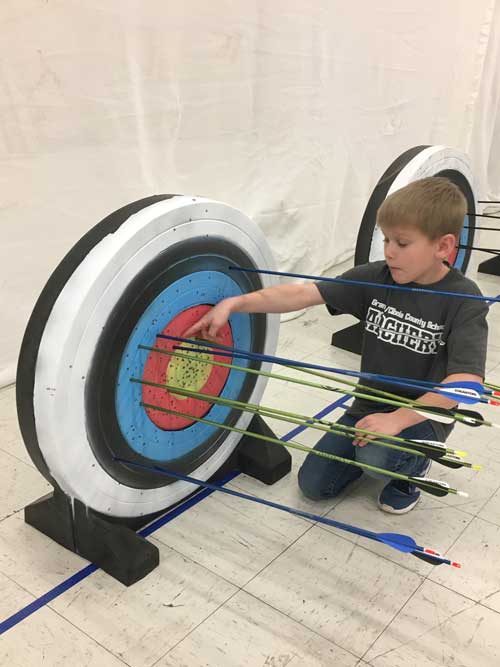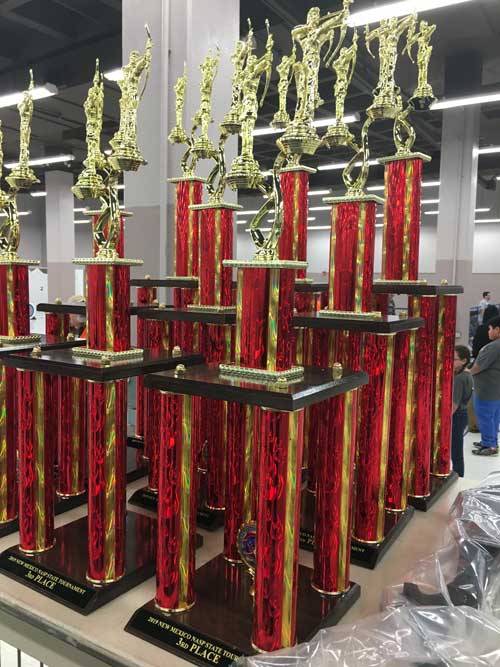 Above, first: Scoring your competitor's arrows is an important part of the sportsmanship learned in NASP. Above, second: Trophies at the 2020 New Mexico NASP state tournament.
The price of the NASP equipment runs from $2,500-$3,000, which can sometimes be an obstacle the school administration must overcome. However, there are a limited number of grants from the New Mexico Department of Game and Fish for $1,500 and a limited number of grants from the National Archery in the Schools Program for $500. Many schools receive assistance from archery clubs, community organizations, fundraising and local wildlife groups. One archery kit contains 10 right hand Genesis bows, two left hand Genesis bows, two boxes of arrows, five targets, one arrow curtain, one repair kit and one bow rack.
Archers who participate in the NASP program can attend a state tournament where they compete against other schools and individuals in New Mexico and a national competition where they compete against other schools and archers from all over the U.S. For more information on NASP, go to https://www.wildlife.state.nm.us/education/archery/ or contact Bruce Atencio, New Mexico Game and Fish Archery Education Coordinator, at Bruce.Atencio@state.nm.us or (505) 222-4726.