Don't ever wrestle a bear. Doesn't matter how big a person might be and how small it is, just don't do it.
Maybe I'm getting ahead of myself. It was spring 2008 or 2009 when I was the Las Vegas Supervisory District sergeant. You'd think I'd remember not just the year, but the exact date, but I don't. The details, however, are something a person remembers for a long time.
Following a long 10-hour road trip from San Antonio, Texas, to Watrous, N.M., I was looking forward to getting comfortable and relaxing, but minutes later a call came in about a bear under a house in Watrous.
So much for a relaxing evening. Off came the vacation clothes and on went the Game and Fish uniform.
As with most calls of this nature, I arrived to see about 25 on-lookers doing exactly what they shouldn't be doing, making a potentially dangerous situation even more dangerous by taking pictures and milling about the area.
As I pondered going under the house to investigate, a yearling 100-pound bear appeared and walked to a dog bowl for a few bites before retreating under the home.
The homeowner allowed me to place the dog's bowl in the bear trap, which I had backed up close to the house. Sure enough the bear walked within feet of me and straight into the trap.
Simple. The bear was tranquilized and ear-tagged. All that was left was to bring the bear to a release site and let it go.
Or so I thought. Turns out the day was far from over.
Nearly packed and ready to head out, a yell from up the street caught my attention. A person was waving his arms and pointing at another bear rummaging through a trashcan it had knocked over.
Back to work. I started mixing up the drugs to repeat the process.
I chased the 75-100-pound bear up a hillside, and got a shot into its hind leg. Not ideal, but I was happy.
The bear went down and, with the help of some others, we got it into the bed of the truck and ear tagged it. Recalling the bear trap was already occupied, I figured the bed of the truck would suffice for a 30-mile drive to McAllister Lake, where a second bear trap was available.
I was optimistic the tranquilized bears wouldn't be a problem.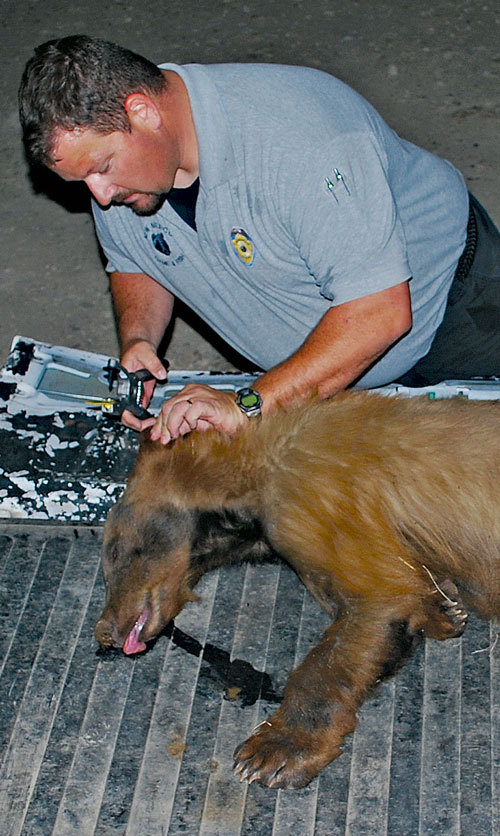 Captain Andrew Gray places an ear tag onto a tranquilized bear he captured in Watrous. As Gray can attest, even younger bears are built for a life in the wild. They are powerful and possess formidable teeth and sharp claws.
Well, when it comes to wildlife, there are no set formulas or hard-and-fast rules that apply across the board. Drugs are not an exact science and height, weight, overall health of an animal and placement of the tranquilizing dart can all influence the length of time an animal remains unconscious.
About halfway through the trip, I noticed the bear in the bed of the truck beginning to stir. The bear was trying to stand. No drugs were left, so tranquilizing it again wasn't an option. So, I forged on, keeping an eye on the still-groggy bruin.
It became more sure-footed with each passing min-ute, so I'd swerve the truck just a bit to get it back down on the bed and repeated the process until I reached McAlister.
This is where it got interesting.
I couldn't just let the bear wander off due to my proximity to Las Vegas, so I needed a way to get it into the second trap. I had a plan, and it wasn't complicated: get close to the second trap, sneak up on the still somewhat-dazed bear, grab the nape of its neck and back, run to the trap and shove it in.
Wildlife don't follow plans well.
The bear was more coherent than anticipated. After succeeding in grabbing it I learned what is meant by the saying "got a tiger by the tail." Even as a 270-pound former collegiate linebacker, I was not prepared for the wrestling match that ensued.
The bear turned itself around and I found myself face-to-face with its formidable claws and sharp teeth. We held onto each other and I danced toward the second trap.
Once next to the trap, a few wrestling moves had the bear nearly inside. I freed one hand to lift the heavy, guillotine-type trap door. I managed to raise it just enough to get the bear inside and let the door slam shut.
Exhausted, I slumped to the ground to catch my breath following a fight I had not anticipated.
I stood up, dusted the fur and dirt off myself and examined my wounds. Short of a few scrapes and scratches, I was ok. To my dismay, my pants suffered a worse fate; they were torn and ruined.
I got some much needed sleep, woke up a bit sore, and headed out the door to complete the process that began the evening before. Both bears were released safely and, to my knowledge, were not heard from again.