While hunting and fishing license sales and revenue are declining in many states across the country, New Mexico is experiencing the opposite trend. Hunting and fishing license sales and draw hunt applications continue to increase in the state.
"It's never been easier to buy a hunting or fishing license in New Mexico," said New Mexico Game and Fish licensing operations manager Chad Nelson. "Customers can purchase licenses online through the department's online licensing system, by phone or in person at one of nearly 150 license vendors or at any department office."
Carcass tags are now required for all big game and turkey hunts and are mailed to customers for draw hunts and online purchases; they are also available at all license vendors and Game and Fish offices.
"New Mexico has a lot to offer anglers and hunters, including some advantages that other states don't have," Nelson said. "New Mexico does not have preference points for our big-game draw like some western states, which means everyone has the same chance to draw each year, subject to the quotas established in state law."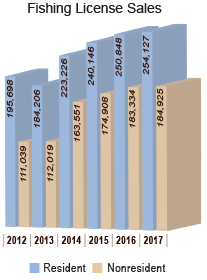 The state's reputation for big-game hunting generates a lot of interest in New Mexico's draw hunts. "We have been seeing increases in draw applications across the board for all drawing pools and big-game species over the past three years," Nelson said. The number of applicants for big-game hunts has jumped from around 175,000 in 2016 to more than 203,000 in 2018. In 2018, approximately 58,000 big-game licenses were available.
"New Mexico has a great reputation for elk and mule deer hunting but is also home to a variety of other big-game species hunters can pursue," said big-game program manager Nicole Tatman. For example, New Mexico offers public draw hunting opportunities for oryx, ibex and Barbary sheep. The Boone and Crockett world record pronghorn was taken in New Mexico in 2013, and the state offers rare hunting opportunities for both desert and Rocky Mountain bighorn sheep with record-book rams taken every year. New Mexico also offers hunting for both Coues' and Texas whitetail deer.
Fishing license sales are also on the increase, and New Mexico offers a wide range of angling opportunities. Total sales of all licenses that include fishing privileges totaled more than 388,000 for the 2017 license year, up from 371,000 the previous year.
"Reservoirs in New Mexico are very productive and warm-water fishing for largemouth and smallmouth bass, white bass and walleye can be outstanding," said sportfish program manager Eric Frey. Ute and Conchas lakes in eastern New Mexico are popular destinations for nonresident anglers, as is Bluewater Lake in western New Mexico, where visitors have a chance to catch a monster tiger muskie. Elephant Butte, Caballo, Navajo, Sumner and Santa Rosa lakes are also popular fishing destinations.
The state also offers fantastic trout fishing in lakes and rivers, especially in northern New Mexico.
The crown jewel of New Mexico trout fishing is the San Juan River, which draws visitors from around the country to fish for big rainbow and brown trout.
"New Mexico has made significant progress toward conservation and providing increased angling opportunities through the reintroduction and management of native Rio Grande cutthroat and Gila trout," Frey said.
For more information about hunting and fishing in New Mexico, or to purchase a license, visit the New Mexico Game and Fish website at wildlife.state.nm.us, or call 1-888-248-6866.