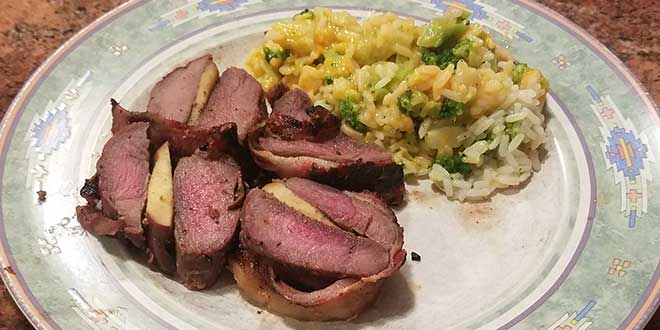 Banner: Cooking the bacon-wrapped, apple stuffed backstrap on the grill and using wood chips to add a twist. Above: Serve the backstrap with your favorite side dish and enjoy.
Serving size about 4
Ingredients:
– Half of a backstrap, about 2-3 pounds
– One pound thick-cut bacon (hickory or applewood smoked preferred)
– One apple
– Salt
– Pepper
– Garlic powder
– Water-soaked toothpicks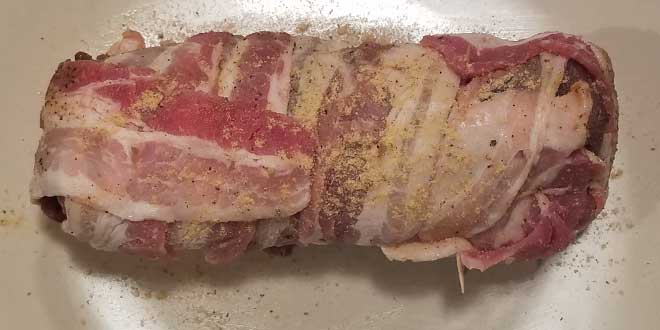 Above: Ready to grill; make sure to moisten the toothpicks to hold the bacon in place.
Directions:
1) Take a clean, fresh or thawed two to three-pound backstrap and slice almost all the way through (lengthwise). Season all sides, including the middle, with salt, pepper and garlic powder, just enough for a light covering.
2) Set in refrigerator for one to two hours to marinate. After the meat has marinated, remove it from the refrigerator.
3) Warm grill to medium heat, 400 degrees.
4) Cut the apple into slices about a quarter-inch thick and remove any seeds. Place the apple slices on one side of the backstrap, fold the other half.
5) Wrap the bacon slices around the backstrap and secure ends with toothpicks. Lightly season with salt, pepper and garlic powder.
6) Place bacon-wrapped backstrap onto the hot grill. Cook for about six to eight minutes per side and rotate it a quarter turn each time.
7) Make sure bacon is not burning. If the grill is too hot, reduce heat.
8) Cook the meat until the internal temp is 160 degrees. Take the meat off the grill and let it rest for about 10 minutes before slicing. Remove as many toothpicks as possible before cutting.
9) Cut meat into slices that are a half to one inch thick. Meat should be slightly pink or medium cooked.
10) Serve with your preferred side dish.
To add a twist to the grilling, add a handful of woodchips (cherry or mesquite) to add a smoky taste.