GAIN changes benefit outdoor enthusiasts
The scene is a bit like Jurassic Park, minus the dinosaurs, with eyes wide open, afraid to blink for fear of missing out on a spectacular experience.
Faces pressed against the window of a car or eyes peering through binoculars or the viewfinder of a camera awaiting a sight never before seen.
There's no need for an expensive journey to a far-away island. Such spectacles abound in New Mexico for those participating in Gaining Access Into Nature (GAIN) activities at 36 of the State Game Commission lands.
Above : It is easy to get caught up in the moment watching sandhill cranes standing on a frozen pond at the Bernardo Wildlife Management Area with a picturesque mountain background. NMDGF photo by Zen Mocarski.
These lands – not to be confused with State Trust Lands – include Wildlife Management Areas and other properties owned, managed or controlled by the commission and managed by the New Mexico Department of Game and Fish for the benefit of fish, wildlife and their habitats.
Implemented in 2005, the GAIN program added the opportunity for wildlife-associated, low-impact recreation activities such as hiking, birding, horseback riding, bicycling, photography, camping and cross country skiing on select commission lands.
Hunting and fishing has been allowed on many of these lands for decades.
Game and Fish staff observed the GAIN program's progress over the next decade and made note of ways the program could be enhanced to improve the public's experience.
As a result, starting in 2015, Game and Fish personnel worked diligently to improve and simplify public access to commission lands so people could enjoy what the outdoors has to offer.
Those efforts came to fruition in late 2016.
"The department's objectives were to simplify permit requirements and standardize property rules as much as possible," said Ryan Darr, lands program manager for Game and Fish. "We also expanded the number of lands where GAIN activities are allowed."
A major change was removing the requirement of a $15 GAIN permit and $4 Habitat Management and Access Validation stamp for individual, yearly access. Instead, a single individual with a hunting, fishing or trapping license or the $4 stamp provides access for up to four adults. Youths younger than 18 are exempt. Those fishing or hunting need to be properly licensed.
Habitat Management & Access Validations may be purchased online, by telephone through Customer Assistance (888) 248-6866 (toll-free) or (505) 476-8000, or at license vendors. A single individual with a hunting, fishing or trapping license or the $4 stamp provides access for up to four adults. Youths younger than 18 are exempt. Those fishing or hunting need to be properly licensed.
Before the modifications, the philosophy was that the lands were closed unless otherwise open. In the spirit of welcoming public use, the lands are now considered open unless otherwise closed.
Some additional changes to encourage outdoor recreation include more properties open to access, and extending the camping limit to 14 days from 9 days, where permitted.
Because the commission lands are managed primarily for the benefit of fish, wildlife and their habitats, some lands are closed to access and others have seasonal closures to conserve the natural resources. Certain activities are also restricted on specific lands.
There are many free outdoor experiences on other public lands, but the possibilities to commune with nature are vast at a Wildlife Management Area.
"The attractant is that these properties are managed specifically for wildlife and fish, and as a result provide excellent habitat and superb outdoor recreation opportunities," Darr said. "If you want to see or photograph wildlife, these are the places to visit."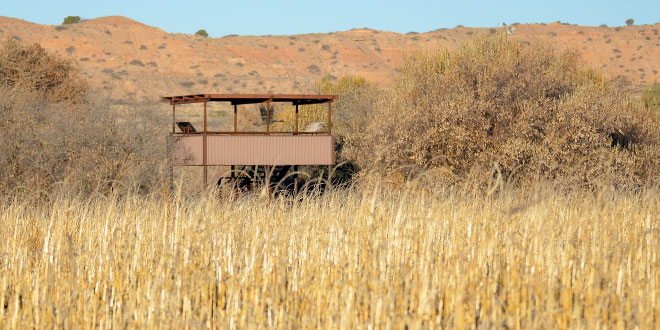 Above: An elevated viewing platform at the Bernardo Wildlife Management Area provides visitors with a wonderful vantage point to watch wildlife. The platform is ideal for watching or photographing migrating sandhill cranes. New rules adopted in 2016 simplified access to encourage the public to get outdoors and experience nature. NMDGF photo by Zen Mocarski.
Among the best-known of these properties is the Bernardo Wildlife Management Area on the east side of I-25 off exit 175. The property is a wintering haven for thousands of sandhill cranes and snow geese and other waterfowl. Deer and elk are year-round residents.
Visitors to Bernardo can hike or drive a three-mile loop featuring elevated viewing and photography platforms and a blind at the wintering waterfowl pond. Although a number of the bird species fly north in the spring and summer, opportunities remain to see resident hawks, falcons, reptiles and a host of mammals and songbirds.
The Game and Fish website, wildlife.state.nm.us, will be the primary source of information for those ready to get outdoors and experience nature at GAIN properties.
"People will know whether a property is open by visiting the website," Darr said. "It will include closures and provide information about opportunities at the sites as well as restrictions.
"Activities need to fit within the rules and laws, but the goal is to get people outdoors so they can enjoy the diversity New Mexico has to offer."
Maps to the lands will be included on the website along with a list of the types of animals that may be present at the different locations.
There are plans to replace signs on all open lands. New signs will include rules and closures along with site maps. Darr said personnel are also exploring the possibility of having additional roadway signs directing people to each open land.
So, while dinosaurs may not be on the agenda for any of the properties, the time has come to stop procrastinating and start exploring the many wonders awaiting an audience.