The New Mexico Department of Game and Fish released four additional black-footed ferrets at a ranch in Wagon Mound late September in an effort to augment a small population reintroduced at the site a year earlier.
The ferrets were transported to the site from the U.S. Fish and Wildlife Service's National Black-Footed Ferret Conservation Center near Fort Collins, Colo. where the animals are raised in captivity and prepared for release at sites throughout the interior western United States.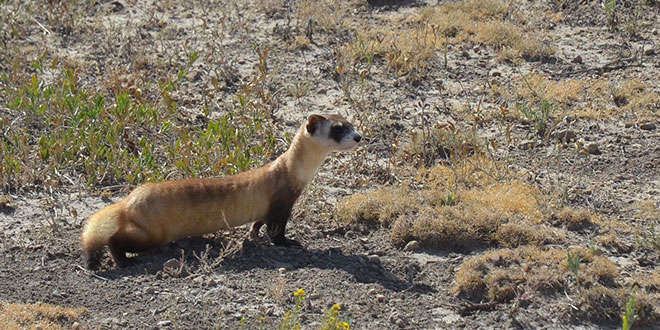 Eight ferrets were released in September 2018; however, Department surveys suggested only three of those survived the winter, according to Jim Stuart, endangered nongame mammal biologist with the Department.
Black-footed ferrets existed in New Mexico up until the mid-20th century; the species was believed to be extinct until one last colony was discovered in northwestern Wyoming in 1981.
"One individual captured [at Wagon Mound] August 2019 was a young ferret that was born on the site this past spring, so there was successful reproduction this year," Stuart said. "The population that can be supported on this prairie dog town will likely remain small although we don't know for sure what that number should be."
Top, middle. The September 2019 release. Department photos by Ross Morgan. Below: Black-footed ferret. Department photo by Jim Stuart.