There's no refuting that New Mexico has some of the best fishing opportunities in the lower 48 states. Anglers in New Mexico can catch anything from a Rio Grande cutthroat trout in the high mountain streams of the Pecos wilderness to a spotted bass in the southern desert landscape of Carlsbad. And the best part: there are countless other fishing opportunities between the two. New Mexico's fishing opportunities, paired with a climate that allows for a year-round fishery, make the state a hot spot for anglers.
Banner: Brett Myrick with a Gila trout. Below: New Mexico Bass Challenge logo, New Mexico Trout Challenge logo.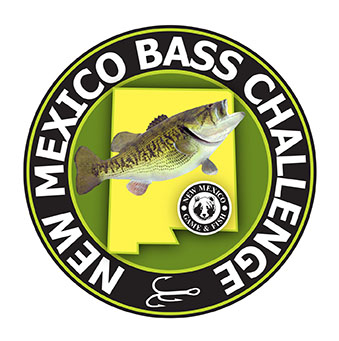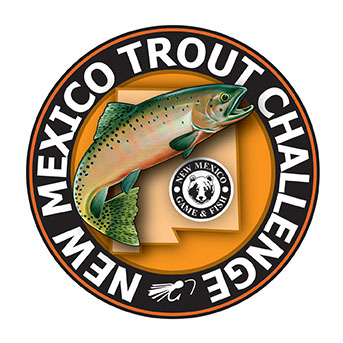 Realizing that New Mexico has such a diverse fishing opportunity, in the winter of 2020, the Department of Game and Fish (Department) rolled out a trout challenge. The challenge tasks anglers with catching five trout species that inhabit New Mexico's lakes and streams to receive a certificate of completion, a collectible coin and a spot on the New Mexico Trout Challenge Hall of Fame. Anglers came from as far away as New York to take the challenge.
"Thank you so much for your vision to create the New Mexico Trout Challenge. I had a great time fishing waters from the Gila country to a stone's throw of the Colorado border on the Upper Costilla," said Brett Myrick, a fifth-generation native of New Mexico. "As a U.S. Navy SEAL Team Five veteran, our rivers, creeks, forests and wilderness areas are extremely important to me."
Due to the Trout Challenge's success and bass fishermen's requests, in September 2020, the Department launched its second challenge for anglers: the New Mexico Bass Challenge. Like the Trout Challenge, the Bass Challenge tasks anglers with catching four bass species that inhabit lakes and streams of New Mexico. This challenge also rewards anglers that complete it with a certificate of completion, a collectible coin and a spot on the New Mexico Bass Challenge Hall of Fame. This challenge has become equally popular, attracting anglers from around the state.
Fishing is not only a great excuse to get outdoors and relax — fish are rich in calcium and phosphorus and are a great source of minerals, such as iron, zinc, iodine, magnesium and potassium. The American Heart Association recommends eating fish at least two times per week as part of a healthy diet. Several extensive studies have found that people who eat fish at least once a week have moderately lower risks of heart attacks, heart failure and sudden cardiac death, according to the new report by WebMD. Many people now rely on fishing as a maintainable food source as fishing continues into the winter months with salmon snagging season and ice fishing for rainbow trout, northern pike and yellow perch.
So, if you are a weekend angler who loves to get out and enjoy the beauty New Mexico has to offer or someone who relies on fish as a healthy food source, our fishing challenges are a great way to test your fishing skills and eat healthy. Catch the different trout and bass species of fish listed in the challenges, and you can earn a bragworthy coin and certificate. For more information on the challenges, go to http://www.wildlife.state.nm.us/fishing/nmbc/ or http://www.wildlife.state.nm.us/fishing/nmtc/. Who knows, your name could be the next one that appears on one of our fishing challenge halls of fame.
Justin Estrada of Las Vegas caught this 21-inch rainbow trout at Morphy Lake in June.