It's walleye spawning season! And that doesn't only mean this is the best time of year to cast your line for this special fish—it also means department fisheries staffers have wrapped up our yearly walleye spawn.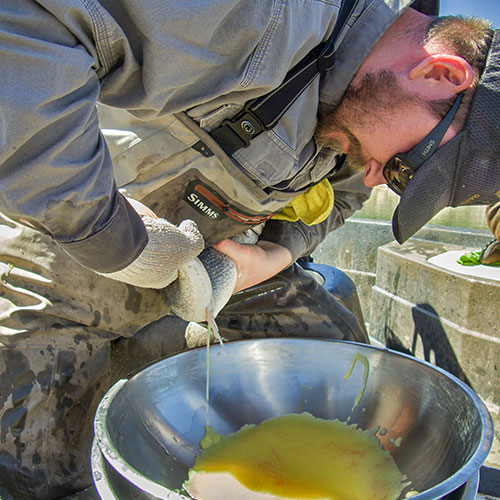 Last month, fisheries biologists and hatchery staff spawned walleye at Santa Rosa and Conchas lakes over the past several weeks. Collected eggs are fertilized and then transported to Rock Lake State Fish Hatchery in Santa Rosa.
Spawning is the process of squeezing eggs from female fish and milt from male fish. Fertilized eggs are then transported to one of the department's hatcheries, where they are hatched into fry.
"Every spring the New Mexico Department of Game and Fish collects walleye eggs in our attempt to make sure the fish populations are stable and to provide walleye for anglers to catch," said Eric Frey, sportfish program manager at the New Mexico Department of Game and Fish.
In addition to the spawning over 9 million walleye fry were stocked in Abiquiu Reservoir, Caballo Lake, Clayton Lake, Conchas Lake, Santa Rosa Lake, Sumner Lake and Ute Lake in April.
Best spring fishing action is on windy days during April and May, just after the spawn. On cloudy, breezy days, it is not uncommon to catch walleye in less than 10 feet of water in areas where you'd normally expect to find largemouth bass. Under these conditions, use small jigs tipped with minnows, shallow running crankbaits, spinners, plastic worms, salt craw, and curly tail grubs.
Learn more about this interesting fish:
http://www.wildlife.state.nm.us/fishing/game-fish/warm-water/
Fishing for Walleye: Pointers from the Pros
Summer walleye fishing is easier if you use a depth finder.
A quarter-ounce lead-head hook with a yellow curly-tail grub is a favorite for both deep and shallow fishing. Tipping your hook with bait, whether worms or a piece of baitfish, can increase your chances.
Fish from shore using live bait on sinker rigs or jigs.
After dusk along the shore, cast a 5- to 7-inch shallow-running crankbait in 2 to 7 feet of water full of perch or bluegill, yet still near deep water. Wear chest waders, fish quietly, and bring a net.
Where To Find
Recent surveys indicate the highest and most stable populations of walleye are found at Santa Rosa and Sumner Lake. Ute Lake and Conchas Lake also provide good numbers of walleye. Fishing is usually best during April and May, after fish have spawned.
Top: Eric Frey, sportsfish program manager with the department. Middle: James Dominguez, AIS coordinator and Mike Ruhl, native fish program manager, prepare a walleye for egg removal by wiping the fish dry. Bottom: Mike Ruhl, native fish program manager, squeezes walleye eggs into a bowl. The eggs are then fertilized and transported to Rock Lake State Fish Hatchery. Department photos by Martin Perea.