There are those days that, for one reason or another, you find yourself holed up at home with nowhere to go and some time to spend in the kitchen. If you have some elk in your freezer from last hunting season, you can prepare this delicious stew using a few wholesome ingredients.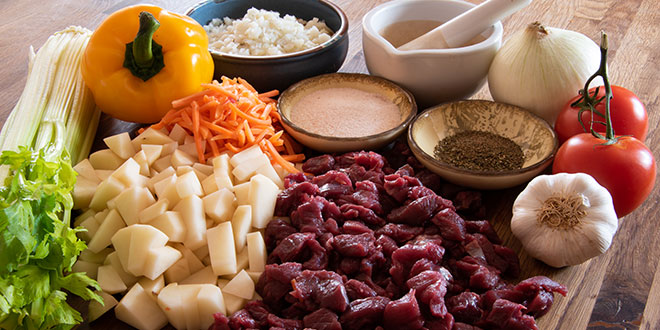 Ingredients:
• 1 ½ lb. elk stew meat
• 2 russet potatoes, sliced
• 1 cup diced blanched potatoes (as thickener)
• ½ cup carrot
• ½ onion
• 1 clove garlic
• 1 small tomato
• ½ cup celery
• ½ yellow bell pepper
• 4 cups elk bone broth
• 1 tsp rosemary
• 1 tsp basil
• 1 tsp celery seeds
• 2 tsp salt
• 2 tbsp pure lard
Instructions:
First, with a sharp knife cut the meat into ½ to ¾ inch cubes. Take time to trim away gristle so that each bite is pleasant to chew. Next, chop your vegetables so they are ready to put in the pot when its time. Slice the two russet potatoes, measure out a cup of previously blanched, diced potatoes. chop the celery, onion, bell pepper and carrots, and cut the tomato into small chunks.
In addition to the sliced potatoes, I include a cup of diced potatoes that have been blanched ahead of time. During the cooking time, the blanched potatoes will mostly dissolve to add a nice thick body while the sliced potatoes keep most of their shape for a nice, chunky texture.
On medium heat, melt two tablespoons of pure lard in a deep cast iron pot and add the meat. Toss lightly with a large spoon to make sure the meat is evenly browned. While your meat is browning, add the vegetables starting with the onions. One at a time, stir each addition of vegetables into the mix adding the blanched potatoes last. I prepare these ahead of time and usually keep some on hand for hash browns or other recipes. Since these diced potatoes are blanched (lightly boiled) they dissolve at a faster rate to thicken the stew.
Now pour in the broth. While processing my own wild game, I collect the bones and boil them to make tasty, nutritious broth which I freeze for later use. You can substitute this with store bought broth or make your own with beef bouillon and water. Next time you harvest an elk, ask your meat processor to cut the bones into manageable lengths so you can make your own broth. Bone broth is said to have many health benefits.
Add the spices and salt and stir. Start with one teaspoon of salt and add gradually to taste. Bring the mix up to a light boil for 5-10 minutes and then reduce the heat to low. Cover the pot and simmer until the sliced potatoes are soft. Your stew will be ready to eat in about an hour but it is best when simmered all afternoon. Low and slow is the idea here. While you wait for dinner time, relax with a good book, do a little reloading or tie some flies while you enjoy the appetizing aroma that fills your kitchen.
How to make tortillas
By Martin Perea
Traditional flour tortillas are an important part of most hunt camps throughout New Mexico. Besides being an essential part of southwest culture, they complement camp meals very nicely. Put some in your backpack before heading out on your hunt. Unlike regular bread, they don't squash easily. After a long day of hunting, you can load them up with some elk fajitas or use them to scoop up beans and chili while sitting around the campfire.
They are fairly easy to make and use simple ingredients found in most camps. I've had the joy of making and serving fresh tortillas while enjoying a pleasant evening with great people in a hunting cabin. When hunting out of a field camp, I sometimes bring tortillas I made at home the night before. Because they are flat, they stack up easily and take up very little space.
Tortillas in one form or another have been around since 10,000 BC. The flour tortillas we speak of here have been a staple in the southwest since the 1500s. Besides being a big part of New Mexican culture, these soft savory disks of mostly round, unleavened bread are enjoyed in hunt camps, grandma's kitchen and five-star restaurants.
In this video we show you just how easy it is to make a stack of warm, delicious flour tortillas. The simplicity of ingredients and the forgiving nature of the dough make it possible for even a newbie to make an impressive batch to share with friends and loved ones. My first piece of advice is this. Don't worry if they don't come out round. They will be delicious!
Recipe and photos by Martin Perea, Videographer for the New Mexico Department of Game and Fish