During a wildlife complaint call in 2017, Sergeant Andrew Armendariz of the Roswell Supervisory District provided information about huntingv opportunities to Richard Cole, a handicapped, mobility-impaired (MI) hunter from Alamogordo.
Cole, a military veteran whose left leg was amputated above the knee, was tasked with fueling 12 ships as a boatswain's mate in the Pacific Ocean when his left and right knees were crushed between a fuel probe and the bulwark's metal railing. Several years of fighting infections resulted in him having to eventually amputate his left leg above the knee.
Sgt. Armendariz assisted Cole with creating a Department of Game and Fish account and also with the paperwork to apply for MI and Disabled Veteran cards. Once Cole's MI status was received, Armendariz explained how the special draw works and helped him understand hunt codes and assisted him with his oryx, deer and elk applications.
Cole successfully drew and hunted in Game Management Unit (GMU) 34 during the October 6-10, 2018 MI either-sex rifle elk hunt. Cole has been hunting since childhood. He enjoyed hunting elk and deer in Oregon and had previously hunted with his disability but only in Oregon. This would be his first time hunting in New Mexico; he had not been hunting in two years since moving to this state.
Sgt. Armendariz took time off from his normal day-to-day duties on the first two days of the hunt to assist Cole. "This was my first time helping a mobility impaired hunter," said Armendariz. "This experience was amazing and who's to say that meeting Richard during a wildlife complaint would foster and develop an unforgettable friendship."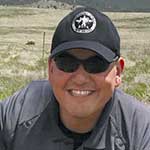 The officer took Cole hunting near Sunspot. Despite the blowing snow and windy conditions, he was able to assist Cole in spotting a few elk, including a 5×5 bull and a cow elk on day one.
On day two of the hunt, Cole, along with his stepson Steve, successfully harvested a cow elk with a 250-yard shot near Agua Chiquita Canyon.
Cole advises other disabled hunters who want to go hunting to "go get someone who can help out, have fun and see the country."
Mobility impaired hunter information
The New Mexico Department of Game and Fish offers several hunts specifically for people who are mobility impaired (MI).
MI certification is required prior to submitting an application for MI-only pronghorn, oryx, elk or deer hunts. To qualify for MI Certification, an individual must have a permanent impairment that meets one or more of the following criteria:
Limits his/her mobility to a walker, wheelchair or two crutches;
Severely restricts movement in both arms;
Or have a combination of permanent disabilities which cause comparable limitations.
The MI certification form is available online or may be requested by telephone. This form must be signed by the applicant's physician and attest that one or more of the above mobility-impaired conditions apply. The MI card is valid for 48 months from the date approved/issued. The MI card holder must purchase and possess a Habitat Stamp and Habitat Management & Access Validation if applicable. All other laws and rules must be followed.
A mobility impaired card allows a hunter to:
Shoot from a stationary motor-driven vehicle only when it has been parked completely off of the established road surface and there is no right-of-way fence.
Have one assistant to help track and kill big game that has been clearly wounded by the MI hunter. The assistant must have written authorization from the MI hunter and must use the same sporting-arm type as the MI hunter.
Use a crossbow during a bow hunt.