A Q&A with Lieutenant Brady Griffith
The Department of Game and Fish is always on the lookout for qualified men and women to become New Mexico conservation officers. Lieutenant Brady Griffith, who started out as an officer with the Department 14 years ago, is responsible for recruiting and training conservation officers who work tirelessly to protect and conserve New Mexico's wildlife and natural resources.
Above: Potential conservation officers completing the 300-meter dash at a 2019 testing. Derek Ridgeway, in the white shirt, went on to become a conservation officer. Department photo by Tristanna Bickford. Below: Corporal Stephen Apodaca teaches this youth firearm safety with a .22 rifle. Department photo by Jessica Fisher.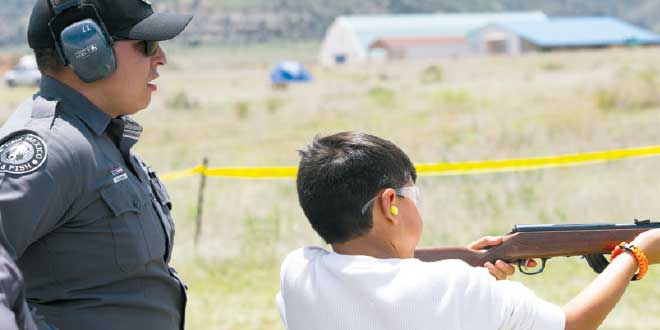 "Not only are conservation officers responsible for enforcing our game and fish laws, they also play a key part in educating the public about wildlife and participate in wildlife conservation efforts, including wildlife surveys and relocations," said Griffith.
In the following Q&A, Griffith answers common questions about the officer recruitment process.
?
What degrees are required to become a conservation officer?

Applicants must possess a bachelor's degree from an accredited college or university in Biology, Fisheries Science/Management, Wildlife Science/Management, Animal Science, Forestry, Forestry Management, Range Science/Management, Agricultural Science, Environmental Science, Wildlife Law Enforcement, Resource Economics, Ecology, Natural Resource Management, Zoology or Criminal Justice.
?
Should you already have experience as a police officer, or military experience, before becoming a conservation officer?

Prior law enforcement or military experience is not required; however, previous experience can assist candidates while they are training at the law enforcement academy. In addition to possessing a bachelor's degree in a related field, you must also pass psychological and medical exams, a background investigation and fitness and drug tests.
?
Can you explain the district assignment process once you become an officer?

New Mexico is a large state with nearly 70 officers. Conservation officers primarily work alone in remote, rural regions of the state. The Department attempts to accommodate new officers by allowing them to choose their duty locations based on districts that are open only after other officers with more seniority are offered lateral transfer opportunities.
?
How often do you recruit new officers and what does that process look like?
While there is no set schedule for officer hiring, the Department usually opens for applications once or twice a year. Interested persons can submit applications through the State Personal Office (https://www.spo.state.nm.us/). Applicants are reviewed by SPO and the Department's Law Enforcement Division to ensure that they meet minimum qualifications.
The Department then sets a date to complete physical assessments and complete a wildlife exam. The physical assessment requires each applicant to complete a certain amount of sit ups and push-ups in a set amount of time. Men and women must complete 27 sit-ups in one minute and 15 push-ups in one minute (yes, the same standards apply to both males and females). This may sound easy, but you are required to completely lay down on the mat and rise to your knees for a sit up to count and push-ups require you to completely straiten your arms and lower yourself to the mat…its harder than it sounds. This is followed by a 300-meter dash that must be completed in 71 seconds and a mile and a half run that must be completed in 15 minutes and 54 seconds.
Everyone passing the physical assessments must then take and pass the written exam with a minimum score of 70%. This test focuses on New Mexico Game and Fish laws, regulations, policy, general information about the Department and wildlife identification.
After passing the physical assessment and written test, individuals are invited to the Santa Fe office the following day for in-person interviews. If the hiring panel believes a candidate is a potential fit for the job after in-person interviews, they will be invited back to the Santa Fe office to complete psychological and medical testing before being offered a position.
?
Can you describe the on-the-job training officers must complete before working alone in the field?

New hires will work with wildlife management and fisheries divisions to learn more about the Department and its mission to conserve wildlife for the next generation. Recruits will then attend firearms training where they will learn how to handle weapons as part of their official duties. After firearms training, recruits will attend the 16-week law enforcement academy where they will receive police officer certification in the State of New Mexico.
After the academy the Department takes over trainings. Recruits will spend a month attending an in-depth training on New Mexico wildlife laws and regulations, reality-based training and learning how to work wildlife cases from getting an Operation Game Thief tip to executing the investigation, interviewing witnesses and suspects and preparing for trial.
New officers then spend approximately 14 weeks with a Field Training Officer learning hands-on and applying what they learned to working on-the-ground cases, providing educational courses and working with New Mexico hunters, anglers and wildlife enthusiasts.
?
What is the typical career path of an officer?

New Mexico is one of the only states that allows for regular progression opportunities for officers. The Department is made up of four regions; within each region lies four supervisor districts and 16 officer districts. Just within the Law Enforcement Division there are multiple layers of duties:
District Officer: Manages New Mexico's wildlife by enforcing wildlife laws and performing related biological wildlife management duties.
Corporal: Manages all district officer duties in the assigned district. The position also serves as a field training officer and handles all tasks associated with training new recruits.
Sergeant: Provides sound, positive, professional supervision and leadership to conservation officers.
Lieutenant: Responsible for recruiting, hiring and training recruit officers for the Department.
Captain: Accountable for the success of the Area Operations through the direct supervision of personnel and coordination of activities by division staff.
Major: Ensure division employees meet the goals, objectives and performance measures set by the Department, state legislature, commission and governor.
Colonel: Oversees and administers all law enforcement operational field activities in the state.
Conservation officers have also moved into other divisions including fisheries management, wildlife management and information and education divisions.
Opportunities for diverse careers and promotions are frequent and encouraged within New Mexico's conservation officers. Conservation officers have moved through the ranks to become directors.
?
When is the next hiring process and how does someone get more information?

The Department does not currently have the conservation officer application period open, but keep an eye on our Facebook page to stay informed about the Department and when we open for applications. You can also read more about our officer recruit program at
http://www.wildlife.state.nm.us/enforcement/career-advancement
.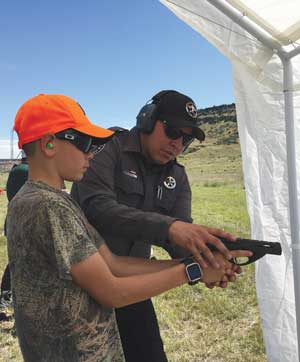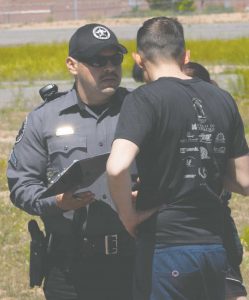 Above: While on the job, conservation officers participate in a variety of projects in addition to law enforcement tasks. These include wildlife and fisheries management projects and community outreach and education. In the photo above, conservation officer Stephan Apodaca teaches a student proper shooting techniques and firearm safety. Department photo by Jessica Fisher. Next: Sergeant Marcelino Peralta checks on a potential conservation officer at a 2019 testing. Department photo by Tristanna Bickford