There was no need for words following the Armendaris Youth Small Game Classic.
The looks on the faces of the young participants said it all.
"To see the youths and their families enjoying time hunting and being outdoors, and to see the smiles on their faces when they harvested their first quail was thanks enough," said Jennifer Morgan, hunter education program coordinator with the New Mexico Department of Game and Fish.
Above: Clarence Seagraves, a volunteer guide, and his dog Copper, lead the way for a youth hunter during the Armendaris Youth Small Game Classic.
In only its second year, the hunt is designed to introduce youths to the sport. To be eligible, the young hunters, ages 12-17, had to successfully complete a hunter education class, but never have held a hunting license.
"Many youths take hunter education and then never follow through with hunting," Morgan said. "We don't want to lose these kids. Getting them out with mentors helps remove the barriers that may have been preventing them from following through."
For the Dec. 11-13, 2015 hunt, 10 youths were randomly selected from a pool of 40 to participate. The fortunate hunters and their parents or guardians assembled on the Armendaris Ranch near San Antonio, N.M., for an all-inclusive weekend of target practice, bird hunting, educational presentations, food and comradery.
The festivities began with attendees receiving goody bags that included blaze orange caps and quail calls. Clay target practice was first on the agenda with the shotguns, ammunition, targets and throwers all provided by Game and Fish.
Jessica Fisher, the department's youth shooting sports program coordinator, and David Stambaugh, director of the New Mexico Youth Conservation Foundation, provided instruction and advice on the use of shotguns.
And, to make sure the youths understood the target species (quail, doves and rabbits), Tim Mitchusson, a retired Game and Fish biologist now with the Friends of the Bosque del Apache, provided instruction about game identification.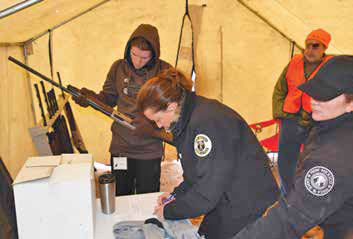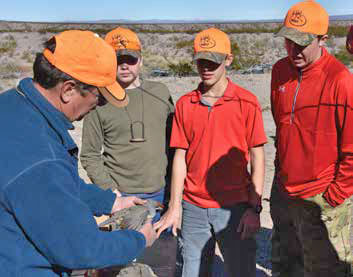 At dinner that evening, the youths were provided hunting licenses paid for by the Foundation for North American Wild Sheep, and Conservation Officer Ross Morgan reviewed pertinent rules and regulations. Food provided by the Rocky Mountain Elk Foundation was served and names were drawn for raffle prizes ranging from hats and sweatshirts to a free quail mounting service from a taxidermist.
After all the first-day instruction, the kids were ready to get in the field. While cooler temperatures may have dropped the thermometer readings, it was hardly enough to dampen their spirits.
"They were ready to get out and start their hunts," Morgan said. "It was fun to watch as the kids got ready. They were all excited to begin the journey from novice to experienced hunter."
Excited faces gathered around a table to learn where they would be hunting. The youths were randomly assigned into pairs and then drew for their hunting areas and volunteers with trained bird dogs loaned their animals' services for an even better experience.
"All the people and organizations that donated their time and money are what makes something like this possible," Morgan said. "These are people that understand the need to get youths involved in outdoor activities. Memories are made outside."
The hunters spent several hours scouring the countryside, learning to work with their dog partners, admiring the occasional treed raccoon, and learning firsthand how heavy a shotgun can feel after a long afternoon
of hiking.
With the help of the dogs, coveys were located. Harvested birds were used to show hunters how to identify gender and age and how to field-dress their game. However, as they were taught in hunter education, success is simply a matter of perspective: Being afield and experiencing nature is the prize and any harvest is just icing on the cake.
On the final day, the youths changed partners, dogs and hunting areas.
"I never had any experiences like this as a kid," said James Lucero with the Rocky Mountain Elk Foundation. "We need to expose more kids to hunting, the outdoors and exercise. We need to pass on the hunting heritage."
This event was made possible through partnerships with New Mexico Game and Fish, Armendaris Ranch, New Mexico Rocky Mountain Elk Foundation, New Mexico Conservation Officer's Association, Bosque del Apache National Wildlife Refuge, Friends of the Bosque del Apache, New Mexico Chapter of the Foundation for North American Wild Sheep, Rio Grande Chapter of the National Wild Turkey Federation, Bird by Bercier, and the New Mexico Youth Conservation Foundation.