Black bear meat is often overlooked and can be really good in flavor. I feel a lot depends on what the bear has been eating in its diet, which could be vegetation, insects, nuts and berries 85% of the time. Give this recipe a try on some of your bear breakfast sausage, bear chorizo or both.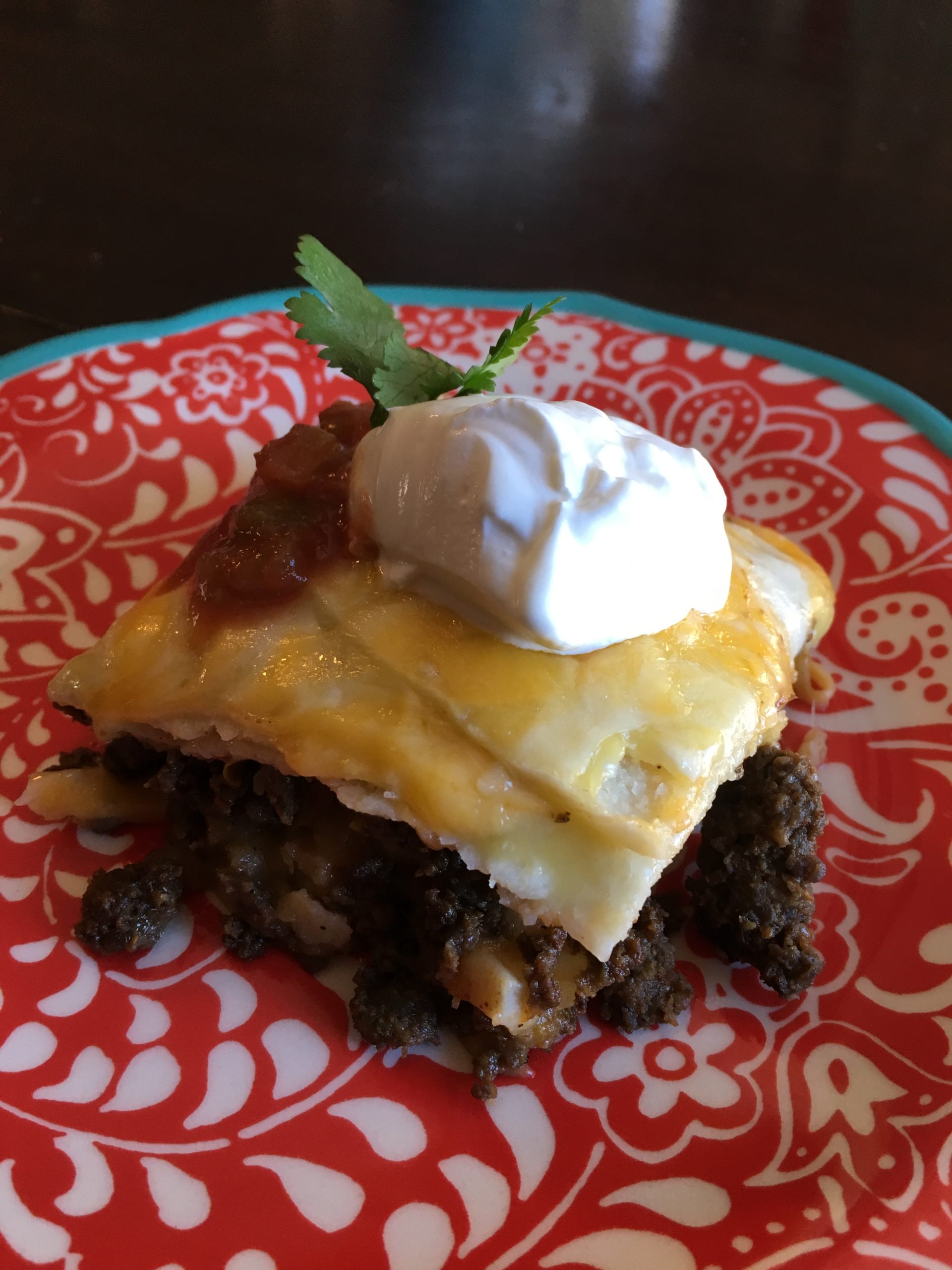 Banner: Black bear meat has excellent flavor, even if it is often overlooked. Photo by Richard Henson. Above: Piece of cooked bear breakfast casserole.
Ingredients:
• 1 pound of bear chorizo or bear breakfast sausage (or you can mix ½ pound of ground bear meat with ½ pound of your favorite breakfast sausage or chorizo). I had my bear meat processed into breakfast sausage and bear chorizo and mixed the two for this recipe – ½ pound each, respectively.
• 3-4 medium/large-sized potatoes of choice, cubed up or 1 pound of cubed frozen potatoes
• 1 bell pepper of choice (diced up)
• 3-5 roasted green chiles (diced up), your choice of heat
• ½ of an onion (diced up)
• 10-14 corn tortillas
• 1 can of green enchilada sauce (approximately 10 ounces) your choice of heat
• 1 can of cream of chicken soup (approximately 10 ounces)
• Shredded cheese of choice (approximately ¾ pound)
• 1 medium disposable aluminum cooking pan
• Olive oil
• Water
• Pepper
• Garlic salt
Thaw your meat and brown in a medium/large-sized non-stick pan with your diced bell peppers, diced onion and diced green chile. I mixed my bear sausage and chorizo during this process. You should not need to add any olive oil to the meat, as it will have fat from the pork. You can add a little as you brown it, if needed, or simply add a little water as the fat cooks down. You want to make sure to cook the meat to a minimum of 160 degrees, internally. Brown it thoroughly.
NOTE: Whenever cooking bear, cougar or feral pigs, you want the meat to be cooked to a minimum internal temperature of 160 degrees to kill trichinosis if it is present. You want to cook meat until well done.
Above: Ingredients for bear breakfast casserole.
In a second medium/large non-stick pan, heat up some olive oil. You just need enough olive oil to keep the potatoes from sticking. This is more of a feel for how much you need, and the size of the pan can change the amount of oil needed. Season your potatoes with a dash of pepper and garlic salt. While cooking the potatoes to an outside brown or crisp, you can add a little water if the oil cooks off and the potatoes begin to stick.
After cooking the meat and veggies in one pan and the potatoes in another, open the can of cream of chicken soup and the can of green enchilada sauce. Whisk these up in a bowl. Go ahead and preheat your oven to 350 degrees at this time.
At this point, dip your corn tortillas into the sauce and soup mixture and layer the bottom of your aluminum pan (approximate size of 9 inches by 11 inches) with the tortillas. You will need to tear some of the tortillas in half as you line the pan for your layer. You can place the flat side of the torn tortilla flush against the flat side of your pan. Full tortillas can be placed in the middle of your layering. Next, add a thin layer of potatoes and then some meat. Sprinkle a little cheese on top. Do a second layer of dipped corn tortillas and finish using your potatoes and meat (if some is still left) and sprinkle cheese on top.
Above, left: Appearance of bear sausage/chorizo and veggies cooked. Above, right: Pan of bear breakfast casserole is complete
Place your casserole into the oven and bake for 20-30 minutes (or until thoroughly warm throughout the casserole). I've had it take as long as 45 minutes, depending on the thickness of the casserole. Serve and enjoy! This will feed four people very easily.
On your next outing into the outdoors, please try to respect nature and pick up all of your trash. Recreate responsibly in the future!
Storm Usrey is the Conservation Education Manager for the New Mexico Department of Game and Fish.