Meet Corporal Jacob Lobato, Roswell Supervisory District
The morning was just beginning and the heat was setting in as I climbed into the front seat of Corporal Jacob Lobato's truck. The dispatchers' calls were already coming across the radio.
Spring had recently started in southeast New Mexico. It was time to put away the hunting gear, dust off the fishing poles, get out the tents and gather up the kids to head to a lake. Warm weather also means a change for Game and Fish conservation officers, who spent the winter patrolling back roads, checking hunting licenses and ensuring wildlife stays out of the hands of poachers.
Above: Lobato guides hunter education graduates on a youth pheasant hunt he organized. Department photos by Cody Johnston.
As we left the Roswell Game and Fish office and headed north, it became obvious that this was not going to be a short day. With almost an entire county to cover that included multiple fishing areas, off-highway vehicle areas and lots of public and private land, the corporal would be staying busy.
Lobato first took me to a stretch of the river that was popular with fishermen due to the opportunity to catch some nice catfish and bass and get out of town. As we drove along the river, the truck kicking up dust, he pointed out some of the good spots I should come back and try to fish. Along the road you could see evidence of illegal target shooting, something Lobato said he also looks for when he drives this area.
Driving along the river, being in the sun, hearing the birds chirp, seeing rabbits run back and forth across the road and having that feeling of being one with nature made it possible to see what draws these men and women to be conservation officers. I asked Lobato for his thoughts on this and what he liked about being an officer.
"With the variety of the things there are to do on any given day, you experience something new every day," he said. "It keeps the job really interesting that way." For example, he explained, today we were checking fishermen and OHV areas, but we could just as easily be in Unit 38 checking for over-the-counter Barbary sheep hunters.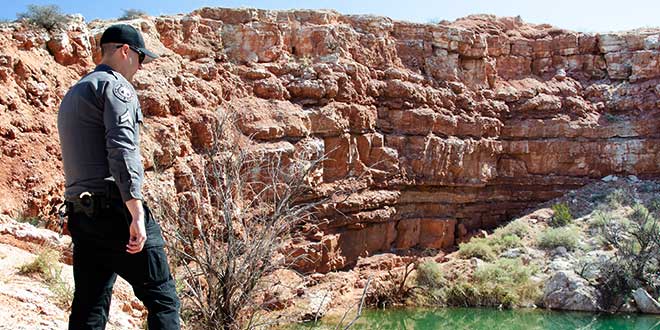 Above: Lobato checks for fishermen at Bottomless Lakes State Park. Department photos by Cody Johnston.
Originally from Las Cruces, Lobato attended Texas Tech University where he was a member of the Army Reserve Officer Training Corps (ROTC). While at school, he also participated in a student group for fire ecology and in the student chapter of The Wildlife Society. He graduated in 2014 with a degree in range management and started applying to become a conservation officer.
He started his career with New Mexico Game and Fish as a recruit officer in 2015. He graduated from the academy and was assigned to the Roswell Supervisory District. After a short time, he was promoted to the rank of corporal of the Roswell district.
"I grew up hunting and fishing, more heavily fishing when I was little [because] my dad enjoys fishing a lot," he said. "I kind of just ran into game wardens that way, initially."
We arrived at Mescalero Sands North Dune Off-Highway Vehicle (OHV) area. It was time for Lobato to switch back to officer mode. It was clear why this was such a popular place to ride OHVs; with large banked sand dunes flanking both sides of the road, and miles of riding fun to be had, a person could ride for days out here.
For Lobato, though, today was about safety. One of the best parts about doing this particular job is getting on the four-wheeler and riding the dunes himself, talking with people while he checks for OHV violations, he said.
It was a Saturday and the warm weather of spring had begun. However, there weren't many people out riding yet. Without anyone to check we made our way back towards Roswell to check on some local lakes.
I took this chance to ask Lobato to share some of the other things that he finds himself doing during the spring and summer. Night patrols for fishermen are among his favorite activities as an officer. Investigations are another big part of his season such as fraudulent residency claims and checking on reports of poached animals.
Then there are always reports from Roswell or other areas of people having issues with wildlife getting into their houses. Just recently, he had been out to help a citizen with squirrels that had gotten in an attic. However, there are always other wildlife issues, besides squirrels, that can be more serious such as a bobcat inside a house or an injured animal.
Outreach and education are also important to him. Lobato helps the local high school Future Farmers of America (FFA) and wildlife club learn about wildlife, presents at career days and organizes fishing clinics. He's now looking to put together a youth shotgun shooting group.
"Youth hunts are probably my favorite," he said. "It's their first-time hunting. They really don't know how to hunt, and it's cool to just be able to teach them how to go about it and give them that skill set."
LATER ON, at Bottomless Lakes State Park, we didn't find anyone fishing but he LOBATO recalled to me the story of how he helped assist an injured man who fell into the canyon-lined sinkhole after climbing to the top. The man was unable to climb out, but Lobato worked with local fire and paramedics to rescue the man.
A trip to Lake Van near Dexter showed some promise for interactions with the handful of fishermen around the lake. When we arrived, Lobato stopped at a common spot he uses, braced himself against a tree and took out his binoculars. I asked him if he spotted anyone who might not be following the law and he only noticed one person on the opposite side of the lake who appeared to be packing up quickly.
Above: Lobato was recently promoted to corporal with the Roswell Supervisory District. Department photos by Cody Johnston.
Lobato decided to start there first; he reminded me to hang back a little before approaching.
As Lobato approached the man and began to speak it was clear this would only result in a simple license check. The two struck up a conversation about when the lake would be stocked again and what the fish were biting on. It did go to show the type of personality you would have to have to go into a fishing or hunting camp, likely alone, and possibly diffuse a tense situation.
We would make our way around the lake with most people asking Lobato the same questions: What were the fish biting on? When would the lake be stocked again? With a smile, Jacob would say "garlic PowerBait" and "the catfish would start being stocked around Memorial Day."
The only violation that morning would be a 12-year-old girl who didn't have a license and didn't know she needed one. Instead of issuing a ticket, Lobato just reminded her to let her parents know she needed to get one starting at age 12. "I don't want to turn a child off from fishing by giving them a ticket when they didn't know better," he said as we walked back to the truck.
We left Lake Van and headed to Ft. Sumner where we met up with a new conservation officer Lobato was mentoring. It was shaping up to be a good day because there hadn't been any need for the corporal to pull out his violation book. Instead, at this lake, we met a young boy with the big smile who wanted to show Jacob the fish he caught.
Lobato mentioned how he was hoping he might get home in time tonight to see Texas Tech in the Final Four for college basketball; it was, after all, his alma mater.
Being that Ft. Sumner isn't a huge lake meant it wouldn't take too long to check but Lobato pointed out how it will be a lot easier when they get their new law enforcement boat. We spent the next couple of hours checking fishermen along the shore. There would be a wide variety of people to encounter, some there for the day, others to camp out, and some just enjoying swimming in the water. There was only one violation for an adult fishing without a license. All in all, it seemed like it was a successful day for the new officer who got some experience.
Dusk was upon us as we drove away from Sumner Lake and headed back to Roswell. There would be one detour on the way back to check on an older gentleman who was pulled over on the side of the road. Luckily, the man and his car were ok but Lobato said he always likes to check, just in case.
The Texas Tech game had already started about 30 minutes before so Lobato would have to settle for listening on the radio. Getting to see what an officer does, on his schedule, showed me the dedication these men and women put in to protecting the wildlife of New Mexico. I look forward to getting back out there with an officer during the hunting season this fall. Until then, get out your fishing gear and hit up that favorite lake or river, and if you see your local conservation officer, say hello and maybe a thanks.
And, if you ask, I bet they will give you some advice on how to catch that big fish.