Growing up in the outdoors from Alaska to New Mexico, I can honestly say the one animal that intrigues me the most is the Coues white-tailed deer (Odocoileus virginianus couesi). Better known as the "Grey Ghost," this elusive white-tailed deer is not only photogenic, but it can walk behind the only bush on a grassy hillside and never be seen again.
Coues deer are a Southwest subspecies of the common Eastern whitetail that was first scientifically described by American Army physician and noted naturalist Dr. Elliot Coues while stationed at Fort Whipple, Ariz. from 1865 to 1866. Although "cows" is the proper pronunciation for this elusive whitetail, it is more commonly called a "cūz" deer.
Banner: A doe Coues white-tailed deer looks back while I photographed her. Below: : A doe Coues white-tailed deer in southern New Mexico.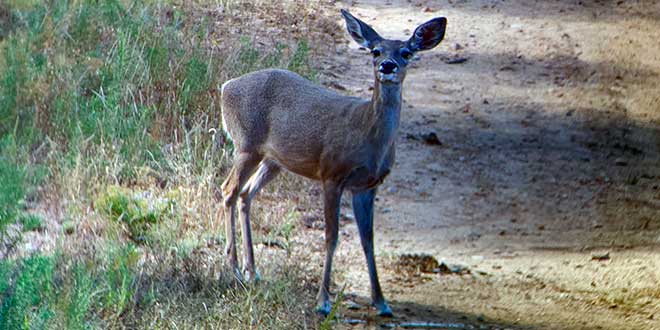 The Coues deer is the smaller of the two subspecies of whitetails found in New Mexico. In fact, the Coues' whitetail is smaller than any other deer in the United States except the Florida Keys' white-tailed deer. An average Coues' white-tailed buck weighs only 80 to 100 pounds and stands only 30 to 32 inches high at the shoulder.
Coues deer are limited to the extreme southwestern portion of New Mexico, with the most reliable hunting being along the Arizona border south of the Blue Range, and continue into Mexico. Scattered populations of Coues are found in the San Mateo Mountains, northern Black Range and westward through the heart of the Gila National Forest between 2,500 and 10,000 feet in elevation.
This wide range in elevation also encompasses a wide variety of habitats. Chihuahuan desert shrubs and grasslands, oak woodlands, mountain pine forests and leafy forests along streams can contain whitetails. Oak woodlands, commonly found between 4,000 to 6,000 feet in elevation, harbor the most significant number of Coues whitetails.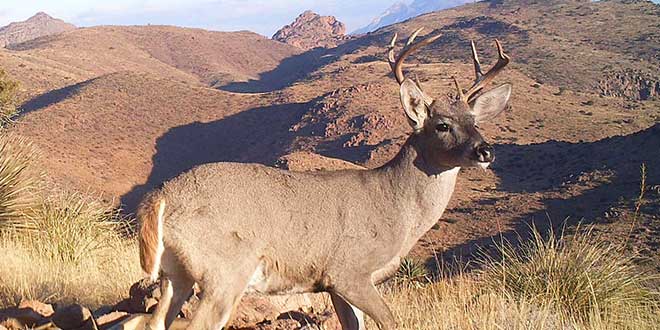 Above: A buck Coues white-tailed deer tops a ridge.
The one thing that intrigues me the most about Coues deer is their ability to disappear just as fast as they appear. I have been hunting Coues deer for over 12 years and I have been pretty fortunate to harvest quite a few, but it wasn't without many years going home empty-handed. Their small size and color can make them a Houdini in a matter of seconds. A friend once told me that a buck he was watching walked behind a bush and never came out. I never believed him until it finally happened to me. Now, I'm pretty convinced these deer have a network of tunnels built in the hills.