The Edward Sargent Wildlife Management Area is a coveted spot for elk and mule deer hunting. A conservation officer shares his unique experience enjoying the Sargent on skis.
Recently, I took an excursion into the powder of the Edward Sargent Wildlife Management Area (WMA) in Chama. The snow was deep and the temperatures were cold but it was still a great workout and an all-around fun trip.
From a beginner's prospective, the two-and-a-half mile trek was challenging and invigorating. There were uphill climbs and some downhill slides but it was mostly flat with approximately three feet of snow. I initially attempted snow shoes, but they just seemed to sink and slide to the side. Before I ventured too far into the WMA, I switched to a snow shoe cross country ski hybrid.
Above: Winter scene at the Sargent WMA. Department photo by Corporal Mark Bundren. Below: Map highlighting cross-country skiing trail and other recreational areas at the Sargent WMA. Department map by Lance Tyson.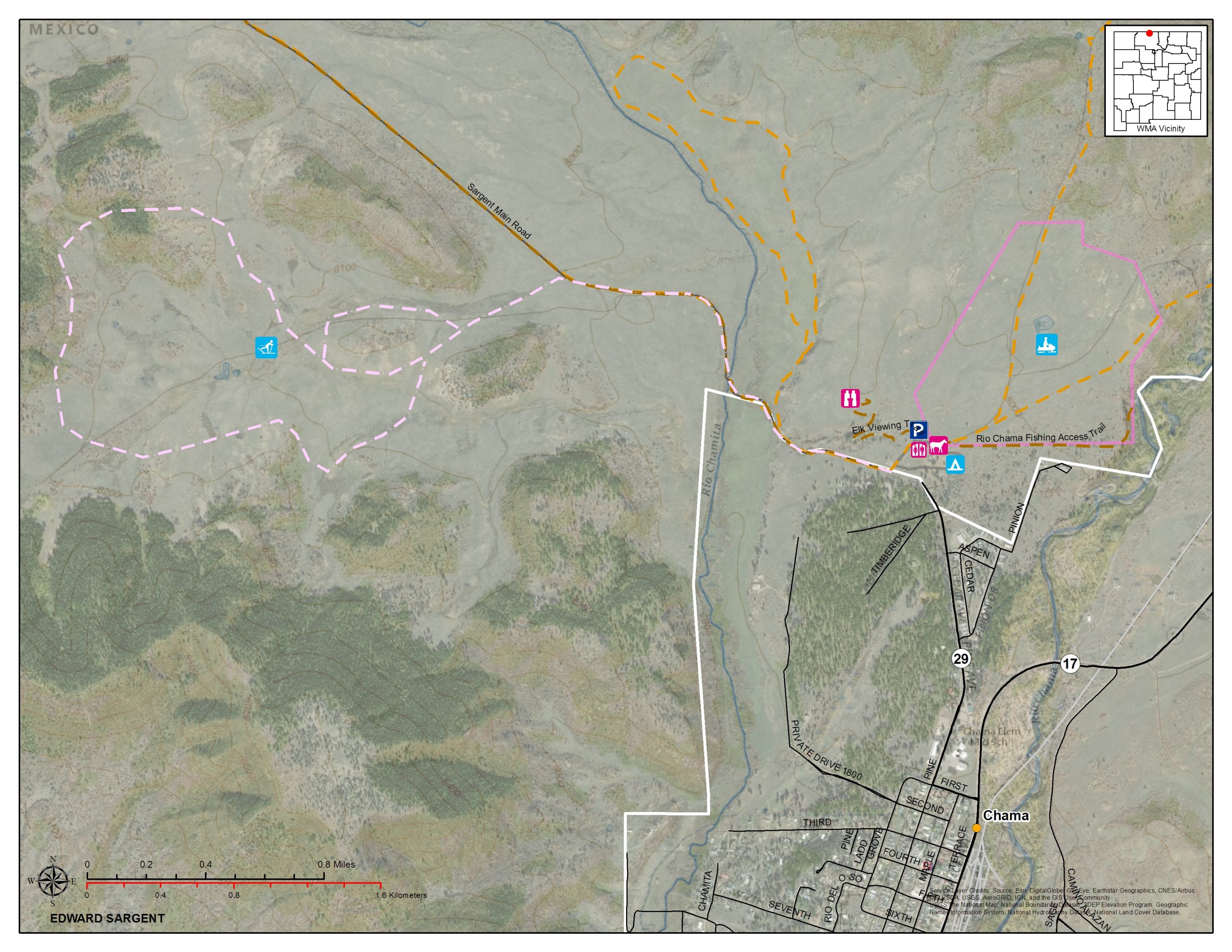 Trudging through the snow on these short fat skis across a wild area such as the Sargent was similar to jogging or running long distance as your heart rate does get elevated. In the snow, each step sinks a bit, kind of like doing lunges; you have to stabilize each step to make sure your foot does not slip out. If your footing slips, out you fall and when you fall, getting up again takes a bit of effort. You put your hands down to stand up, but they just disappear in the snow, so you have to pack the powder down for a solid place to push up from.
Back up and on my way, the scenery was beautiful. No one else was around and there was fresh snow as far as you could see. The cross-country ski trail is only a small piece of the Sargent's 20,000 acres. This is the only WMA out of the Department's properties that permits cross-country skiing.
With a slow steady march forward I continued on. The trail takes you up and around an elevated area and into the tree line. I completed about two-thirds of the cross country ski trail on the WMA but I hope to complete the entire trail soon. My return journey was just as exhilorating; I stayed in my tracks and followed them back.
All in all, I can say with certaintly this was a challenging workout; similar to running or jogging but with a lunge component or high knee lifts thrown in. For anyone wanting to stay in shape for the winter months this is the perfect spot to enjoy one of our more popular—and quite scenic—wildlife areas. It took me about two hours to complete the entire trip. Traveling the Sargent on skis is a special winter outing for a family or a solo trip. Just make sure to bring water and the right type of clothing because despite the cold temperatures, you will sweat.