Every year, the Shikar-Safari Club International awards a conservation officer whose efforts during the year display exemplary service and achievement. New Mexico conservation officers often go above and beyond the call of duty and two officers recently received this national recognition. Catron County Sergeant KC Gehrt has been awarded the 2019 Officer of the Year and Mayhill Corporal Corey Smith is the 2020 Officer of the Year.
Above: Sergeant KC Gehrt works on an elk-collaring project. Below: Inset: Catron County Sergeant KC Gehrt was named the 2019 Officer of the Year by the Shikar-Safari Club International. Gehrt has served as a conservation officer in Reserve for the past 16 years.
Catron County Sergeant KC Gehrt
Sergeant Gehrt has served as a conservation officer in the small town of Reserve in southwestern New Mexico for the past 16 years, serving as a sergeant for nine of those years. Gehrt and his family have become a part of the community and he has dedicated his career to protecting New Mexico's wildlife in one of the most remote and beautiful areas of the state.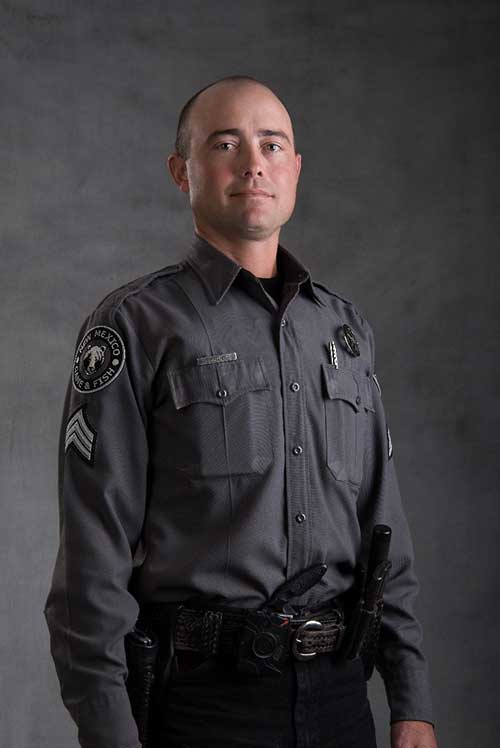 "From investigating illegally killed Mexican gray wolves, to radio-collaring adult cow elk from a helicopter for biological studies, to patrolling on horseback deep inside New Mexico's oldest and largest wilderness area, Sergeant Gehrt embodies everything a conservation officer should be," Captain Ty Jackson said.
Gehrt truly represents the "conservation officer concept," meaning he is fully committed to wildlife enforcement, public relations, promoting new license buyers and managing New Mexico's wildlife and fisheries resources. The work done by conservation officers is a critical need for the future of conservation. Gehrt is well-respected throughout the Department and has truly led a career focused on the big picture of wildlife conservation, following the right path to do his part in preserving the future of wildlife conservation.
Sergeant Gehrt has taken the initiative to maintain and restore the agency's Willow Creek Cabin. The cabin is nestled in a remote part of the Gila National Forest and has always been a valuable asset to the Department and those who work in that area. The cabin was slowly deteriorating and Gehrt took the initiative to start working on and restoring the cabin so it would be usable in the future.
Also, Sergeant Gehrt is always looking for ways to improve landowner hunting systems and wildlife survey methodology. He is willing to participate and have his troops assist in the various wildlife programs and surveys. Gehrt has played an important role in regard to this in the Gila region, where he has spent almost his entire career. His leadership has stood out amongst the officers and he is often looked at as a role model for younger officers joining the New Mexico Department of Game and Fish.
Mayhill Corporal Corey Smith
Corporal Smith has been an officer with the Department for nine years and puts forth the highest-quality law enforcement effort.
"Corporal Corey Smith is not only one of the best officers in our Department, he is also one of the best officers in all of New Mexico," said his supervisor and 2013 Shikar Safari recipient, Sergeant Jason Kline.
Corporal Smith has vast knowledge, experience and tenacity in pursuing large-scale wildlife violators and has put forth the same effort and attention to detail to every criminal case he works. He is regularly requested and relied upon by other local law enforcement agencies to assist them with calls because they have recognized and appreciated his knowledge, enthusiasm and decision-making in all law enforcement situations. In December 2019, he was involved in an officer-involved shooting while responding to a domestic violence call in progress, which saved the life of an Otero County sheriff's deputy and fellow Department of Game and Fish conservation officer.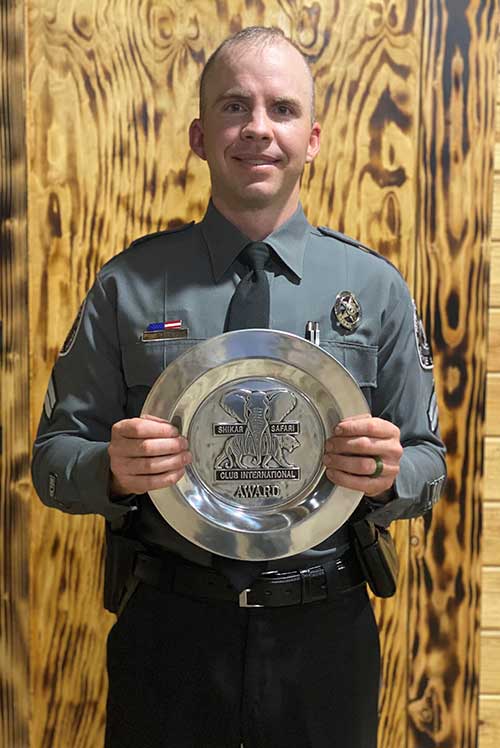 Above, first: Mayhill Corporal Corey Smith was named the 2020 Officer of the Year by the Shikar-Safari Club International. He has worked for the Department for nine years. Above, second: Corporal Corey Smith with a young mountain lion in the field.
In addition to his outstanding investigative work, Corporal Smith also has a firm understanding of the importance of his role as a conservation officer. He stays involved in many wildlife conservation activities with other natural resource agencies to promote the improvement of resource management. He is very engaged in the Elk Private Land Use System (E-PLUS), especially involving Small Contributing Ranches in his district. Corporal Smith never misses an opportunity to represent the Department at Hunter Education classes, National Archery in the Schools Program events, living with wildlife presentations, or other public events.
Smith has been working with the Bureau of Land Management, Fort Bliss, landowners and colleagues within the Department to create signs designed to educate the public on restrictions that are perennial issues in the Alamogordo Supervisory District. He has cultivated an exceptional rapport with local landowners, ranchers and the rest of the public, which has given those communities an officer they can call on, who is trusted and respected, all due to his integrity, work ethic and 24/7 availability.
Sergeant Gehrt and Corporal Smith are constant reminders of the professionalism that the Department's Field Operations Division strives to achieve in its officers.
"The purpose of this award is to recognize those supporting and protecting our wildlife, and we are honored to recognize the outstanding officers in New Mexico," said Shikar-Safari Club Past President Jim Brewer.
Shikar-Safari Club International is one of the oldest conservation organizations in the United States, with hunters as its members. The Officer of the Year award has been presented to officers in all U.S. states and Canadian provinces, with more than 52 officers recognized since the award's inception. The winner of the 2021 award will be announced later this year.
Colleen Payne is the Public Information Officer in the Southwest Area for the New Mexico Department of Game and Fish.