Catching larger "trophy" largemouth and smallmouth bass has long been a fun yet difficult venture for many anglers. It takes many hours and trips to understand the habits and tendencies of bass in one's local pond, lake or reservoir, especially the older/larger "lunkers."
Trophy bass weigh greater than five pounds. In most of New Mexico's reservoirs, larger largemouth and smallmouth bass tend to hunt and linger at relatively deeper water depths, usually more than 20 feet deep.
Above: DeMacio with a lunker he caught at Bill Evans Lake. Photo courtesy of DeMacio Pena. Below: One of DeMacio Pena's homemade lures. Photo courtesy of DeMacio Pena.
A newer style of jigging, the "Ned Rig" has proven successful in recent years for anglers of a wide variety of experience. With the "Ned Rig," a weighted jig head paired with a wide array of buoyant soft baits (primarily mimicking injured small fish, crawdads, leeches, etc.) allows the angler to bounce or "walk" the lure on the bottom in deeper areas while the lure stays in a more visible vertical position. This provides a better opportunity to entice a larger bass to ambush and strike the lure from either a deep ledge, log or other habitat. Much more information and color scheme ideas on the "Ned Rig" can be found on YouTube.
Many anglers targeting trophy largemouth bass have been fishing Bill Evans Lake, near Silver City, N.M. for decades. In the past, experienced anglers used bathymetry readings and sonar to target steeper sloping areas underwater, or "sunken ledges," to focus their angling efforts to catch a trophy bass. The Department of Game and Fish's recent addition of habitat structures into Bill Evans Lake has multiple goals, including increasing spawning success rate, juvenile fish survival, aquatic insect prey abundances and provide structures that larger bass will use for cover and hunting grounds. It is the Department's hope that anglers can target both "sunken ledges" and these added structures to increase catch rates of all sizes of bass (but especially more trophy bass experiences).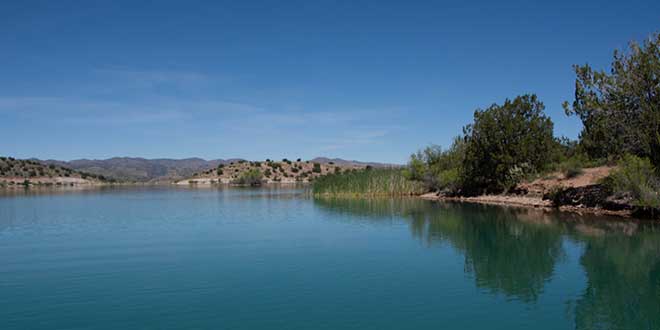 Bill Evans Lake. Department photo
DeMacio Pena recently had a great day of fishing on Bill Evans Lake, catching multiple largemouth bass, with the largest catch of a 9.2 lbs lunker! Pena used the "Ned Rig" method, even making his own soft bait out of molds, providing him more choices of color and size options for lures. If you are wanting to experience a nine-plus pound largemouth bass fighting at the end of your line, get out to the reservoirs and play around with the numerous methods for fishing 20 feet or greater depths!