This Italian recipe from Katie DeLorenzo from Backcountry Hunters & Anglers is typically made with veal. Katie uses pronghorn backstrap and calls it "one of the best meals" she's ever made. "You can also use the pan scrapings to make a sauce with marsala or another dry white wine and stock but we thought the dish was delicious with no sauce," she said. "It's somewhat fancy and has a beautiful presentation."
Ingredients
1 pound pronghorn steaks cut into four 4 oz. portions
Salt and fresh ground pepper
Olive oil
1 cup flour
16 fresh sage leaves
16 toothpicks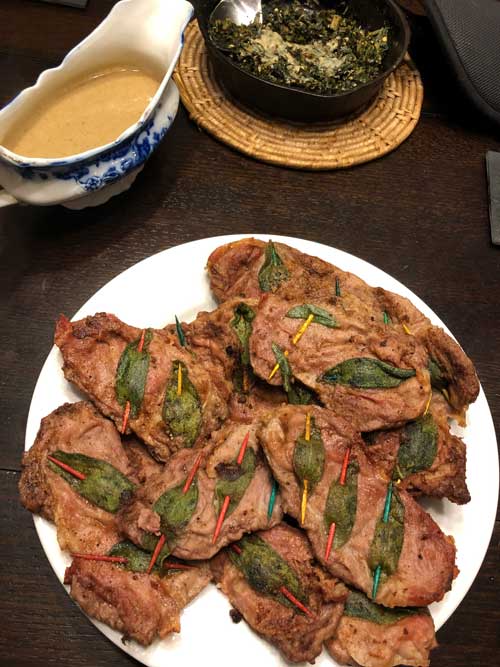 1. Cover each 4 oz. portion of meat with plastic wrap and pound to about 1/8 inch-thick with a meat tenderizer.
2. Season lightly with salt and pepper. Add a slice of prosciutto to the top of each portion followed by 3 or 4 sage leaves on top of the prosciutto. Secure the sage and prosciutto to the meat with a toothpick. An alternative method is to lay the prosciutto and leaves on top of the meat before covering it with plastic and pounding it down to size so the prosciutto incorporates more fully into the meat.
3. Heat olive oil in a pan, dredge each steak in flour, then cook until each side is golden brown. Your heat level and cooking time will depend on the thickness of your steaks but you should only need to cook each piece 2 to 3 minutes on each side.
Photo by Katie DeLorenzo.