Putting food on the table only part of the fun
The hours passed for three young hunters who lay stealthily in tall alfalfa, waiting for the moment when time would stand still, the moment when their prey would come within range to strike.
Braden Finnegan (left) and Ethan Walker stand at the ready in a Bernardo Waterfowl Management Area field. Finnegan harvested one bird and the two families shared a dinner. NMDGF photos by Zen Mocarski.
Nov. 7, 2015, they were in an alfalfa field surrounded by corn fields at the Bernardo Waterfowl Management Area between Belen and Socorro for the Youth Sandhill Crane Hunt hosted by the New Mexico Department of Game and Fish.
Twenty youths were involved in the hunt, 12 at Bernardo and eight at the Casa Colorada area to the east. Altogether, the hunters had harvested 17 cranes, and some were not ready to call it a day.
"About 10 more minutes and then we've got to start getting our gear together," said Tim Finnegan, father of one of the hunters, over a walkie-talkie.
No response.
"I know you can hear me," he said.
Still nothing.
"Oh, he's never ready to give up," Finnegan said from his hiding spot in the corn field. "He'd spend all day out there if he could."
But with the birds heading to their loafing locations and the 1 p.m. shooting deadline approaching, it was about time to quit.
The effort wasn't without its reward. While 15-year-old Braden Finnegan was the only one in this group to get a crane, the three youths and two fathers didn't see it as a numbers game. None believe the only successful hunt involves a harvest.
For these five, hunting is about a respect for nature, a desire to be outdoors and a love for the hunt.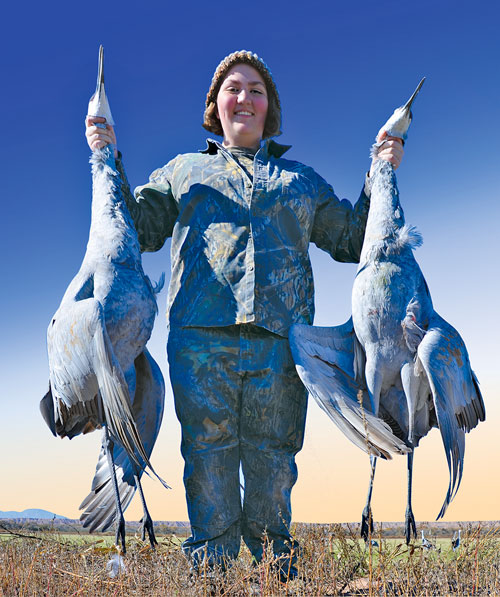 Elizabeth Landon, 13, at her first Sandhill Crane Youth Hunt, Casa Colorada near Bernardo.
NMDGF photo by Karl Moffatt.
"This was a blast," said Ethan Walker, 16, following his first sandhill crane hunt. "It was absolutely amazing. I didn't get one, but the experience was great. It was a lot of fun. I missed the one shot I had, but I guess that happens to everybody."
In the process, Ethan and his younger brother Wyatt, 14, gained a new appreciation for the large birds.
"I enjoy being out and being able to see stuff," Ethan said. "I've never seen the cranes that close before. They're really cool to see. I didn't imagine how big they are."
"I thought it was really fun," Wyatt said. "I didn't want to leave. It's an adventure just being out there. I don't like the city that much and enjoy that which has been given us."
Neither brought home a bird, but both plan to try again in 2016.
"To me it's a successful hunt if I just see stuff," Ethan said. "I still got to go out and have an experience."
All three had at least one shot at a crane, but it was Braden's shot that brought down a bird.
"I got it pretty early," Braden said. "It was right after one wave came off the roost and three came in and I got one."
Braden's been on youth crane hunts in the past, but it was the first for his friends Wyatt and Ethan.
"Neither had bird hunted before," Braden said. "I thought this would be a good opportunity to introduce them to bird hunting. It's one of my favorite hunts. I find it humbling that I have the opportunity to just be on the hunt and to have birds as large as me land next to me."
While it might've been the first bird hunt for Wyatt and Ethan, none of the three is a hunting newcomer. All have participated in a variety of big- and small-game hunts. They value the experience and the opportunity to put food on the table for the family.
This hunt, however, now ranks near the top for all three.
"I enjoy the little things, like hearing the cranes on the roost," Braden said. "I enjoy all the preparation. I was up until 9:30 the night before the hunt making two-dimensional decoys and then I got to show them (Wyatt and Ethan) how to set them up for how you want the birds to come in."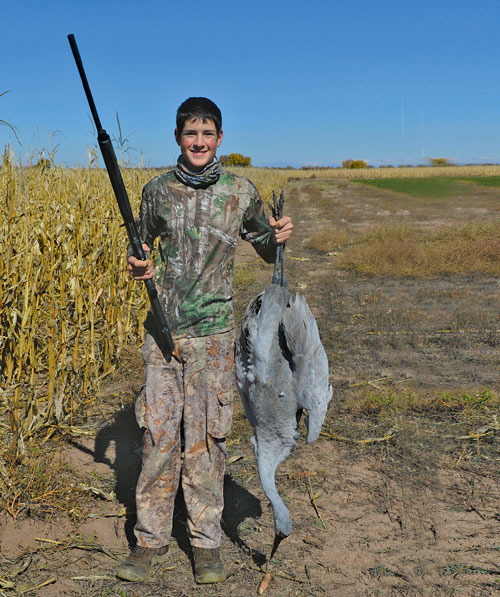 Braden Finnegan stands proud with his sandhill crane following his participation at the Youth Sandhill Crane Hunt in November 2015. Twenty youths participated in the hunt, which resulted in the harvest of 17 cranes.
NMDGF photo by Zen Mocarski.
"It was a great day hunting and seeing them," Ethan said. "I definitely want to try again next year."
None, however, lost out on a meal. The Walkers and Finnegans got together a few weeks after the hunt and Braden's bird was shared with all.
"The meat ranks up there with some of my favorites, like venison," Ethan said.
"It was really good," Braden said, after explaining how the bird was prepared.
Seems fitting for the threesome who have already been hunting together for years and all of whom participate in 4H. It's all part of friendship, spending quality time away from the home and developing a healthy respect for wildlife and the outdoors, they said.
"Youth hunts like this is the most important thing Game and Fish is doing right now," Braden said. "We need to have the next generation of people getting out hunting. A hunt like this gives kids a great opportunity to see what hunting can be."
A passion for cranes
People with a passion for large, loud, elegant birds will enjoy winter trips to the Bernardo Waterfowl Area south of Belen and Bosque del Apache National Wildlife Refuge south of Socorro.
The two areas are favorite wintering stop-overs for thousands of sandhill cranes, providing hunting, wildlife watching and photographic opportunities.
Sandhill cranes are tough to miss, with an average body length of nearly 4 feet and a wingspan of about 6 ½ feet. They can weigh more than 10 pounds.
Despite the birds' size, sandhills usually are heard before they're seen. They can travel in numbers reaching into the thousands, filling the air with loud trumpeting calls that can be heard miles away.
During courtship, their talents go well beyond the musical calls. The males are quite adept at dancing, stretching their wings, pumping their heads and leaping into the air. Once they mate, it's for life, which can span two decades or more.
The oldest sandhill crane on record was at least 36 years and seven months. Originally banded in Wyoming in 1973, it was later found in New Mexico in 2010.
The sandhill crane population has been increasing by 5 percent a year since 1966. Hunting dollars, along with federal stamps, help conservation agencies manage and create and/or improve wetland areas, which benefits waterfowl, cranes and numerous other wildlife.
Hunting also provides the opportunity for agencies to implement annual monitoring to assess population status, and information collected at hunter checkout stations pro-vides data on what subspecies are harvested, giving the necessary information for the U.S. Fish and Wildlife Service to determine harvest limits. Measurements of harvested birds also provide biologists with an index of population health, as weight can be an indication of annual forage production.
Growing up hunting
Two fathers, each dressed in camouflage and looking every part the hunter, sat motionless among the corn stalks.
Neither was actually hunting.
They sat quietly, smiling and watching as their sons lay in the grass fields hunting for sandhill cranes.
"It was exciting for me," said Tim Finnegan.
"For me, it's about getting out with the kids. I just enjoy being out with them."
Finnegan and Jonathan Walker enjoy hunting, but view this time in their lives as a chance to pass on a tradition that runs thick in their families.
"Hunting was a big part of me growing up," Walker said. "I prefer to watch the kids hunt. I get a lot of enjoyment watching them outdoors. I don't need to pull a trigger to enjoy hunting."
Finnegan agreed.
"It's something I enjoyed growing up with my dad," he said. "We don't force things on them. It's something they enjoy. They started coming out with me at 5 years old.
"We know the importance of family. I didn't want to burn them out. If they got cold, we'd pack up and go home."
Both fathers said the hunting experience is an important part of their boys becoming men. The young men learn about dedication and commitment, while developing confidence and a sense of pride.
"I'm proud of them," Walker said. "There's an appreciation seeing them become young men of character."
"I think they learn about responsibility and con-sequences," Finnegan said. "They have rules they have to follow. With guns, safety's a priority. If they didn't follow the rules, the day was over."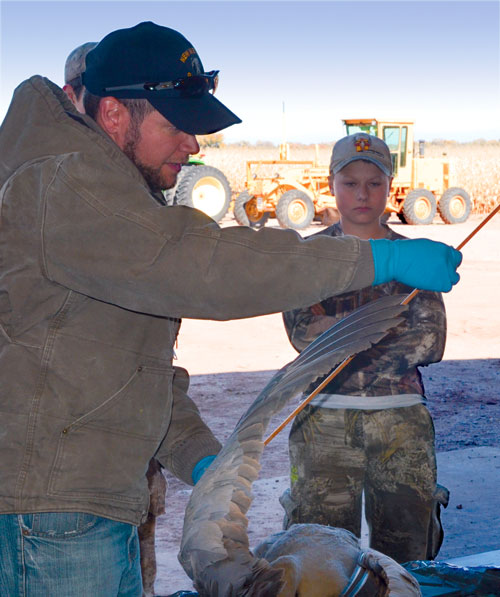 Wyatt Walker watches as Ryan Walrath, the Game and Fish A-Plus program manager, measures the wing size of a harvested sandhill crane. Regulated hunting has helped produce a 5 percent increase in the sandhill crane population each year since 1966.
NMDGF photo by Zen Mocarski.
Walker said hunting is only a small part of the educational process. With the impact humans have had on the landscape, he's instilled the ideals of modern wildlife conservation.
"We try to teach them more than hunting," he said. "I've taken them out to help with habitat restoration efforts."
"My youngest son is already thinking about a career in wildlife conservation," Finnegan said. "He's definitely got the bug."
Catching that bug is made easier by special youth hunts that provide opportunities to participate.
"It can be difficult to draw tags for quality hunts," Finnegan said. "If New Mexico did not have the youth hunt program, it'd be difficult to recruit future hunters. It can be discouraging."
"These youth hunts are important," Walker said. "They get to meet and develop a personal connection with the people that manage the wildlife in the state. They also give the kids an opportunity to try something new that is managed.
"Youth are the future of our sport and they need opportunities like this to get involved."