Meet Corporal Jacob Lobato, Roswell Supervisory District
The morning was just beginning and the heat was setting in as I climbed into the front seat of Corporal Jacob Lobato's truck. The dispatchers' calls were already coming across the radio.
Spring had recently started in southeast New Mexico. It was time to put away the hunting gear, dust off the fishing poles, get out the tents and gather up the kids to head to a lake. Warm weather also means a change for Game and Fish conservation officers, who spent the winter patrolling back roads, checking hunting licenses and ensuring wildlife stays out of the hands of poachers.
As we left the Roswell Game and Fish office and headed north, it became obvious that this was not going to be a short day. With almost an entire county to cover that included multiple fishing areas, off-highway vehicle areas and lots of public and private land, the corporal would be staying busy.
Lobato first took me to a stretch of the river that was popular with fishermen due to the opportunity to catch some nice catfish and bass and get out of town. As we drove along the river, the truck kicking up dust, he pointed out some of the good spots I should come back and try to fish. Along the road you could see evidence of illegal target shooting, something Lobato said he also looks for when he drives this area.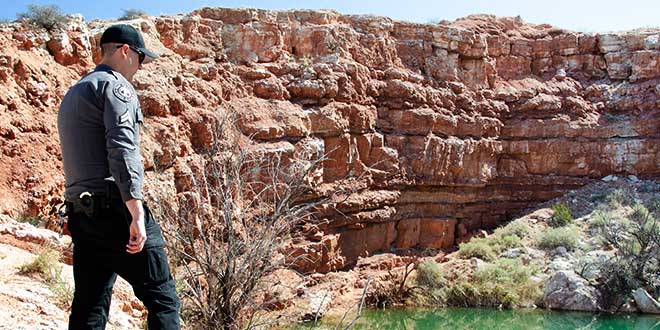 Driving along the river, being in the sun, hearing the birds chirp, seeing rabbits run back and forth across the road and having that feeling of being one with nature made it possible to see what draws these men and women to be conservation officers. I asked Lobato for his thoughts on this and what he liked about being an officer.
"With the variety of the things there are to do on any given day, you experience something new every day," he said. "It keeps the job really interesting that way." For example, he explained, today we were checking fishermen and OHV areas, but we could just as easily be in Unit 38 checking for over-the-counter Barbary sheep hunters.
Originally from Las Cruces, Lobato attended Texas Tech University where he was a member of the Army Reserve Officer Training Corps (ROTC). While at school, he also participated in a student group for fire ecology and in the student chapter of The Wildlife Society. He graduated in 2014 with a degree in range management and started applying to become a conservation officer.
He started his career with New Mexico Game and Fish as a recruit officer in 2015. He graduated from the academy and was assigned to the Roswell Supervisory District. After a short time, he was promoted to the rank of corporal of the Roswell district.
"I grew up hunting and fishing, more heavily fishing when I was little [because] my dad enjoys fishing a lot," he said. "I kind of just ran into game wardens that way, initially."
Read more about Jacob Lobato and his work as a conservation officer in the next issue of New Mexico Wildlife.
Top: Lobato guides hunter education graduates on a youth pheasant hunt he organized. Middle: Lobato checks for fishermen at Bottomless Lakes State Park. Bottom: Lobato was recently promoted to corporal with the Roswell Supervisory District. Department photos by Cody Johnston.